Even though the Top Primary Silver miners were able to lower costs in Q3 2013, they still recorded a loss for the group.  Of the twelve silver companies in my group, only three were able to show positive gains.
The results for Q3 2013 were better than the previous quarter, but still significantly off from the same period last year.  If we take a look at the first table below, we can see how the top 12 silver miners compared from Q2 to Q3 2013: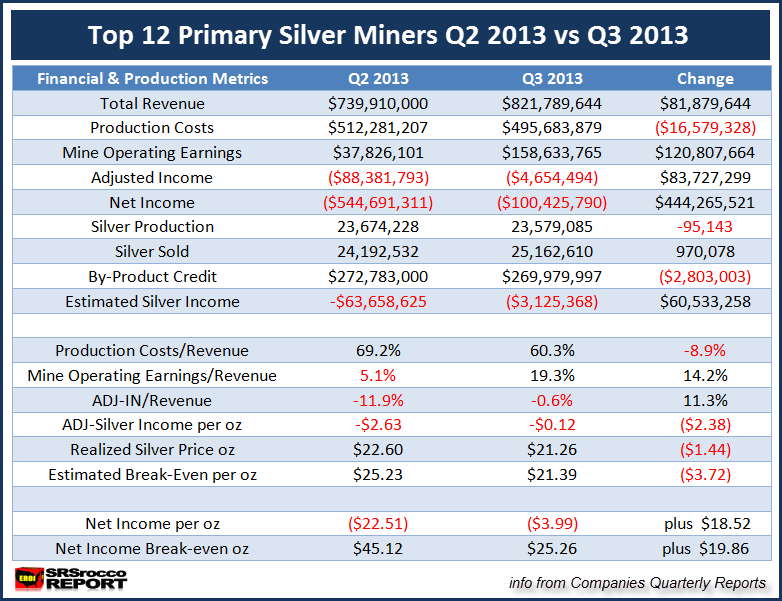 (NOTE:  the change in adjusted silver income [ADJ-Silver] should be a positive $2.38)
Overall revenue from the group increased from $739.9 million Q2 to $821.7 million in Q3.  This was due to an additional 970,078 oz more silver sold than the prior quarter as well as significant gains from three of the companies.
You will notice that the groups overall production cost in Q3 declined $16.5 million compared to Q2 as production remained virtually flat (down just a tad at -95,143 oz).
Mine operating earnings increased substantially from $37.8 million (Q2) to $158.6 million (Q3) which had a positive impact on adjusted earnings.  You will notice that adjusted earnings improved from being a negative $88.3 million in Q2 to a minus $4.6 million in Q3.   I like adjusted earnings because it excludes gains or losses not directly related to mining silver that quarter.
The interesting thing to see here is that the Estimated Adjusted Break-even fell from $25.23 in Q2 to $21.39 in Q3, nearly $4 an ounce.  The reason for the lower break-even is due to lower costs across the board as well as an additional 1 million ounces of silver sold compared to the previous quarter.
Some of you might be thinking, "How on earth did overall revenue go up that much in the third quarter compared to the previous quarter if the Realized Price declined more than a dollar with only 1 million more in silver sales?"
I spent a few hours looking at the quarterly reports and could not find the reason why the overall revenue increased so much in Q3 over Q2 (as silver sales increased only a million oz).  However, several of the larger companies such as Pan American, Hecla and First Majestic increased their revenues significantly compared to the previous quarter — nearly $88 million for the three.
One of the costs that these companies have cut back on in a big way is exploration.  Last year in Q3 2012, the group spent $39.8 million on exploration alone, but knocked it down 62% to only $15.3 million in Q3 2013 (First Majestic, Alexco & Aurcana were not included in the exploration figures as they did not show a separate figure on their income statements).
This is indeed a significant amount to cut exploration.  We must remember, a mining company's share price will increase based upon 3 fundamental factors:
1) increase of the price of metal
2) increase of its reserves
3) increase of its annual production
It is very hard to accomplish number 2 & 3 if exploration and CAPEX expenditures are cut to the bone.
Now, if we take a look year over year, we see a much worse picture for the top silver miners.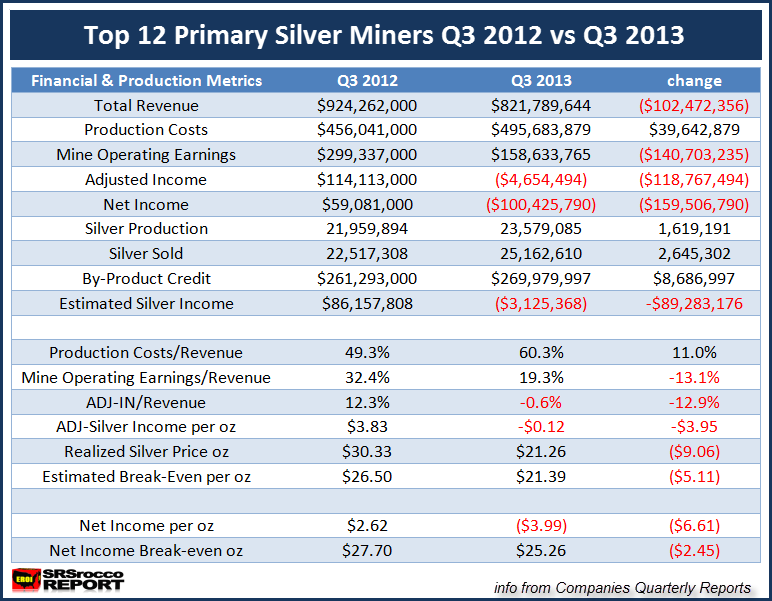 Even though the miners have done a good job cutting costs and lowering their break-even (based on adjusted income) quarter over quarter, here we can see just how bad the situation looks year over year.
First, total revenues from the group declined from $924.2 million in Q3 2012 to $821.7 million in Q3 2013.  This was a $102 million decline y.o.y while sales of silver increased a staggering 2.6 million oz.  Basically, the group sold 2.6 million oz more of silver, had $8.6 million more in by-product credits and still recorded an adjusted income loss of $3.1 million for Q3 2013 compared to the same period last year.
Second, production costs actually increased in Q3 2013 over Q3 2012 per ounce of silver.  Here is the math:
Q3 2012 = $456 million production cost / 21.9 million oz of production   = $20.82 oz
Q3 2013 = $495.6 million production cost / 23.5 million oz of production   = $21.09 oz
Of course I am not including any of the by-product metal revenue in this cost metric, instead it is being used just as a form of reference.
Third, the Estimated Break-Even price per ounce has fallen $5.11 from $26.50 in Q3 2012 to $21.39 in Q3 2013.  This is due to selling more net silver and reducing costs.  While this looks like a good thing for the group, it hurts these mining companies over the longer haul.
For example, Alexco Resources who is one of the higher marginal cost producers had to put its mine on care and maintenance over the winter, hoping for better prices in the spring.  Unfortunately, Alexco has a silver-stream agreement (25% of their silver production at $4 an ounce) with Silver Wheaton, so they are still responsible for the remainder of their contract even though the mine is not currently producing silver.
Critical Points to Consider in Silver Costs
In using the Adjusted Income approach for calculating break-even, we have found that it can be lowered as we have seen in the comparisons above.  However, when these companies lower their break-even due to cost cutting, it may help them out in the short-term, but will impact them negatively over the longer time period.
Part of the problem with the mining industry is the inability to factor in all costs.  Another thing that is taking place (especially in the Shale gas industry) is the higher amount of expenditures on CAPEX over operating cash flow.  You will not find this in the income statement.
For example, Free Cash Flow subtracts Capital Expenditures & Dividends from Operation Cash Flow.  So if the company is making more money in operations than they spend on capital and pay out in dividends that quarter, they would show a positive Free Cash Flow.
Here are some of the Free Cash Flows figures for the Top 12 miners during Q3 2013:
Hecla = -$57.1 million
Silver Standard = -$22.2 million
First Majestic = -$9.5 million
Fortuna = -$7.5 million
Coeur = -$5.9 million
Pan American Silver = -$1 million
Endeavour = +$3.4 million
Now if we just compare the change in Free Cash Flow from Pan American Silver y.o.y, we have the following:
Pan American Q3 2012 Free Cash Flow = $37.3 million
Pan American Q3 2013 Free Cash Flow = -$1 million
Even though Pan American was able to lower its break-even in Q3 2013 compared to the same period last year, its Free Cash Flow has gone negative.  Investors must remember, a company does not go into business to break-even, it needs positive free cash flow to sustain its business in the future.
How Cash Costs Have Confused Investors
As I have mentioned several times, Cash Costs are not real costs, but rather a metric to show how by-product revenue can impact the bottom line.  That's it.
I came across this article at Seeking Alpha, "The Cost Of Mining Silver: Q3 2013 Summary." It peaked my interest because I was getting ready to put out my version, so I was curious to see what this analyst would show.
Basically, the analyst uses several metrics such as Cash Costs and AISC – All In Sustaining Costs.  The AISC is a calculation by the World Gold Council.  The problem I have with AISC, is that is deducts the by-product revenue at the end of the calculation.
I have stated several times, that these are MINING COMPANIES first.  I don't care how low their silver cash cost is if they are losing money for their shareholders.
I went to the site where this article was written at Seeking Alpha and had a an exchange with the author.  Here are a few of the comments:
————————–
What I was trying to get across was that the higher the mining companies by-product revenue percentage, the lower the Cash Cost.  Again if two mining companies had the exact same revenues, incomes, production costs and etc, but had two different percentages of by-product revenue, the company with the higher percentage of by-product revenue would have a lower cash cost.
Many investors believe that a company can produce silver at its cash cost.  If Hecla produced silver at a $7.40 cash cost per ounce in Q3 2013, why in the living hell did they suffer a $8.4 million loss at a realized price of $22.22?
The author above likes Cash Costs because there is a dominant metal in the ore… so he can forget about the other metals.  As he says, "It's Simple."  I happen to believe the other metals provide necessary revenue to the bottom line that would make or break the company.  To deduct them from the cost analysis, in my opinion, is unwise.
The top primary silver miners Break Even for Q3 2013 was $21.39 for the group.  However, a great deal of cost cutting was done to get it down to that amount.  I don't see this as a sustainable figure over the longer haul if these companies want to replace production and remain healthy in the future.
Lastly, I still believe the primary silver miners will be some of the best investments to own in the next several years.  As the world's fiat monetary system gets revalued in the future based on a physical assets, we are going to see a big move up in the value of gold and silver.  Physical metal will be hard to acquire, so the miners will be the next best thing.
Mark my words….