The U.S. Mint sold more Silver Eagles in the past two months than it has ever in the same time-period in previous years.  February and March sales were so strong, they surpassed 2013's by nearly 2.4 million.
According to the U.S. Mint's most recent update, sales of Silver Eagles in March hit a record 5,354,000, which was almost 2 million higher than in March of 2013.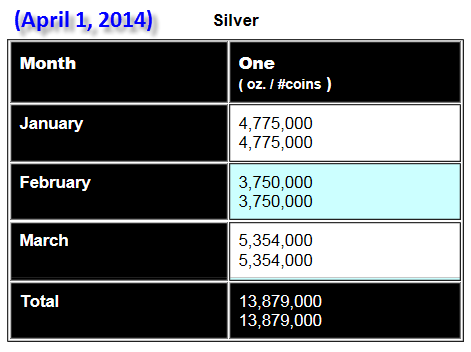 The U.S. Mint didn't update their figures yesterday (last day of the month) so I thought they were going to dump these sales in April.  As of Friday, total sales for March were 4,476,000.  However they updated the figures today showing that another 878,000 Silver Eagles were sold on Monday bringing the total for March to 5,354,000.
If we look at the chart below, we can see how much heavier the buying was this FEB-MAR compared to previous years:
2014 FEB-MAR sales were more than double than 2012, and 35% higher than 2013.  Even though sales for the first three months of 2014 at 13,879,000 are lower than 2013 at 14,223,000, this was due to the U.S. Mint restricting sales in January.
I spoke with the management at APMEX today on the subject of Silver Eagle Sales.  APMEX is one of the largest online precious metal dealers on the Internet.  I asked if they knew if Hedge Funds were buying a good percentage of these Silver Eagles (heard from another source in the industry).
He told me that they tried to sell to the hedge fund market years ago, but found that hedge funds rather purchase large silver bars at the lowest spot price.  Even though there might be some Hedge Fund buying he believes the American public and foreigners are purchasing the majority of Silver Eagles.
Industry Analysts Mislead The Public On Silver Mining Costs
Fitting for APRIL FOOLS DAY, Natixis came out with their forecast for silver in 2014 & 2015.  According to the article in Mineweb: $10/oz Silver In 2015 Among Natixis Scenarios:
Natixis analysts Nic Brown and Bernard Dahdah argue the downside to the price of silver is much worse than gold's given the potential for a sell off in investment silver and the fact silver's average cash costs are still quite a bit lower – $7 an ounce in Natixis' estimation – than recent silver prices.
…Indeed they write: "At 19,700 tonnes, the amount of silver held in physically backed ETPs (exchange traded products) is equivalent to almost 80% of 2012's mined output. If last year's mass exit from gold ETPs was followed this year by sales from silver ETPs, this could rapidly turn into a substantial new source of supply just as happened with gold last year. Under these scenarios we could see silver prices fall to an average of $15/oz in 2014 and $10/oz in 2015."
So, if we have a mass liquidation of the Silver ETF's as experienced by the Gold ETF's in 2013, Natixis believes we could see $10 silver next year.  It would seem highly unlikely that Global Silver ETF's would liquidate their inventories unless the world ran out of gold to buy… which would be very bullish, not bearish for prices.
I don't believe the folks at Natixis realize that the huge liquidation of Gold ETF's in 2013 were to acquire physical metal to fill the huge demand coming from China and India.
Anyhow… I want to focus on the part where Natixis discusses the $7 an ounce cash cost for silver.  Let me start off by saying… THERE ARE NO SILVER PRODUCERS THAT CAN AFFORD TO MINE SILVER ANYWHERE NEAR $10 an ounce.
For example, Hecla recorded at $1.5 million adjusted loss for Q4 2013, while stating a CASH COST of $7.33 an ounce, net of by-product credits.  If they lost $1.5 million receiving $20.13 an ounce for their silver in Q4 2013, what kind of losses would they incur if the market price was $7 or $10?
Cash Cost accounting is an insane outdated metric that provides no real clue as to the profitability of a company.  Every mining company states in a footnote below their silly cash cost accounting figures, that CASH COSTS are not a GAAP – Generally Accepted Accounting Principle.
Hecla is a perfect example of why this is true.  Cash Cost accounting deducts the by-product revenue (not credits) from the cost of producing silver.  All it does is lower the cash cost figure…. which offers no indication of profitability.
Does anyone ever ask…. At these low metal prices, can a company be profitable without their by-product revenue?  And the answer is… FOR THE MOST PART…. NO.
I still get emails and responses from readers on my site who believe mining companies understate their real costs and have several books to hide the fact that they are ROLLING IN THE DOUGH.  Folks… that's simply HOGWASH.
If we look at my top 12 primary silver miners Q1-Q3 2013 results, we can see that they made a PALTRY $1.4 million in adjusted income on $2.3 billion in revenue as a group selling nearly 70 million ounces of silver.  This was at an average realized price of $24.58.  Basically, the group gave away SILVER FOR FREE.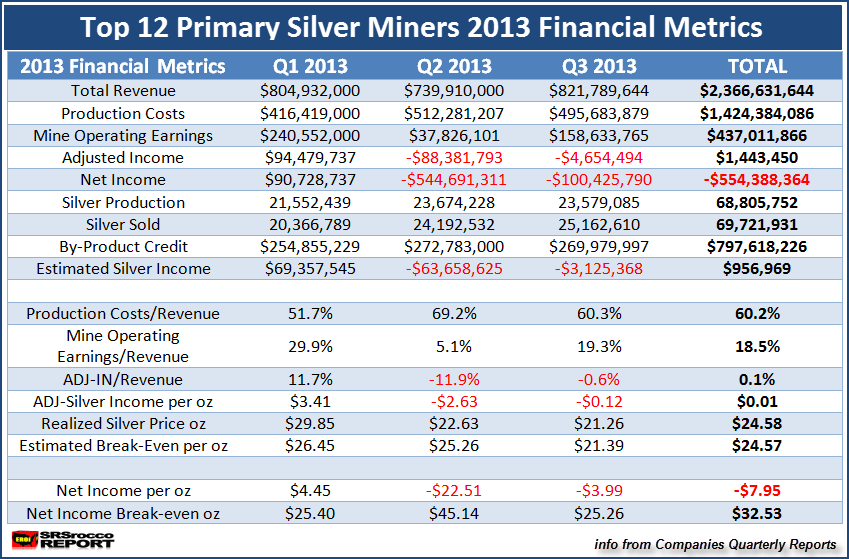 Because the industry still focuses on the CASH COST metric, investors are still confused as to the real cost of mining silver.  I will be explaining this in more detail in an upcoming FREE REPORT.
Natixis is a Global Financial company in France, which recorded a one Billion Euro profit in 2013 on shuffling paper.  Compare this to a dozen top primary silver miners selling an estimated 95 million ounces of silver during the entire year while stating an adjusted income loss.
Sounds fair… doesn't it?
Please check back at the SRSrocco Report for updates and you can also follow us at Twitter: