Going down the drain, putting this wondrous stock market at risk?
Companies in the S&P 500 spent about $3 trillion since 2011 to buy back their own shares, often with borrowed money. It's part of a noble magic called financial engineering, the simplest way to goose the all-important metric of earnings per share (by lowering the number of shares outstanding). And it creates buying pressure in the stock market that drives up share prices.
With buybacks, you don't need to sell one extra iPhone to boost your earnings per share. So the amounts have grown and grown. With ultra-cheap money available to borrow endlessly, companies take on debt and hollow out shareholder equity. It has worked like a charm. Stock prices have soared. Declining revenues and earnings, no problem. But something is happening that hasn't happened since the Financial Crisis.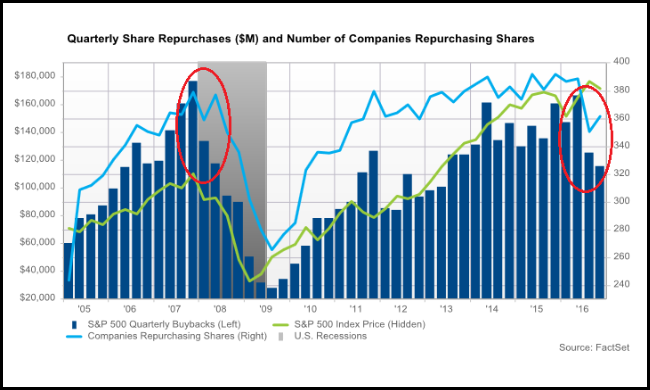 Share buybacks in the third quarter plunged 28% year-over-year, to $115.6 billion, the biggest year-over-year dive since Q3 2009, according to FactSet. It was the second quarter in a row of declines, from the glorious Q1 this year, when buybacks had reached $168 billion, behind only Q3 2007 before it all came apart.
READ MORE HERE:  What The Heck's Happening To Our Share Buyback Boom?
---
I will be posting some of Wolf Richter's articles on the SRSrocco Report site.  However, I will only be publishing 3-4 paragraphs, so my members will need go to Wolf's site called WolfStreet.com to read the rest of the article.  This allows the author who puts out "original work", to get some traffic flowing their way… as they most certainly deserve it.
I like Wolf's work because he provides excellent fundamental analysis of what is taking place in the broader market and economy.  This article showing the huge drop in share buybacks suggests that ALL IS NOT WELL IN THE MARKETS, even with the Trump rally.
Check back for new articles and updates at the SRSrocco Report.  You can also follow us at Twitter, Facebook and Youtube below: