As the manipulated paper price of silver heads lower, so are the silver inventories as the Shanghai Futures Exchange.  The silver stocks hit an all-time low today as the price of silver trades in the $17 range.  At the peak, the Shanghai Futures Exchange held 1,143 metric tons of silver.  However, today only 7% of that record amount remains.
As we can see from the chart below, silver inventories declined from a high of 575 mt (metric tons) in February, to a low of 81 mt today.
Unless the Shanghai Futures Exchange starts depositing silver, warehouse stocks maybe totally wiped out within the next several months.
U.S. Silver Eagles Sales Explode On Tuesday
When the U.S. Mint updated its figures on Monday, sales of Silver Eagles increased 700,000 to over 2.4 million.  Then yesterday, another 350,000 were sold for a total of 2,765,000 for the month.  That is a BIG NUMBER and probably one of the highest single day sales this year.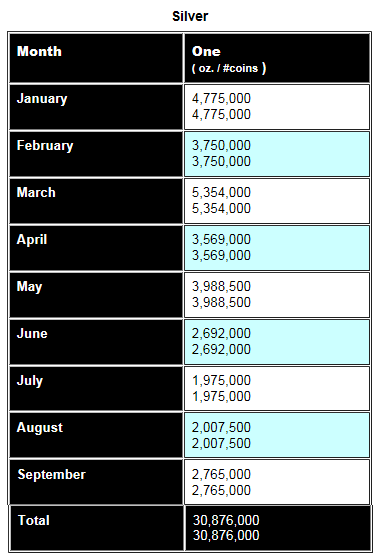 Total sales of Silver Eagles so far this year are 30,911,000.  This figure is different from the one in the table above because the U.S. Mint just updated their website to show another 35,000 sold this morning.
In addition, Gold Eagle sales in September are 45,800 oz and are tied with the second highest month (June) and will probably surpass 50,000 before the end of the week.
Buying Gold & Silver Are Long Term Investments
With the current precious metal sentiment lower than the bearish level in 2008, investors need to realize gold and silver are long-term investments.  Even though the Fed & Central Banks have been successful propping up the Stock and Bond markets, this is not a sustainable business model.
Buying Gold & Silver will protect investors wealth when the POPPING of the greatest Ponzi Scheme in history finally arrives.
Please check back for new articles and updates at the SRSrocco Report.  You can also follow us at Twitter, Facebook and Youtube below: