With the Canadian Mint now in full operation, there is finally the availability of 2020 Silver Maple Leafs once again in the market.  Depending on the various online precious metals dealers, the premiums for the 2020 Silver Maple Leafs are ranging between $3.90-$6.98 per coin. 
I was quite surprised to see one of the larger online precious metals dealers charge the highest premium.  I incorrectly assumed that larger volume would equate to lower premiums.  However, this wasn't the case.  So, if you are a new investor in precious metals, it's a good idea to shop around for the best prices and services.
I would also recommend that new precious metals investors call up several of these larger online dealers and ask questions.  If these online dealers will take the time to answer your questions, that is a good sign that they don't mind investing some "Time" in educating and assisting new clients.
With the average silver spot price being $17.56 from the leading online dealers I selected in the group, the prices for 2020 Silver Maple Leaf coins (1-19+) ranged from $21.38 to $24.54: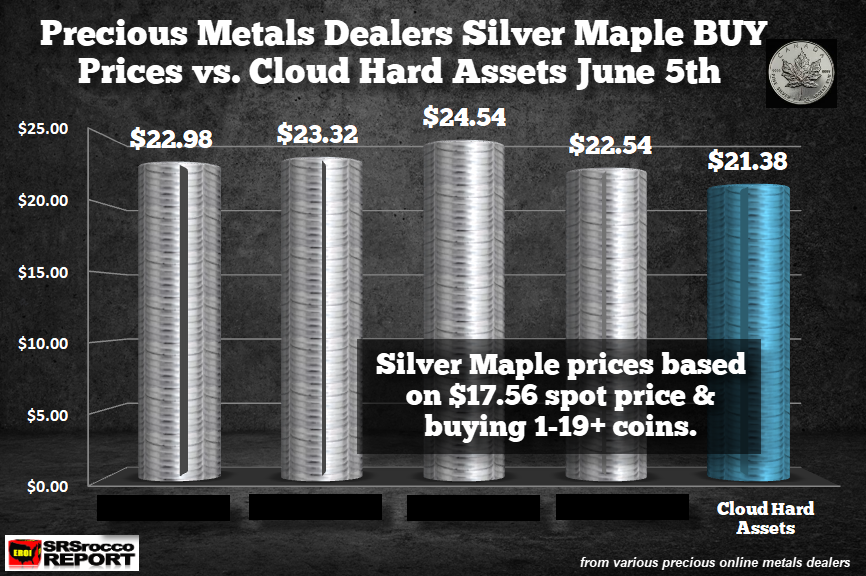 Again, these are the leading online precious metals dealers prices versus CLOUD HARD ASSETS, which I sponsor on the website.  Here are the different 2020 Silver Maple Leaf premiums for each of the dealers based on the close of trading on Friday, June 5th:
2020 Silver Maple Leaf Premiums Various Leading Dealers (1-19+ coins)
CLOUD HARD ASSETS = $3.90 per coin
Leading Online Dealer #1 = $4.98 per coin
Leading Online Dealer #2 = $5.42 per coin
Leading Online Dealer #3 = $5.76 per coin
Leading Online Dealer #4 = $6.98 per coin
And, CLOUD HARD ASSETS is also showing even lower premiums for the 2020 Silver Eagles versus the leading Online Dealers:
2020 Silver Eagle Premiums Various Leading Dealers (1-19+ coins)
CLOUD HARD ASSETS = $6.70 per coin
Leading Online Dealer #1 = $9.73 per coin
Leading Online Dealer #2 = $9.96 per coin
Leading Online Dealer #3 = $9.98 per coin
Leading Online Dealer #4 = $11.28 per coin
Interestingly, I was once again surprised that one of the largest online dealers was charging the highest premiums for their 2020 Silver Eagle coins.  Thus, this online dealer charging $11.28 over spot per 2020 Silver Eagle coin is a hefty 64% premium.
I decided to put together a spreadsheet showing the difference between the average 2020 Silver Eagle premium from the four leading Online Dealers vs. CLOUD HARD ASSETS.  These figures are based on purchasing 1-19+ coins: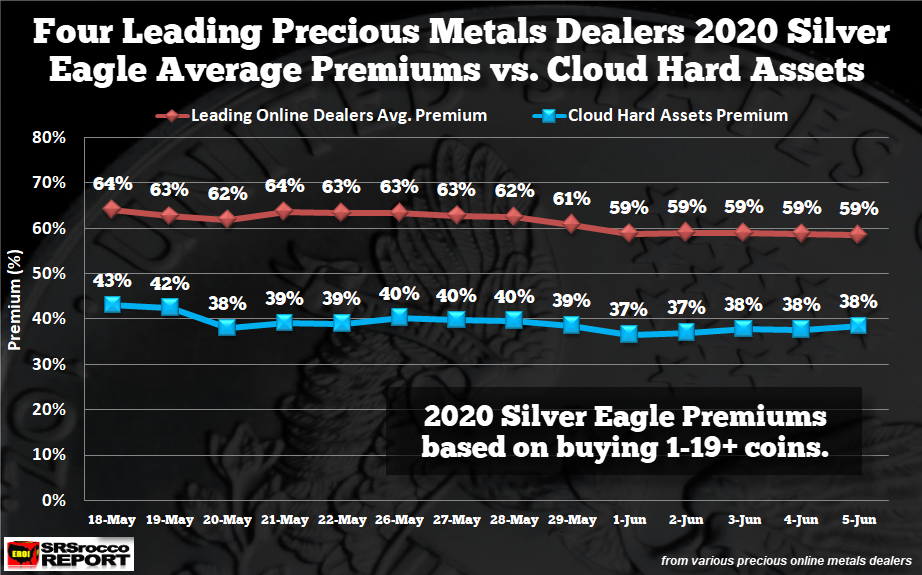 As you can see, CLOUD HARD ASSETS 2020 Silver Eagle premiums have been averaging about 20% less than the leading Online Dealers.  Now, due to one of the larger dealers charging a higher premium, it brought up the average of the group.  Regardless, what a remarkable difference in 2020 Silver Eagle premiums over the past three weeks.
It will be interesting to see if the premiums on Silver billion products will decline now that there is more availability since the economy and supply chains are opening up.  However, when the next Financial Crisis hits, I believe Silver Bullion product supply will DRY up as we have never seen before.
You can contact Tom or Dan at CLOUD HARD ASSETS here:  PRECIOUS METALS INVESTING.
Tom Cloud has been in the precious metals business for 46 years, since 1973.  He has a lot of experience in the precious metals industry and understands the gold and silver market better than most dealers in the industry.
If you are new to the precious metals market and had questions, Tom Cloud and Dan would be happy to answer any questions.
DISCLAIMER:  While Tom offers information about precious metals, you should not take this as investment advice.  You should contact a professional advisor and or do your due diligence before making investment decisions.  
Also, please read the FULL DISCLAIMER on the PRECIOUS METALS INVESTING page.
If you are new to the SRSrocco Report, please consider subscribing to my:  SRSrocco Report Youtube Channel.
DISCLAIMER: SRSrocco Report provides intelligent, well-researched information to those with interest in the economy and investing. Neither SRSrocco Report nor any of its owners, officers, directors, employees, subsidiaries, affiliates, licensors, service and content providers, producers or agents provide financial advisement services. Neither do we work miracles. We provide our content and opinions to readers only so that they may make informed investment decisions. Under no circumstances should you interpret opinions which SRSrocco Report or Steve St. Angelo offers on this or any other website as financial advice.
Check back for new articles and updates at the SRSrocco Report.  You can also follow us on Twitter and Youtube below: