The majority of analysts still don't understand that gold and silver are based on two different price or value functions.  To understand the future forecasts for precious metals, investors need to the difference between the two value functions.
In my newest video update, Important Factors Impacting Gold & Silver Price And Supply, I discuss in detail the two different price functions and why the current commodity-based mechanism differs from the precious metals "Store of Value."
In the video, I explain why the "commodity-priced mechanism" is important as a floor for the gold and silver prices.  Unfortunately, because Harry Deny doesn't understand this mechanism, he continues to put out faulty and incorrect analysis on the gold price.  Dent stated in his April 13th video update that during the next deflationary collapse of the markets, gold would head back down to $900-$1,000 or the lows of 2008 at $700.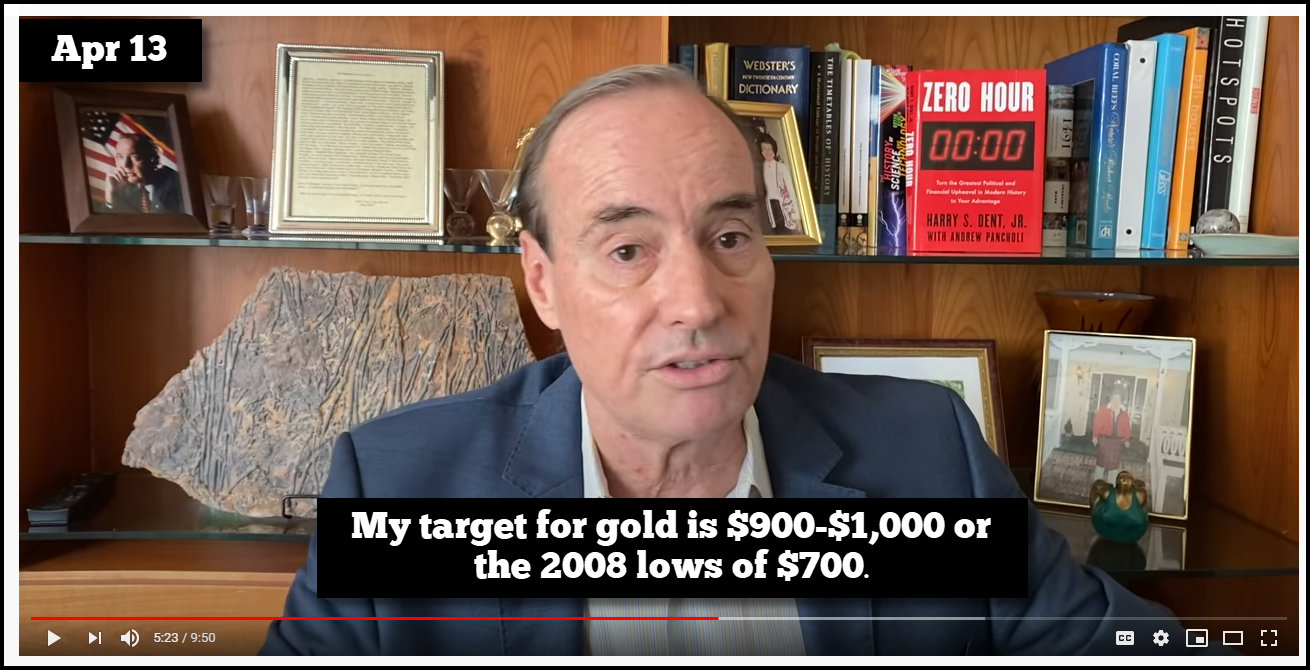 Dent's gold forecasts continue to be wrong because he fails to incorporate the impact of "ENERGY" and the "COST OF PRODUCTION" on the gold mining industry.
I updated Barrick and Newmont's combined total production cost versus the gold price for Q1 2020, and was quite surprised.  Again, I explain why I don't see gold heading anywhere near $700 due to the significant increase in cost to produce the yellow metal since 2006 when gold was the same price.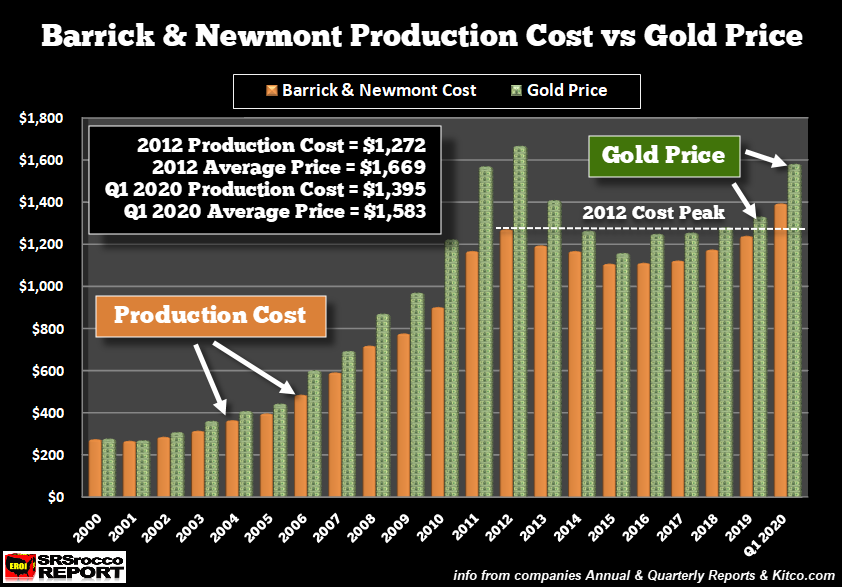 This video took longer to publish then I had planned due to the research.  I was quite surprised to see Barrick and Newmont's total production cost rise to nearly $1,400 an ounce for Q1 2020 versus the $1,272 average for 2012, when oil prices were over $100 a barrel.
THANK YOU ALL FOR THE SUPPORT:  I just wanted to thank all the individuals who continue to support the SRSrocco Report website and youtube channel.  I know some of you have canceled memberships as times are tough.  I understand.  If you are new to the site and find the information valuable, please consider supporting the website, if you have the means to do so, at Paypal or Patreon below.
If you are new to the SRSrocco Report, please consider subscribing to my:  SRSrocco Report Youtube Channel.
DISCLAIMER: SRSrocco Report provides intelligent, well-researched information to those with interest in the economy and investing. Neither SRSrocco Report nor any of its owners, officers, directors, employees, subsidiaries, affiliates, licensors, service and content providers, producers or agents provide financial advisement services. Neither do we work miracles. We provide our content and opinions to readers only so that they may make informed investment decisions. Under no circumstances should you interpret opinions which SRSrocco Report or Steve St. Angelo offers on this or any other website as financial advice.
Check back for new articles and updates at the SRSrocco Report.  You can also follow us on Twitter and Youtube below: