With the Fed and central banks pumping up the markets with a record amount of money printing, liquidity, and stimulus, investor demand for precious metals continues to be very strong.  In the first week of 2021, the U.S. Mint sold 2.7 million Silver Eagles.  The Mint also sold 45,000 oz of Gold Eagles.
While Silver Eagle sales are elevated in the first month of every year as the Authorized Purchases are stockpiling the new dated official coin, 2.7 million in the first week is a solid start.  With three more weeks in the month, sales of Silver Eagles may reach 4-5 million.  According to the U.S. Mint website, here is the breakdown in Silver and Gold Eagle Sales.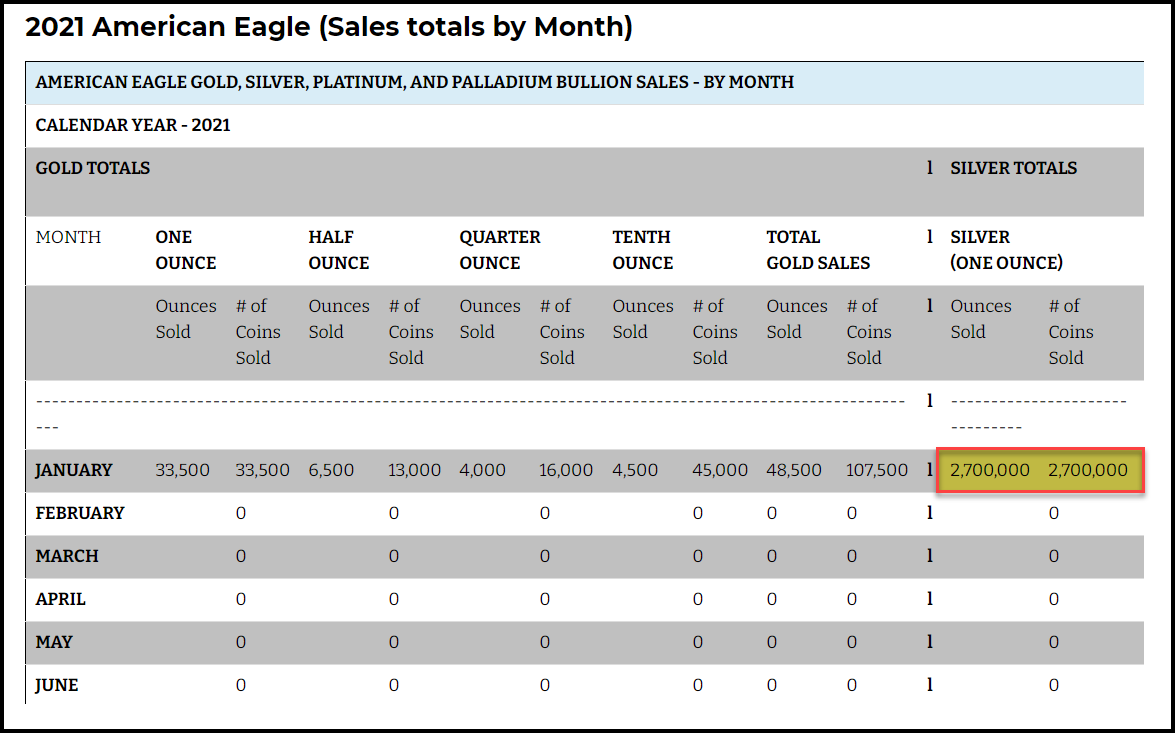 Unfortunately, the U.S. Mint didn't show any Platinum or Palladium Eagle sales so far in January.  The U.S Mint didn't sell any Palladium Eagles in 2020 and stopped producing Platinum Eagles in May.  With a tightness in the Palladium market, it's no wonder the U.S. Mint hasn't sold any of these coins for quite a while.
Demand for precious metals continues to be strong even though we see NOISE BLEED price levels for Bitcoin.  Bitcoin surpassed $40,000 today.  Both Tesla and Bitcoin are perfect examples of TULIP BUBBLES ON STEROIDS.  If investors want to know Tesla's REAL FAIR VALUE, you need to check out the Silver Member post below.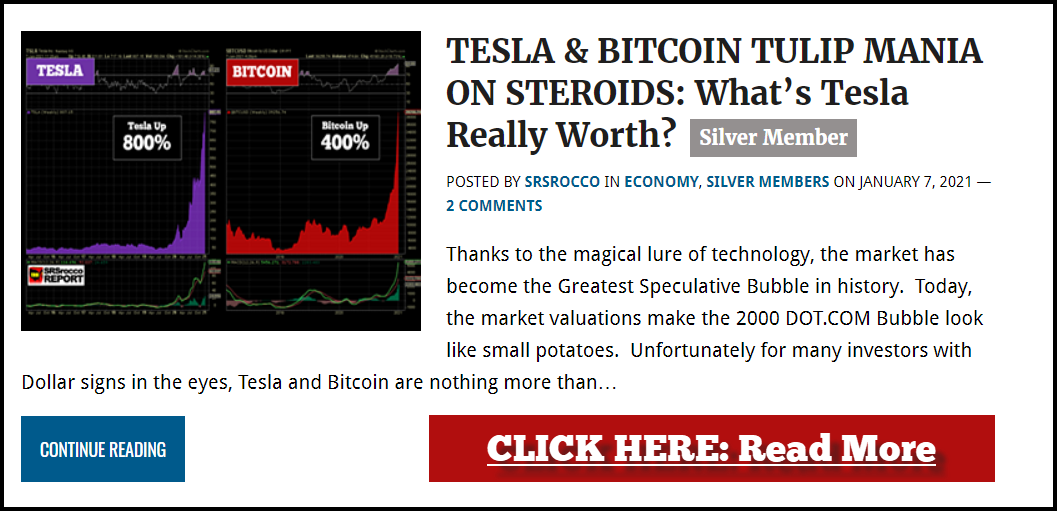 Regardless, Silver Eagle sales in 2020 surpassed 30 million while Gold Eagles totaled 844,000 oz.  Amazingly, the U.S. Mint has sold over a half-billion Silver Eagles and 24 million Gold Eagles, which turns out to be a 23/1 Silver to Gold Eagle ratio over the 1986-2020 period.  However, the ratio last year was 36/1.  Thus, the U.S. Mint sold 36 times more Silver Eagles than Gold Eagles in 2020.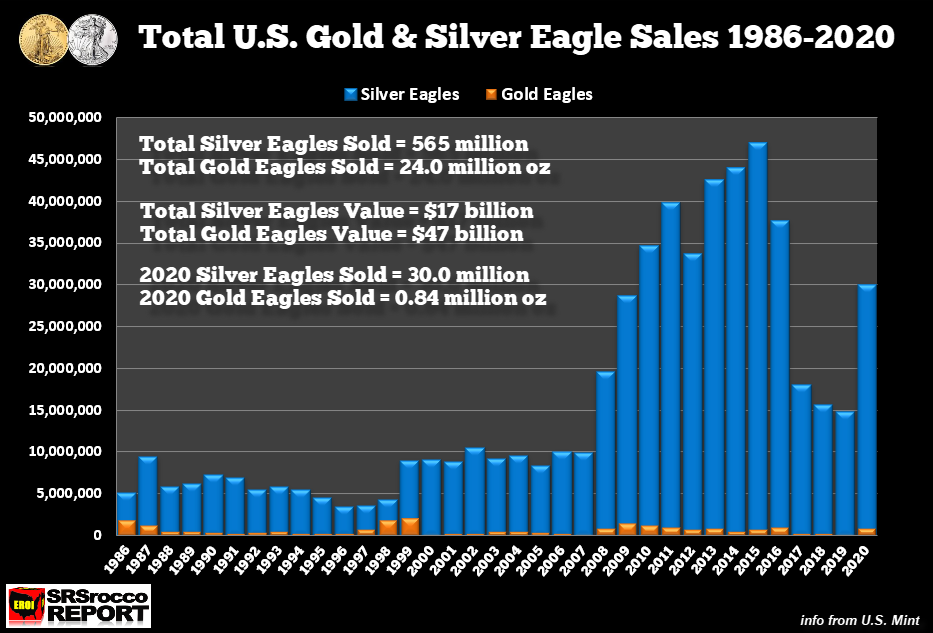 What a surge in Silver Eagle sales in 2020 compared to the three years prior.  Silver Eagle sales in 2020 were double that of 2019.  And, if demand continues to be strong this year, we may see Silver Eagle sales top 35-40 million… that is, if the U.S. Mint can keep up with demand.
I believe we are going to see one hell of a strong year for physical precious metals investment.  As the Fed and central banks continue to pump trillions into the markets, wise investors will take some of that MONOPOLY MONEY and buy real physical gold and silver.
Got your Gold and Silver Yet?
DISCLAIMER: SRSrocco Report provides intelligent, well-researched information to those with interest in the economy and investing. Neither SRSrocco Report nor any of its owners, officers, directors, employees, subsidiaries, affiliates, licensors, service and content providers, producers or agents provide financial advisement services. Neither do we work miracles. We provide our content and opinions to readers only so that they may make informed investment decisions. Under no circumstances should you interpret opinions which SRSrocco Report or Steve St. Angelo offers on this or any other website as financial advice.
Check back for new articles and updates at the SRSrocco Report.  You can also follow us on Twitter and Youtube below: