U.S. silver imports remained strong during the first quarter of the year, with March posting the highest monthly volume.  Not only did the United States import the most silver in March, it nearly accounted for one-third of estimated monthly global silver mine production.  That turns out to be a great deal of silver, especially when comparing it to U.S. gold imports during the same month.
Total U.S. silver imports for the first quarter of 2021 equaled 1,560 metric tons, up 41% versus the same quarter last year.  In just the first three months of 2021, the U.S. imported over 50 million oz of silver.  Now, compare that to the 41 metric tons of U.S. gold imports for the entire quarter… it doesn't even compare.  Moreover, U.S. gold imports for Q1 2021 are 52% less than the same quarter last year.
As stated above, U.S. silver imports for March totaled 627 metric tons (mt) versus the estimated 2,151 mt of average monthly global silver mine supply.  Thus, the U.S. imported nearly one-third of the global mine supply that month.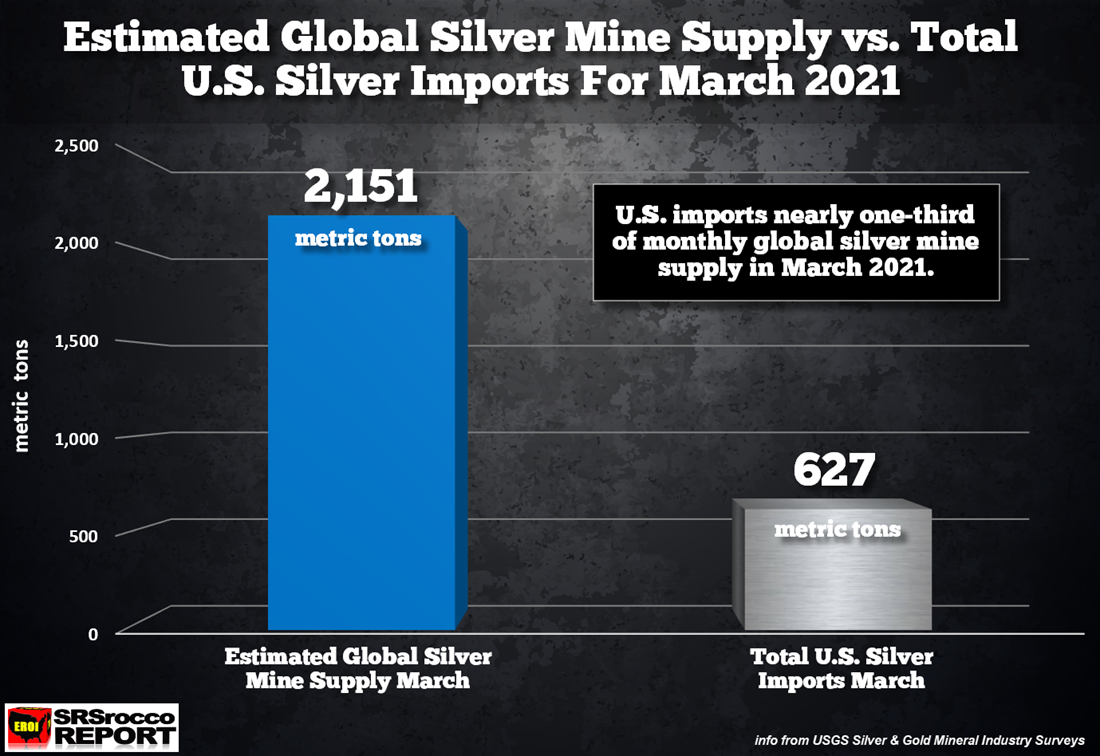 The increase in U.S. silver imports in March was likely due to the strong investment demand after the WallStreetSilver SilverSqueeze event that took place in late January and early February.  As more investors move into silver to protect wealth in the future, supply may become an increasing problem, especially as the world hits the SILVER PRODUCTION CLIFF over the next 5-10 years.  To read the article, click on the image below.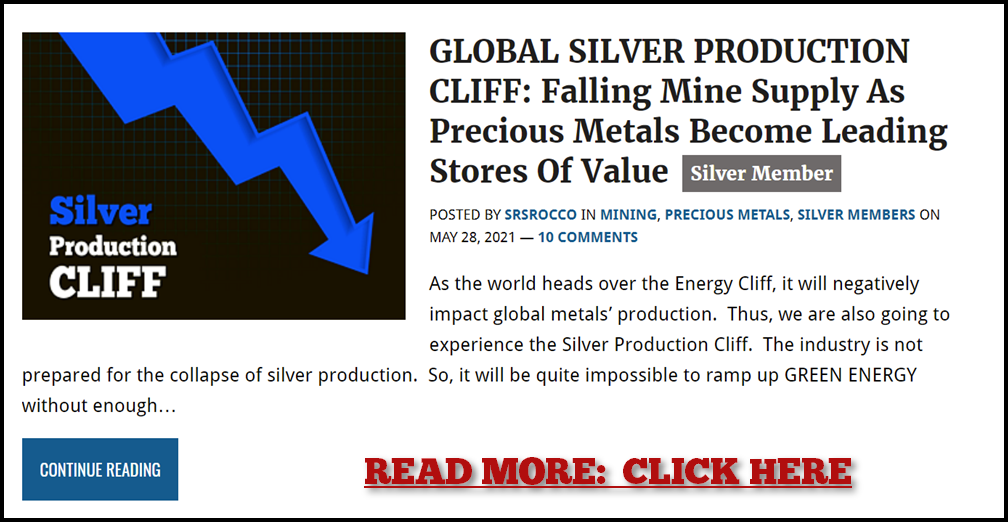 So, where did the U.S. import its silver from in March?  The majority of silver imports came from Mexico (248 mt), Canada (86 mt), Switzerland (85mt), S. Korea (54.8 mt), Poland (36 mt), Kazakhstan (30.2 mt), Germany (26 mt), and Chile (24.7 mt).  Interestingly, due to high demand, the U.S. continues to import silver from Kazakhstan and Russia.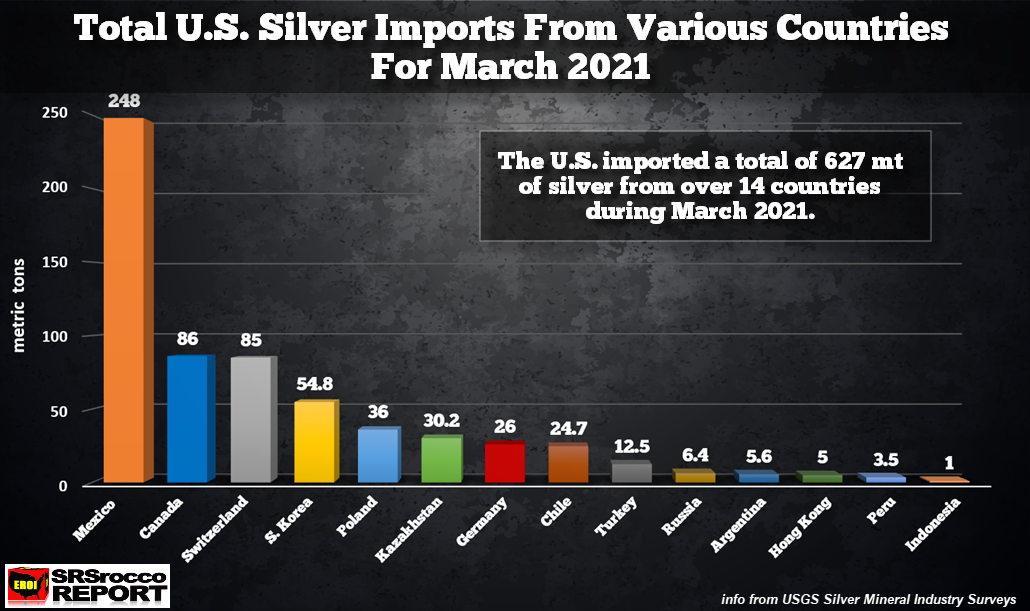 With Mexico producing 519 mt of silver in March, the U.S. imported 248 mt, or nearly half of the country's mine supply.  Furthermore, the 86 mt of silver imported from Canada was most likely Silver Maples and Royal Canadian Mint silver bars.  Why?  Because Americans are buying a great deal more of the Royal Canadian Mint's silver bullion products than are Canadians.
According to the 2021 World Silver Survey, of the 33.3 million oz of Canadian Silver Coins & Medals produced last year, Canadians only invested 7.9 million oz of silver bullion.  Thus, with U.S. physical silver investment of over 78 million oz in 2020, most Canadian Maples are being exported to the United States.  So, 86 metric tons of silver imports from Canada this March equals 2.7 million oz.  That seems to be an accurate number of Royal Canadian Mint silver bullion products imported and purchased by Americans.
With Silver Maple Leaf premiums for 2021 coins averaging about $7.50 per coin, that's mostly due to strong U.S. silver investment demand.  I would estimate that of the 33.3 million oz of Canadian Silver Coins & Medals produced last year; the U.S. likely purchased 60-70% of that figure.
Because premiums continue to be quite high for many official silver coins, investors are also moving into the different Silver ETFs.  As I stated in my Gold Member short report, Institutional ownership of the iShares SLV ETF has hit a record high, especially compared to the lackluster GLD Gold ETF demand.  Not only that, but we also see a surge of Institutional ownership of the Sprott PSLV Silver ETF.  To read more, click on the image below.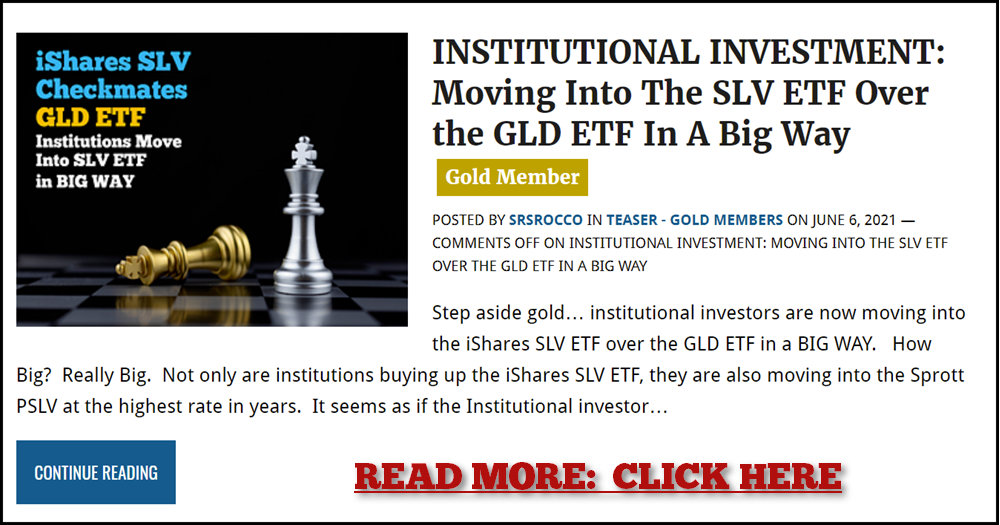 Not only are U.S. investors more interested in the iShares SLV & PSLV Silver ETFs over the GLD Gold ETF, silver imports greatly outnumber gold by a wide margin.  According to the USGS most recently released Gold and Silver Mineral Industry Surveys, the U.S. imported 627 mt of silver versus only 16 mt of gold in March.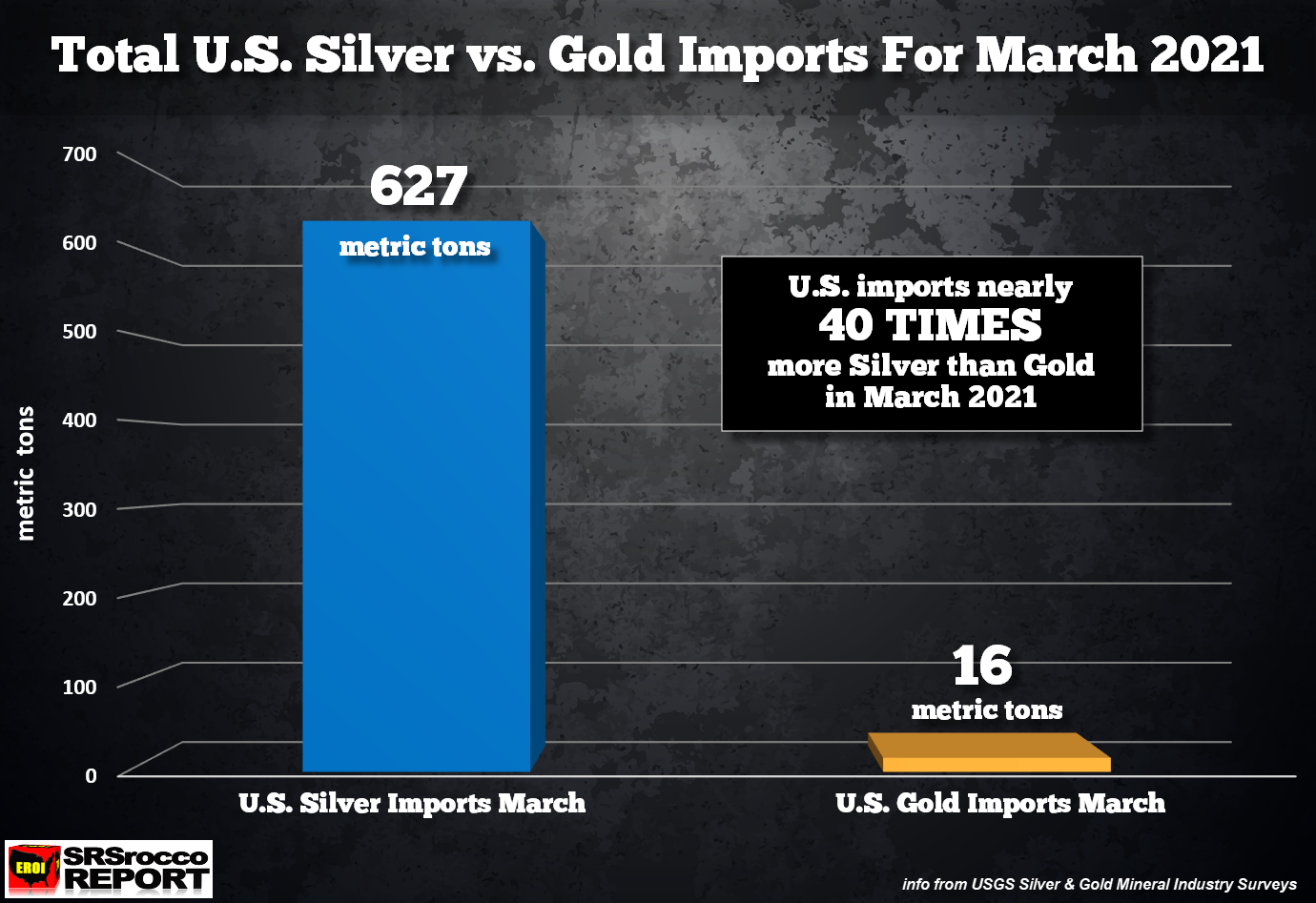 The United States imported nearly 40 times more silver than gold in March.  Furthermore, U.S. silver imports totaled 1,560 mt during Q1 2021 compared to 41 mt for gold.  By converting to troy ounces, that equals 50+ million oz versus 1.3 million oz of gold.
If U.S. silver imports continue to remain strong for the rest of the year, it could account for more than 25% of the global mine supply.  Forget about China; Americans are the BIG SILVER INVESTORS.  Last year, Americans purchased TEN TIMES more physical silver bullion at 78 million oz of physical silver compared to only 7.7 million oz for the Chinese.
Lastly, investors who are quietly acquiring silver today will be happily rewarded in the future when more of the world's investors wake up to the amazing SILVER STORY.
Any information (data, charts & graphs) that are published for free public use, can be republished elsewhere.
DISCLAIMER: SRSrocco Report provides intelligent, well-researched information to those with interest in the economy and investing. Neither SRSrocco Report nor any of its owners, officers, directors, employees, subsidiaries, affiliates, licensors, service and content providers, producers or agents provide financial advisement services. Neither do we work miracles. We provide our content and opinions to readers only so that they may make informed investment decisions. Under no circumstances should you interpret opinions which SRSrocco Report or Steve St. Angelo offers on this or any other website as financial advice.
Check back for new articles and updates at the SRSrocco Report.  You can also follow us on Twitter and Youtube below: