With the results finally out, the top Silver Mining Industry's average yield fell to the lowest level ever.  While the pandemic shutdowns reduced overall silver production significantly, it didn't impact the ore grades all that much.  Since 2005, the top seven silver mining companies and mines saw their average yield fall by 55%.
Before we look at the LOWEST AVERAGE SILVER YIELD EVER, here are the top producers' total production and processed ore from 2005-2020.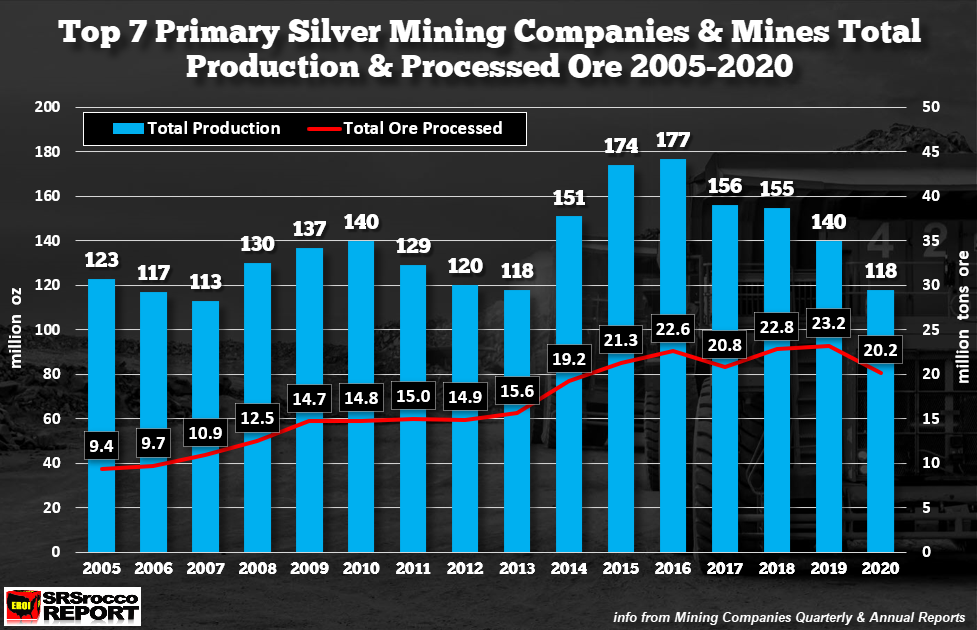 In 2005, these top producers processed 9.4 million tons of ore to supply 123 million oz (Moz) of silver.  Over the next 15 years, even though total production increased to 140 Moz in 2019, the processed ore jumped to a record 23.2 million tons.  Total silver production fell 16% from 140 Moz in 2019 to 118 Moz in 2020.
Falling mine supply last year due to the pandemic shutdowns negatively impacted the silver supply but was positive for the price.  Interestingly, the U.S. imported silver from a country that it hadn't done so for quite a while.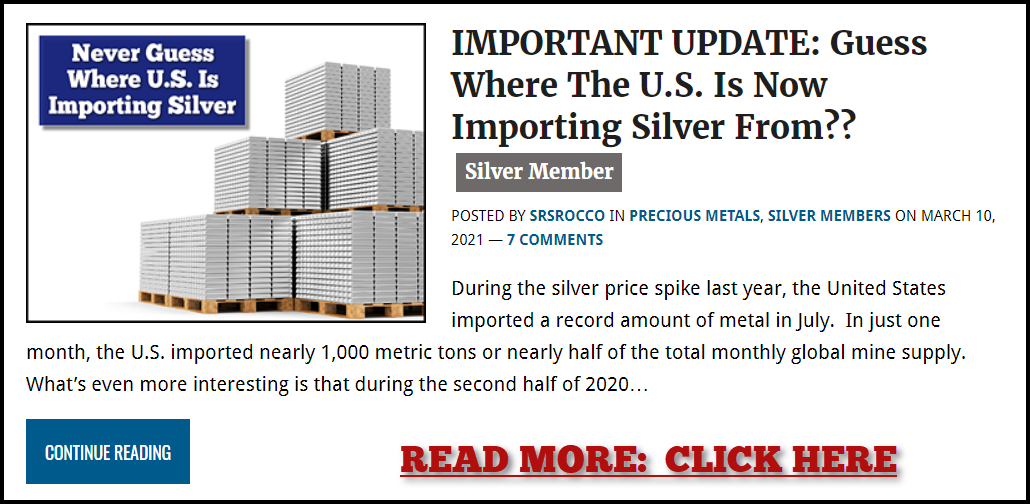 I believe U.S. silver imports will continue to remain strong in 2021.
Getting back to the issue of falling ore grades, the top seven mining companies and mines saw their average yield fall to a record low of 5.8 ounces per ton (oz/t).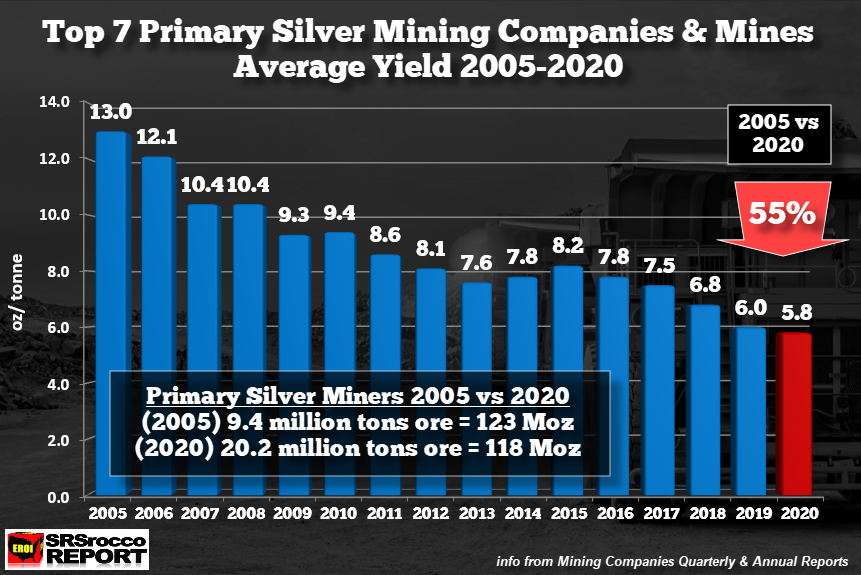 In just 15 years, these top silver producers' average yield fell from 13 oz/t to 5.8 oz/t.  Thus, the total processed ore increased by 10.8 million tons while production increased by 5 Moz.  Typical underground haul trucks can move 20-65 mt of ore in one load.   If we assume an average of 40 mt of ore per haul truckload, that would be an additional 270,000 loads to produce the same, or even less, silver.  With more than a quarter-million truckloads of ore to produce the same amount of silver, no wonder the cost to produce silver is going up.
At some point, maybe already, the world will reach Peak Silver Production.  When that occurs, investors will begin to wake up because there aren't many assets that can protect wealth.  One of the most important RESEARCH PROJECTS that I have done is explained in my newest Gold Member video on the "MISSING LINK" regarding the Collapse of the Roman Empire by Peak Silver Production.  This is a MUST WATCH VIDEO.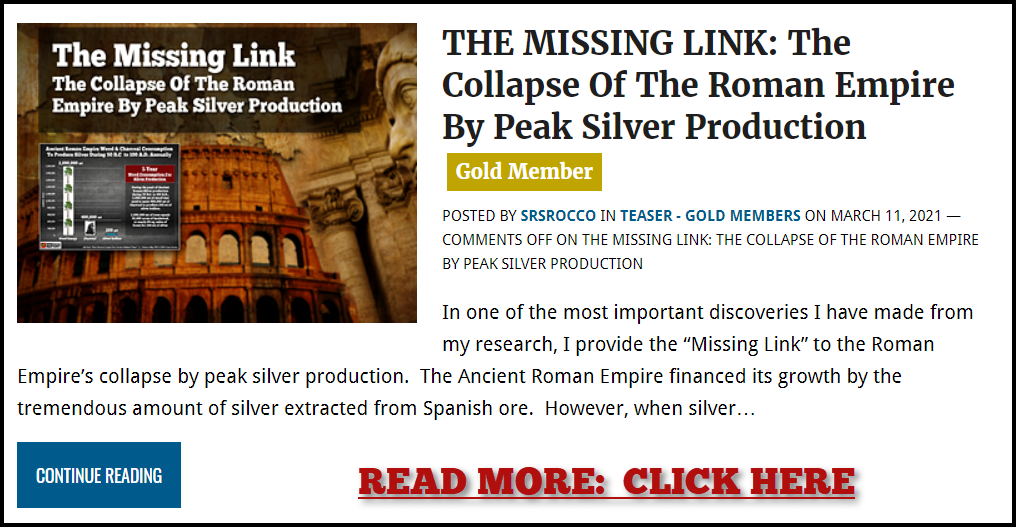 The coming Perfect Silver Storm will occur as global silver mine supply contracts while demand goes up exponentially.  This will be something for the history books.
NOTICE: The paid content is not to be "Republished" on websites, blogs, or, elsewhere. This is especially true for the signature SRSrocco Report Charts & Graphics. No paid member SRSrocco Report charts-graphics can be republished elsewhere. We will allow certain brief amounts of data or information to be shared elsewhere for the purpose of debate or analysis.
Any information (data, charts & graphs) that are published for free public use, can be republished elsewhere.
DISCLAIMER: SRSrocco Report provides intelligent, well-researched information to those with interest in the economy and investing. Neither SRSrocco Report nor any of its owners, officers, directors, employees, subsidiaries, affiliates, licensors, service and content providers, producers or agents provide financial advisement services. Neither do we work miracles. We provide our content and opinions to readers only so that they may make informed investment decisions. Under no circumstances should you interpret opinions which SRSrocco Report or Steve St. Angelo offers on this or any other website as financial advice.
Check back for new articles and updates at the SRSrocco Report. You can also follow us on Twitter and Youtube below: