Since the last U.S. Mint update, Silver Eagle sales have surged by 1.2 million in less than a week.  The U.S. Mint updated its sales figures last week on Wednesday, September 8th, showing 750,000 Silver Eagles and 20,000 oz of Gold Eagles.  However, when revised its sales figures today, it is showing 1,979,000 Silver Eagles and 31,500 oz of Gold Eagles.
For whatever reason, Silver Eagle sales in September have outperformed Gold Eagle sales compared to the previous month.  First, here are the Silver Eagle sales for September: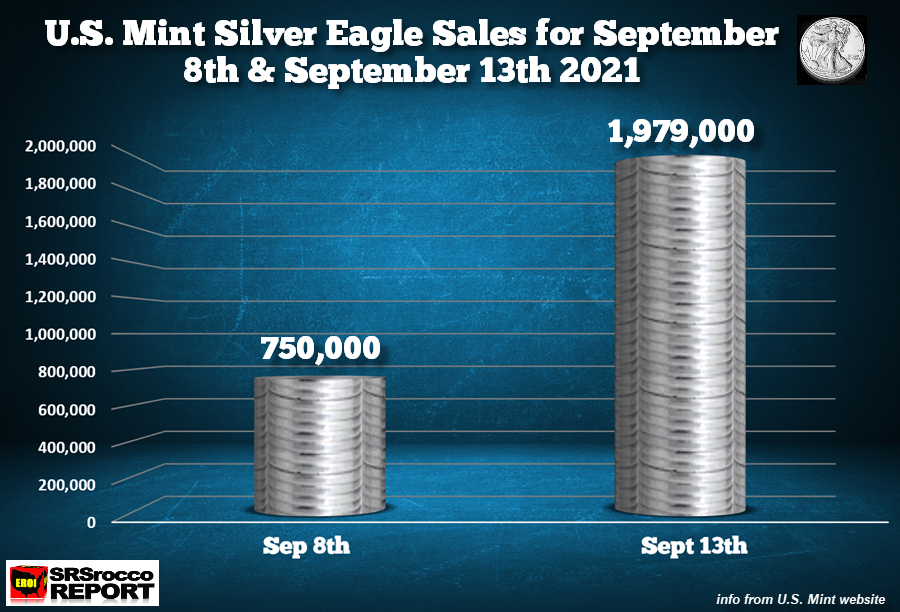 Silver Eagle sales jumped 1,229,000 since last Wednesday.  However, Gold Eagle sales only increased by 11,500 oz over the same period to 31,500 oz: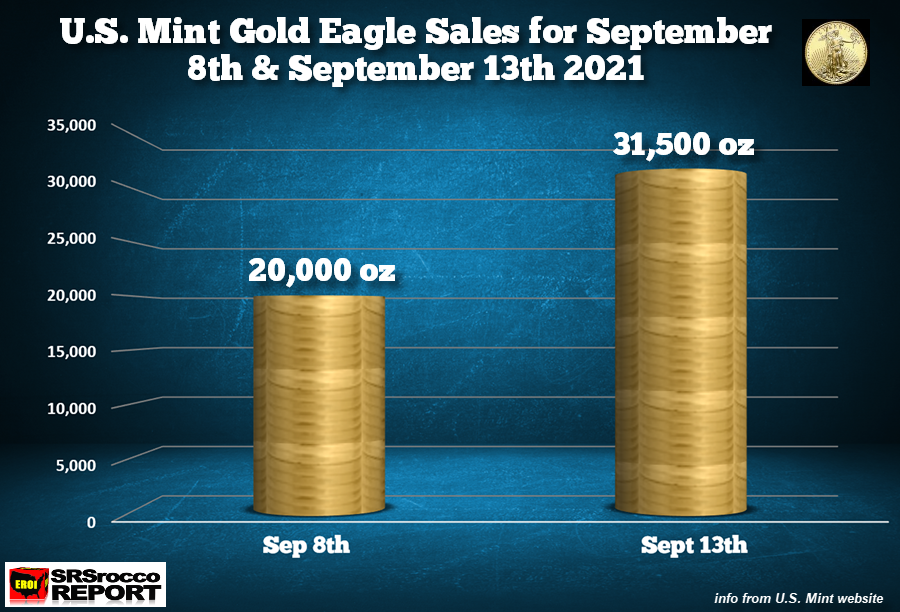 With U.S. Silver Eagle sales at 1,979,000 versus 31,500 oz for Gold Eagles, the ratio increased to 62/1 versus the 29/1 last month.  During August, the U.S. Mint sold 136,000 oz of Gold Eagles and 3,930,00o Silver Eagles for a Silver to Gold Ratio of 29/1.
Total Silver Eagles sold so far this year are 24,919,500 versus 879,000 oz of Gold Eagles.  With demand for Silver Eagles still being quite strong as premiums are high, CLOUD HARD ASSETS is selling them now under $30 apiece.  This is the cheapest I have found for the New 2021 Silver Eagles.   Dan, General Manager at Cloud Hard Assets, told me that they are selling the New Design 2021 Silver Eagles for $6.05 over spot.  The lowest I found (20-99 coins) was SD Bullion at $32.61, and the highest was APMEX at $35.24.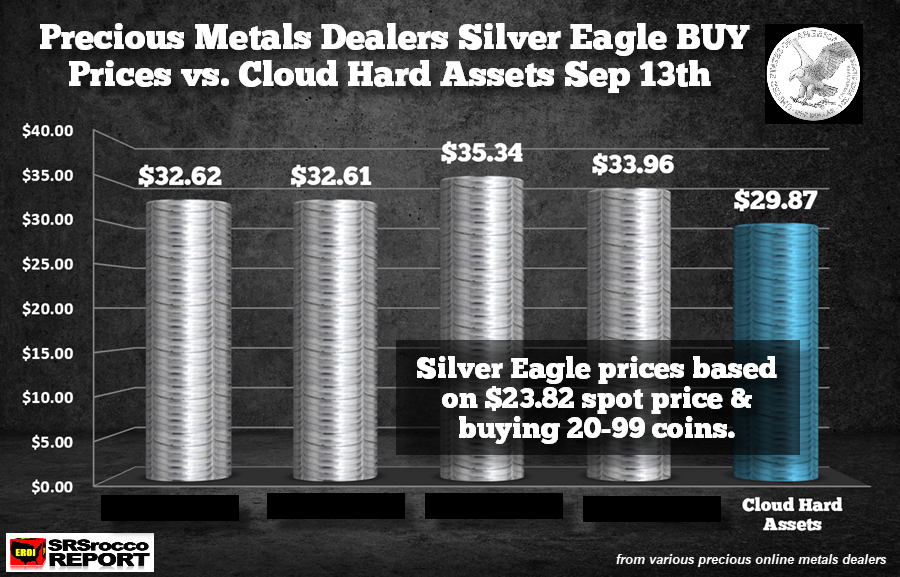 With APMEX being their own U.S. Mint Authorized Dealer, I am quite surprised they have the highest premiums in the group at $11.52 over spot.  This is nearly $4.50 higher than Cloud Hard Assets.
You can contact Tom, Dan, or Jade click here: CLOUD HARD ASSETS.  You can also call (800) 247-2812.
DISCLAIMER: SRSrocco Report provides intelligent, well-researched information to those with interest in the economy and investing. Neither SRSrocco Report nor any of its owners, officers, directors, employees, subsidiaries, affiliates, licensors, service and content providers, producers or agents provide financial advisement services. Neither do we work miracles. We provide our content and opinions to readers only so that they may make informed investment decisions. Under no circumstances should you interpret opinions which SRSrocco Report or Steve St. Angelo offers on this or any other website as financial advice.
Check back for new articles and updates at the SRSrocco Report.  You can also follow us on Twitter and Youtube below: