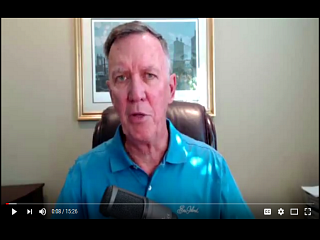 During this precious metals update, Tom Cloud discusses several important developments in the gold and silver markets.  Tom first discusses the debate on the monetization of the Silver Libertad and the increased buying by investors of the Official Mexican silver coin.
Tom then talks about the possibility of a gold-backed Chinese Yuan and supposed "official' devaluation by the end of 2017.  He says that during his recent trip to Europe, there was a lot of discussions about the devaluation of the U.S. Dollar with his connections in the industry.  At some point, the Fed and U.S. Treasury will lose its ability to control interest rates and the value of the Dollar.
Tom also discusses the upcoming Trump tax cuts, the Commercial Banks gold, and silver short positions, the elevated buying of precious metals in Europe, etc.
One more thing.  I had to remove the details of Tom Clouds Lowest Cost Storage rates in the industry on our webpage because it caused too much of a stir in the industry.  So, if you want to find out about Tom's LOWEST COST PRECIOUS METALS STORAGE rates, you have to call his number on the page.
Lastly, if you haven't checked out our new PRECIOUS METALS INVESTING section or our new LOWEST COST PRECIOUS METALS STORAGE page, I highly recommend you do.
If you are new to this site, you may want to check out our PRECIOUS METALS WEBINAR.  There is a lot of good material discussed during that webinar… for free.
DISCLAIMER: SRSrocco Report provides intelligent, well-researched information to those with interest in the economy and investing. Neither SRSrocco Report nor any of its owners, officers, directors, employees, subsidiaries, affiliates, licensors, service and content providers, producers or agents provide financial advisement services. Neither do we work miracles. We provide our content and opinions to readers only so that they may make informed investment decisions. Under no circumstances should you interpret opinions which SRSrocco Report or Steve St. Angelo offers on this or any other website as financial advice.
Check back for new articles and updates at the SRSrocco Report.  You can also follow us on Twitter and Youtube below: