In my newest update, I explain that the silver price trend for the next quarter will depend on what happens over the next 7-10 days.  If the U.S. Government comes out with a new stimulus plan, then we are going to see higher silver and gold prices.  However, if there isn't a new bill put forth, we could see a short-term correction in the precious metals and broader markets.
In my YouTube update, Silver Update & Investment Not Industrial Demand Future Driver Of Price, I provide a brief silver market price update followed by why I believe silver investment, not industrial demand, will be the leading driver of the future price.  I include a new chart comparing silver industrial demand versus investment demand.
However, while I do provide a short silver price update, I did a recent VIMEO video for Silver-Gold Members, including 11 charts on the silver-gold prices and the U.S. Dollar Index: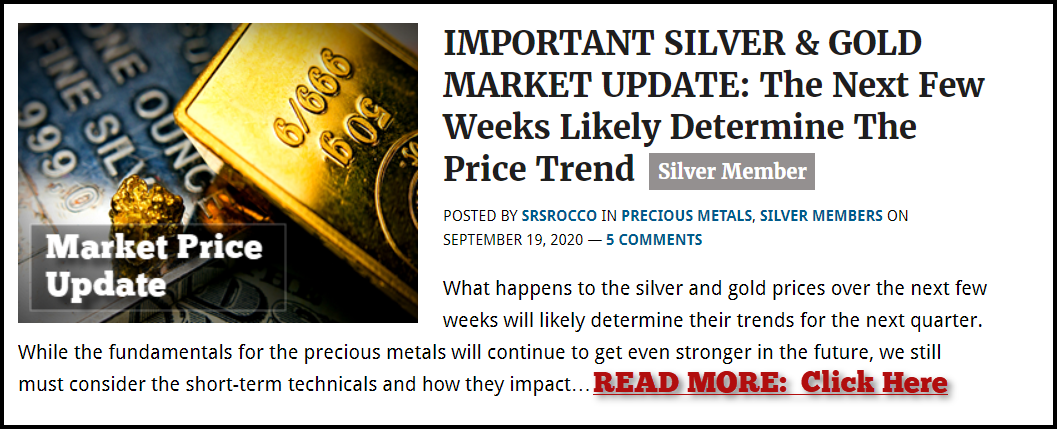 I see physical silver investment demand surpassing industrial demand in the future, pushing the silver price up to very high levels.
DISCLAIMER: SRSrocco Report provides intelligent, well-researched information to those with interest in the economy and investing. Neither SRSrocco Report nor any of its owners, officers, directors, employees, subsidiaries, affiliates, licensors, service and content providers, producers or agents provide financial advisement services. Neither do we work miracles. We provide our content and opinions to readers only so that they may make informed investment decisions. Under no circumstances should you interpret opinions which SRSrocco Report or Steve St. Angelo offers on this or any other website as financial advice.
Check back for new articles and updates at the SRSrocco Report.  You can also follow us on Twitter and Youtube below: