Today, the silver price broke through a critical level held for nearly four years.  With silver now firmly above the important $18.50 level, the next target is $21.  If silver can break above the September 2019 high of $19.75 quickly, there's a good chance it would reach $21 in June.
In my previous article, CHART OF THE WEEK: Silver Closes At The End Of May At An Important Technical Level, I posted the chart below showing how silver closed right at the key $18.50 on the last trading day of May.  With silver closing at the very top of its price range on the last day of May, I anticipated that it would GAP UP in early Asian trading and continue higher towards the end of the day.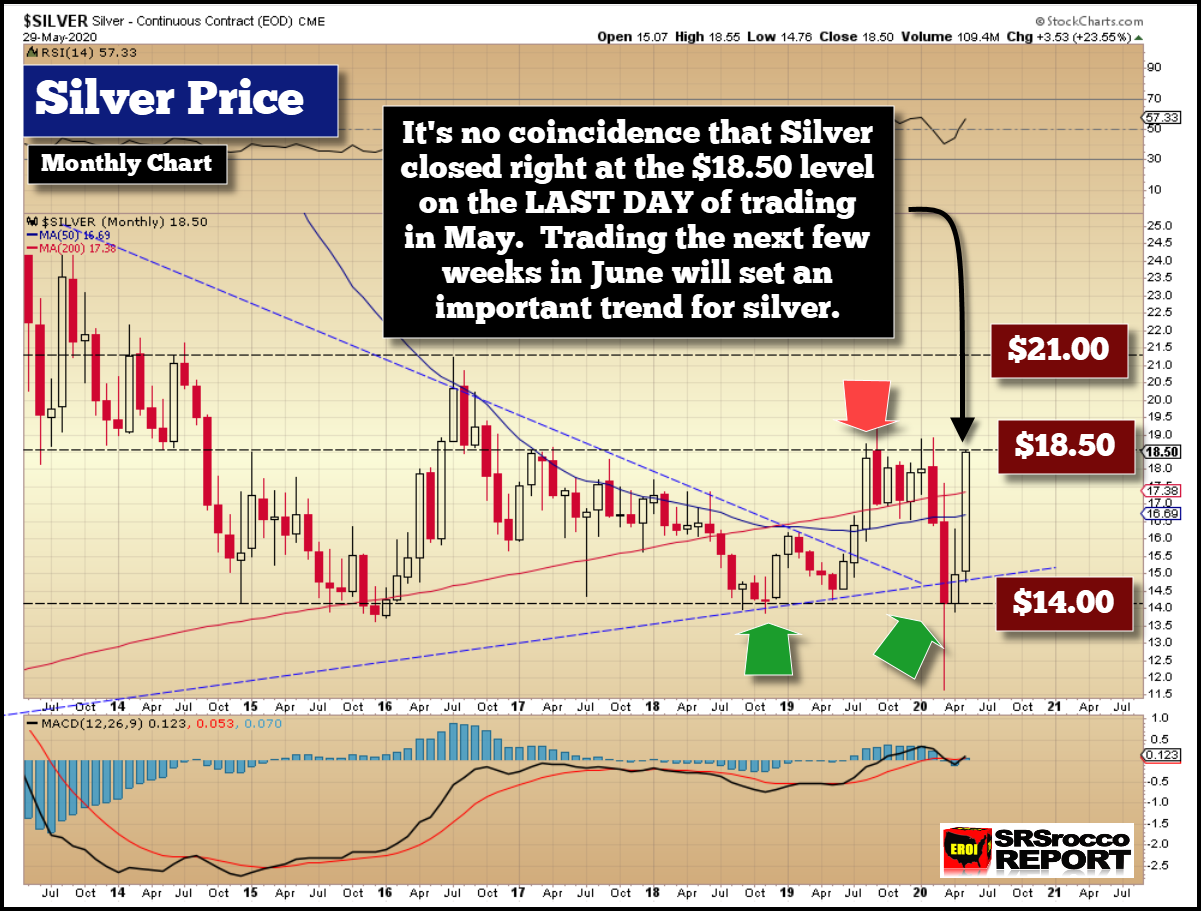 Here we can see that on the Monthly chart (each candlestick represents a full month of trading), silver closed right at the $18.50 level.  If silver GAPPED UP in early Asian trading, then the bottom of the candlestick for the month would be ABOVE the $18.50 level.  This was extremely important to occur.   I tweeted the following charts during the early Asian trading on Sunday night and this morning in the U.S. Markets:
Silver behaved as I anticipated during early Asian trading.

The #Silver price Gapped up above the important $18.50 level.

Now, it needs to remain above $18.50 at the close of U.S. trading tomorrow. https://t.co/9KpXZOWOuO pic.twitter.com/5UD2M4YgAO

— SRSrocco Report (@SRSroccoReport) June 1, 2020
And then early this morning I tweeted the following:
The Silver price Gapped Up, Retested, and continues to Rally in early U.S. Trading.

A close above the $18.50, 15-20+ cents very positive for the #Silver Price in June.https://t.co/bcu8sqAccq pic.twitter.com/WoJV0iMVsu

— SRSrocco Report (@SRSroccoReport) June 1, 2020
As a reminder, the silver price quote on Investing.com and Stockcharts.com, come from the July Futures contract, where most of the trading takes place.  Kitco.com is posting the June contract, which only traded 25 contracts on Friday versus 61,000 for the July contract.  So, Investing.com and Stockcharts.com use the more heavily traded closest futures contract.
Regardless, here is the Silver Monthly chart with the first trading day of June:
Silver opened ABOVE the $18.50 level, so the base of the candlestick is above the important key resistance area, which I now believe may have turned into a support line.  We will know over the next 1-2 weeks of trading.  None of the previous four candlesticks that traded above the $18.50 level, closed above it or opened above it.  This is an EXCELLENT SIGN.
If the silver price can break above the last high of $19.75 back during September 19th (RED ARROW) quickly, there's a good chance it can reach the next target price of $21 in June.
While this is nothing more than PAPER TRADING, I can assure you; Traders were instrumental in pushing silver up above its long-term BREAKOUT LEVELS of $14 and $21 during 2007 and 2010 respectively: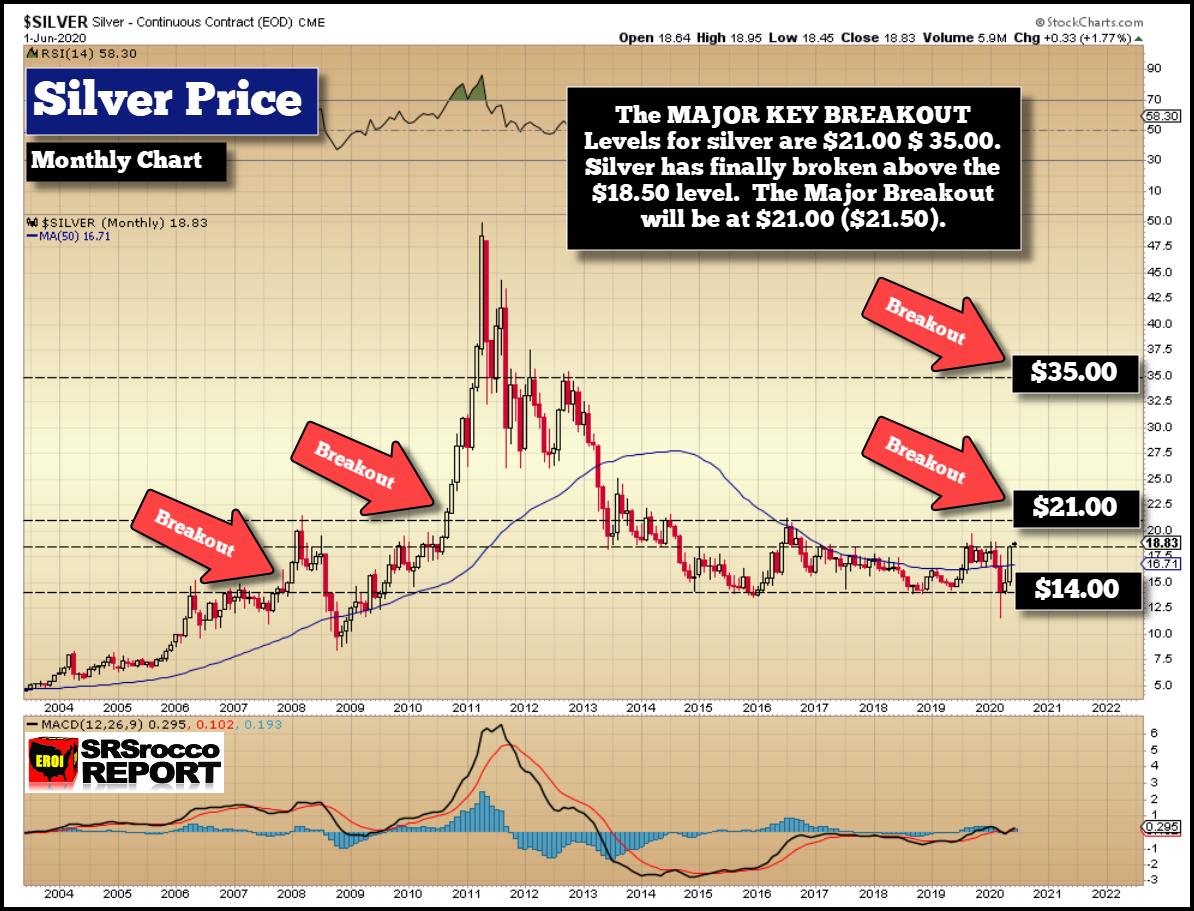 We can clearly see that when the silver price finally broke above $14 in 2007, it shot up to $20 quickly.  Then once silver broke above $18.50 and then $21 in 2010, it quickly shot up to $50.  Traders look at these important SUPPORT & RESISTANCE LEVELS.
So, now with the silver price above the $18.50 level, its next target is $21.  However, once it breaks above $21, it will quickly move to the $27.50 level (not shown in the chart), but you can see from the bottoms made during 2011-2012.
I look forward to watching how silver trades over the next few weeks.  I believe with all the money printing, the next target of $21 could come quite quickly.
Comparing Ten Online Precious Metals Dealers 2020 Silver Eagle Prices
I have been posting from time to time four of the leading online dealers 2020 Silver Eagle prices versus CLOUD HARD ASSETS, sponsored on this website.  I decided to do so because I saw such a significant difference when I compared the prices of 2020 Silver Eagles from the leading online dealers.  According to my spreadsheet, the four leading online dealers Average Premium for the 2020 Silver Eagles is 59% over spot versus 37% for CLOUD HARD ASSETS.
So, with adding five more dealers to the list, now totaling ten, here are the 2020 Silver Eagle Prices as of 3 pm MST on Monday, June 1st: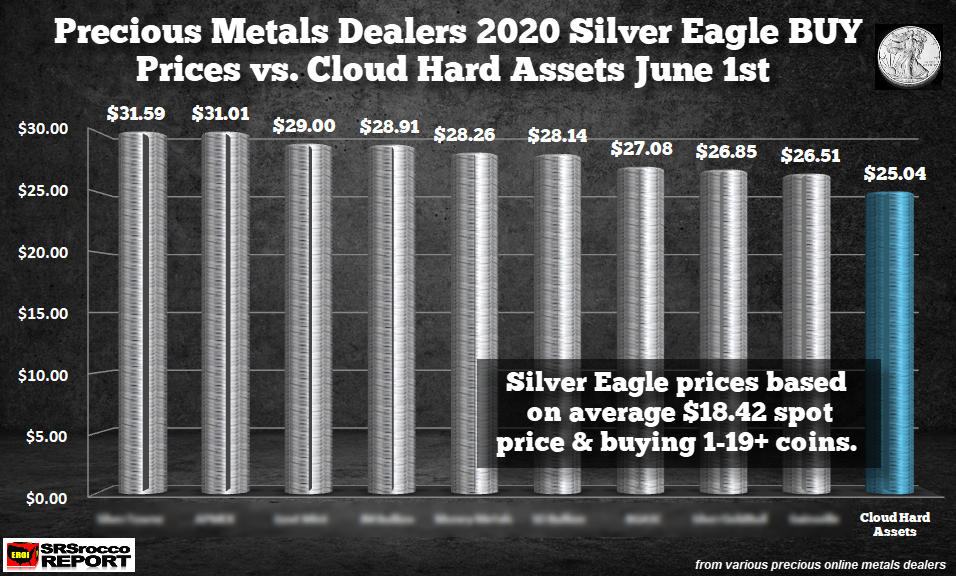 I have continue to block out the dealers' names on these charts for various reasons, however, mostly out of professionalism.  But, if you go and check the individual online dealers' websites, you will find these prices quite easily.  The 2020 Silver Eagles prices range from a high of $31.59 to a low of $25.04.  CLOUD HARD ASSETS is shown at the lower end of the range.
Dan from CLOUD HARD ASSETS sent me earlier today their current premium for their 2020 Silver Eagles ($6.70 over spot) and Random Years ($6.40 over spot).  So, it's best to shop around and find the best deals and services for your hard-earned money.
You can contact Tom or Dan at CLOUD HARD ASSETS here:  PRECIOUS METALS INVESTING.
Please read the Full Disclaimer and Disclosure on the page linked above.
If you are new to the SRSrocco Report, please consider subscribing to my:  SRSrocco Report Youtube Channel.
DISCLAIMER: SRSrocco Report provides intelligent, well-researched information to those with interest in the economy and investing. Neither SRSrocco Report nor any of its owners, officers, directors, employees, subsidiaries, affiliates, licensors, service and content providers, producers or agents provide financial advisement services. Neither do we work miracles. We provide our content and opinions to readers only so that they may make informed investment decisions. Under no circumstances should you interpret opinions which SRSrocco Report or Steve St. Angelo offers on this or any other website as financial advice.
Check back for new articles and updates at the SRSrocco Report.  You can also follow us on Twitter and Youtube below: