Investors continue to purchase a record amount of Silver Eagles.  The premiums on Silver Eagles are ranging between $6.50-$10.00+, depending on the precious metals dealer.  With Silver Eagle premiums ranging at these levels, investors must make sure they find the best deals.
Today, the silver price shot up over $15.00, and gold surpassed $1,700, while the Dow Jones Index surged by 1,600 points.  It seems as if the market now believes the WORST HAS PASSED in regards to the global contagion.  While the "WARM FUZZY" today motivated investors to push the broader markets higher by more than 8% today, the fundamentals continue to deteriorate.
Remember, 96% of the U.S. Airline Industry is still grounded.  The situation is so bad; companies are putting chemicals in fuel tanks to keep algae from growing.  According to the Zerohedge article, "Nobody's Traveling For Next Two Months" – Airlines Dumping Chemicals In Fuel Tanks To Prevent Algae:
"Nobody's traveling in the next 30 or 60 days," said Vasu Raja, American Airlines Group Inc.'s senior vice president for network strategy. "But nobody is really making any plans to go travel in the next 90 to 150 days, either."
American Airlines senior VP stated that nobody isn't really making plans to travel for the next 90-150 days.  This is much worse than 30-60 days quoted by the airline industry.  This is just one of the NEGATIVE FUNDAMENTAL impacts on the U.S. economy.  There are so many more to add to the list.  Unfortunately, the stock market is ignoring these horrible fundamentals that will play out over the next 2-4 weeks.  Thus, many investors who were ready to sell last week, are now STAYING IN the market due to their Brokers "DONT' SELL YET" recommendations.
SILVER EAGLE UPDATE:  Premiums Are Ranging Between $6.50-$10.00+
I am amazed at the huge range in Silver Eagle premiums by the top online precious metals dealers.  I have done an update on the leading online precious metals dealers premiums for Silver Eagles.  With silver trading at $15 today, some dealers are charging more than $10 in premiums or a staggering 66%.
Here were the top leading online dealers Silver Eagle BUY prices as of April 1st, versus Cloud Hard Assets, which I sponsor on this website:
APRIL 1st (100-499 Coins)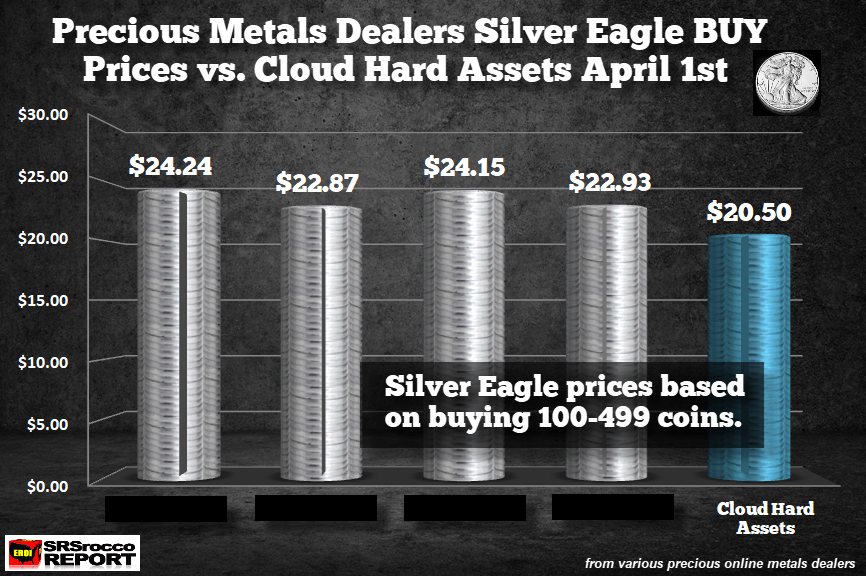 These prices came directly from the various online precious metals dealers' websites on April 1st.  At the time, Cloud Hard Assets was selling Silver Eagles at $6.50 over spot, based on a $14 silver price.
Now that silver increased to $15 today, here are the newest Silver Eagle BUY prices from these top online precious metals dealers as of April 6th:
APRIL 6th (100-499 Coins)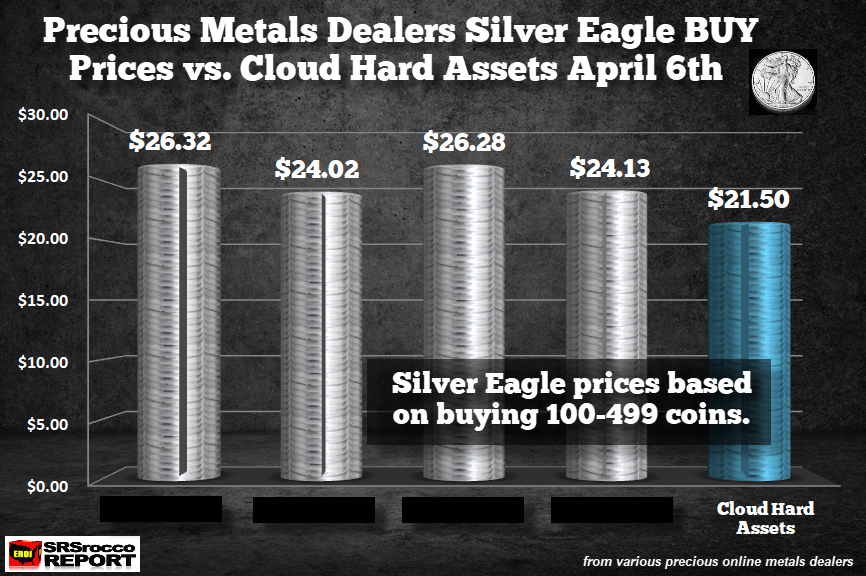 As you can see, Cloud Hard Assets still offers the lowest premium ($6.50 over spot) compared to the top competitors.  These prices are based upon buying 100-499 coins.  If you purchase a fewer number of Silver Eagles from these dealers, the BUY PRICE increases.  However, Cloud Hard Assets charges the same price for any amount:
APRIL 6th (1-19 Coins)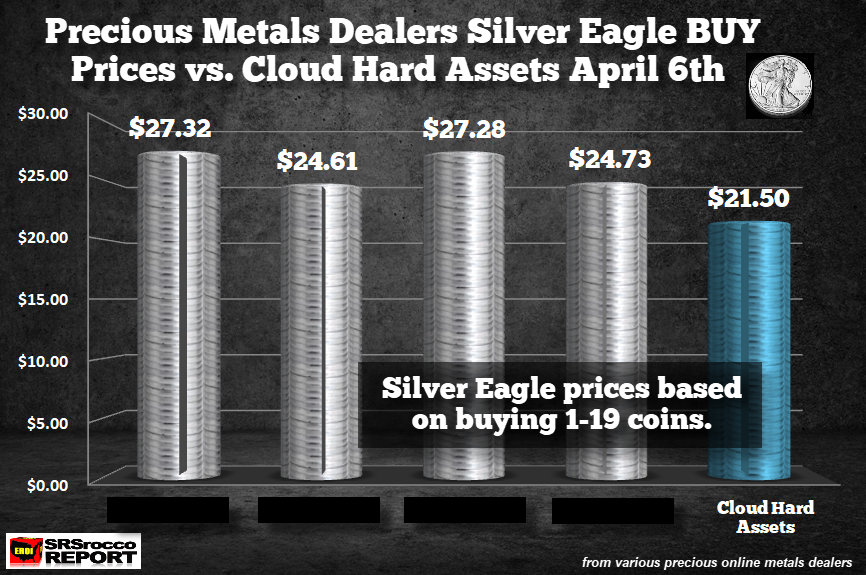 These would be the Silver Eagle BUY prices if an individual wanted only to purchase 1-19 coins from the various dealers.  As you can see, Cloud Hard Assets provides individuals a MUCH BETTER DEAL than the competitors when buying a smaller amount of coins, especially the two dealers who are charging more than $12.00+ premium over spot, PER COIN!!
I spoke to Dan today at Cloud Hard Assets, and he provided the premiums above spot for the following products:
Silver Eagles ($6.50 over spot)
Silver Misc Private 1 oz Rounds ($3.60 over spot)
Silver Misc Private 1 & 10 oz Bars ($3.60 over spot)
Gold Eagles (9.25% over spot)
Gold Buffalo (8.75% over spot)
Gold Philharmonic (7% over spot)
Gold Kilo Bars (4.2% over spot)
If you would like to chat with Tom or Dan at Cloud Hard Assets, you can at the following link:  CLOUD HARD ASSETS.
I will be providing a new Youtube Video Update on the Massive Money Printing & Debt Increase by the U.S. Government vs. Gold and Silver in the next 1-2 days.
IMPORTANT NOTE:  There is a reason I sponsor Tom Cloud on my site because I believe he is one of the most honest and upfront precious metals dealers in the industry.  Not only does Tom offer some of the best rates to purchase gold and silver, but also whenever someone sells metals back to him, HE DOES NOT CHARGE A COMMISSION.  The overwhelming majority of precious metals dealers charge a commission to buy back gold and silver.
I challenge you to check for yourself.
Also, if you need to store metal at a secure facility, Tom offers some of the lowest storage rates in the industry.  TOM DOES NOT MAKE MONEY OFF HIS CLIENTS PRECIOUS METALS STORAGE.  The overwhelming majority of precious metals dealers add an additional percentage to store their clients gold and silver
I challenge you to check for yourself.
Tom Cloud has been in the precious metals business for 46 years, since 1973.  He has a lot of experience in the precious metals industry and understands the gold and silver market better than most dealers in the industry.
If you are new to the precious metals market and had questions, Tom Cloud would be happy to answer any questions.
DISCLAIMER:  While Tom offers information about precious metals, you should not take this as investment advice.  You should contact a professional advisor and or do your due diligence before making investment decisions.  
If you are new to the SRSrocco Report, please consider subscribing to my:  SRSrocco Report Youtube Channel.
DISCLAIMER: SRSrocco Report provides intelligent, well-researched information to those with interest in the economy and investing. Neither SRSrocco Report nor any of its owners, officers, directors, employees, subsidiaries, affiliates, licensors, service and content providers, producers or agents provide financial advisement services. Neither do we work miracles. We provide our content and opinions to readers only so that they may make informed investment decisions. Under no circumstances should you interpret opinions which SRSrocco Report or Steve St. Angelo offers on this or any other website as financial advice.
Check back for new articles and updates at the SRSrocco Report.  You can also follow us on Twitter and Youtube below: