Premiums for silver bullion products have declined over the past two weeks but are still quite high for American Silver Eagle coins.  The average 2020 Silver Eagle premiums from the leading online dealers have fallen from over $10 per coin and are now in the $8 range.
I have kept track of the 2020 Silver Eagle premiums on a spreadsheet since May 18th.  The four leading online dealers' average 2020 Silver Eagle premium reached a high of 64% at $10.97 per coin on May 21st but has fallen to 51%, $8.95 per coin on the close of Friday: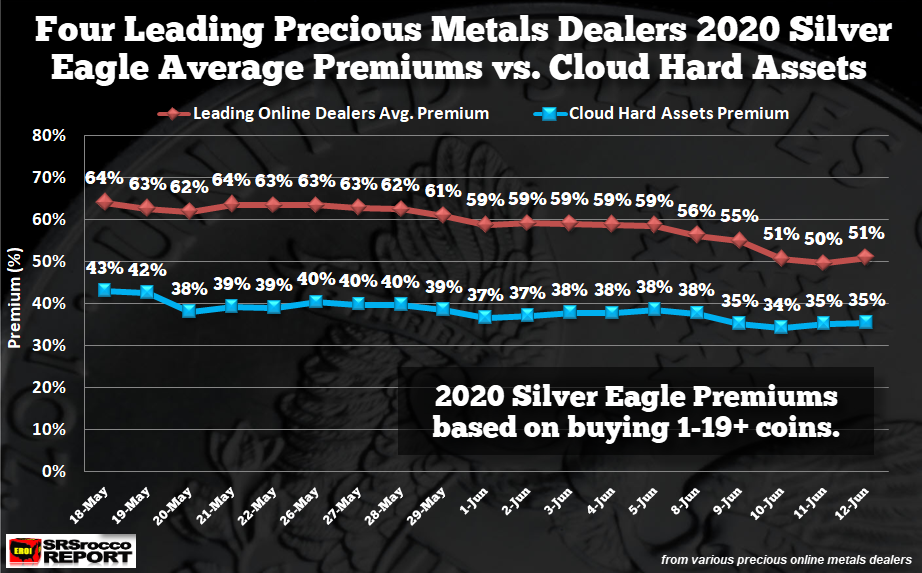 Some of four online dealers have lower 2020 Silver Eagle prices and premiums, but the largest dealer (with the highest price, go figure) has pushed up the average.  However, CLOUD HARD ASSETS still has the lowest 2020 Silver Eagle premium I have found in the market at 35%, $6.20 per coin.
As of the close of Friday, here were the five dealers 2020 Silver Eagle prices and premiums (based on 1-19+ coins):
Leading Online Dealer #1 = $10.45 premium (59%)
Leading Online Dealer #2 = $9.00 premium (51%)
Leading Online Dealer #3 = $8.97 premium (51%)
Leading Online Dealer #4 = $7.50 premium (43%)
CLOUD HARD ASSETS = $6.20 premium (35%)
And, if we look at the lower-cost MONEX Silver Eagle premiums, they are 33%.  However, MONEX's Silver Eagle premiums are based on Random Years, not for just 2020.  CLOUD HARD ASSETS Random Year Silver Eagles are $5.90 over spot, or a 34% premium, very close to MONEX's premium.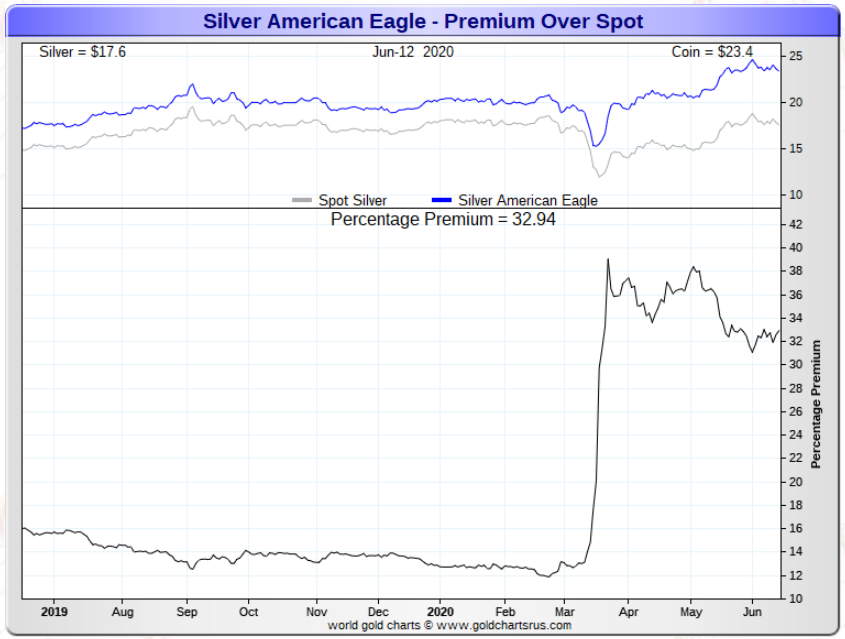 It will be interesting to see how Silver Eagle premiums change over the next 2-4 weeks as the Stock markets may start to unravel once again.  Currently, there is more availability of silver bullion products, but that could change on a dime during the next market meltdown or financial crisis.  When the next major financial crisis hits the market, I believe it will be even more challenging to acquire silver bullion products, only at much higher premiums.
LOWEST OFFICIAL SILVER COIN IN THE MARKET:  Silver Krugerrand Best Buy Price
Precious metals investors have taken advantage of acquiring Official Silver coins with lower premiums rather than pay double the premium for Silver Eagles.  The Official Silver coins offering lower premiums are the Austrian Silver Philharmonic, British Silver Britannia, and the South African Silver Krugerrand.
While the leading online dealers are charging different prices for these coins, the lowest I have seen is the 2020 Silver Krugerrand offered by CLOUD HARD ASSETS at $20.96 per coin: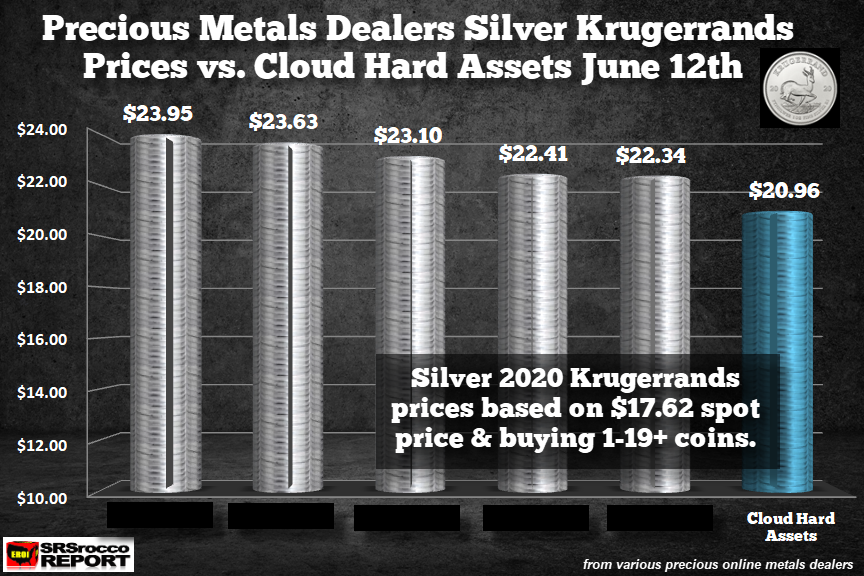 I checked ten different dealers, but four didn't have any stock of the 2020 Silver Krugerrands.  As we can see in the chart above, the prices for the 2020 Silver Krugerrands ranged from $23.95 to $20.96.  So, it pays to shop around for the best prices and services.  While it's a good idea to find the best prices, it's even a better idea to find dealers who provide the best services.
UPDATE:  For early trading Monday morning (June 15th) with average spot silver price of $17.14: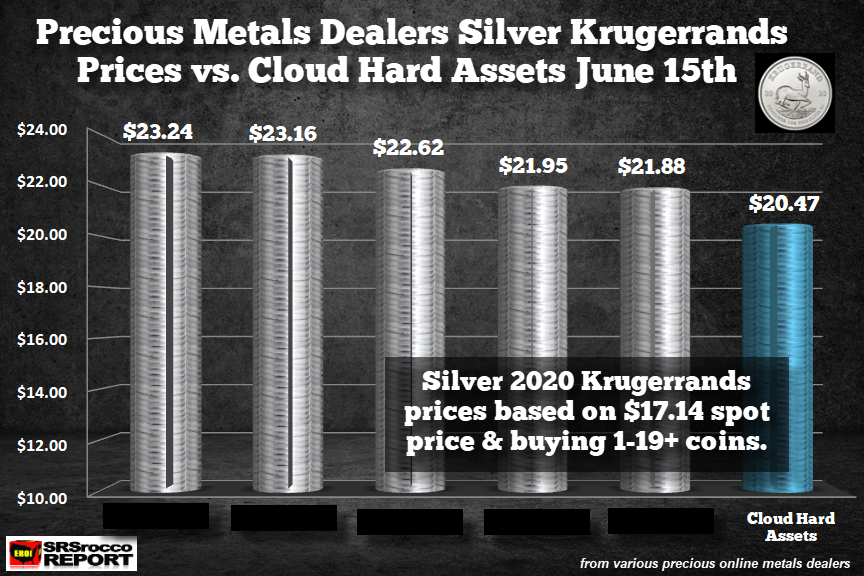 Lastly, it will be interesting to see what happens in the broader markets in the next 2-4 weeks.  I believe we are going to see the U.S. Government put forth another BAILOUT PACKAGE as the economic conditions in the economy continue to deteriorate.  With the U.S. Public debt now over $26 trillion, investors should be worried about the FINANCIAL ASSETS they own.
Precious metals provide a STORE OF VALUE, while most PAPER ASSETS are being propped up by extreme leverage.  The idea of putting 5% of one's wealth in gold and silver will turn out to be WAY TOO LOW when the next financial crisis hits.
You can contact Tom or Dan at CLOUD HARD ASSETS here:  PRECIOUS METALS INVESTING.
Tom Cloud has been in the precious metals business for 46 years, since 1973.  He has a lot of experience in the precious metals industry and understands the gold and silver market better than most dealers in the industry.
If you are new to the precious metals market and had questions, Tom Cloud and Dan would be happy to answer any questions.
DISCLAIMER:  While Tom offers information about precious metals, you should not take this as investment advice.  You should contact a professional advisor and or do your due diligence before making investment decisions.  
Also, please read the FULL DISCLAIMER on the PRECIOUS METALS INVESTING page.
If you are new to the SRSrocco Report, please consider subscribing to my:  SRSrocco Report Youtube Channel.
DISCLAIMER: SRSrocco Report provides intelligent, well-researched information to those with interest in the economy and investing. Neither SRSrocco Report nor any of its owners, officers, directors, employees, subsidiaries, affiliates, licensors, service and content providers, producers or agents provide financial advisement services. Neither do we work miracles. We provide our content and opinions to readers only so that they may make informed investment decisions. Under no circumstances should you interpret opinions which SRSrocco Report or Steve St. Angelo offers on this or any other website as financial advice.
Check back for new articles and updates at the SRSrocco Report.  You can also follow us on Twitter and Youtube below: