With the Federal Reserve announcing this morning that it will start buying Junk Bonds and Junk ETFs, along with its monthly asset purchases of U.S. Treasuries and Mortgage-Backed Securities, the demand for gold and silver bullion will only increase.  Thus, get ready for shortages of available precious metals products to get worse as wait times will likely increase from weeks to months.
In my newest video, Gold & Silver Shortages: Massive Debt & Money Printing Just Beginning, I discuss how much the U.S. Public debt, M2 Money supply, and Currency in Circulation have increased in just the past two months.
For example, the U.S. Government's public debt surged by a staggering $219 billion in the first three days of April.  How does this compare with the value of global gold and silver mine supply for a month?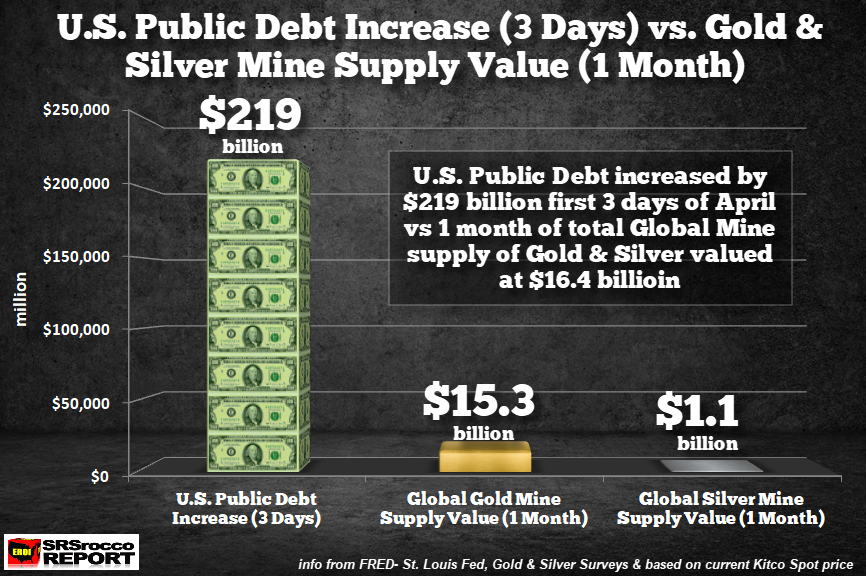 The total value of global gold and silver mine supply for a month is approximately $16 billion compared to the $219 billion increase in U.S. Government debt over three days.  And, this is just the beginning.  As I mentioned at the top of the article, the Federal Reserve will now start buying Junk Bonds and Junk ETFs to prop up the market.  This is how bad the situation is becoming.
In the video, I provide an update on the list of mines that are now shut down in Mexico.  These mines will be shut down until the end of April.  Mexico produces about 28 million oz of silver per month.  Furthermore, Peru hasn't announced a reopening of mines that were shut down on March 15th.  I've checked Pan American Silver's website, and they have not provided an update on their four mines in Peru that were closed in mid-March.
Moreover, as global silver mine supply is contracting, demand for physical silver bullion has skyrocketed.  While the retail silver bullion products have been delayed for 2-4 weeks or more, it is very difficult to obtain the 1,000 wholesale bars.  Back in 2008, when the same retail silver bullion shortages were taking place, investors could still acquire 1,000 oz silver bars and turn them into smaller products.
However, if we look at APMEX's website, there aren't any 1,000 oz silver bars available.  In 2008, APMEX had at times a dozen of these 1,000 oz bars for sale (including serial numbers):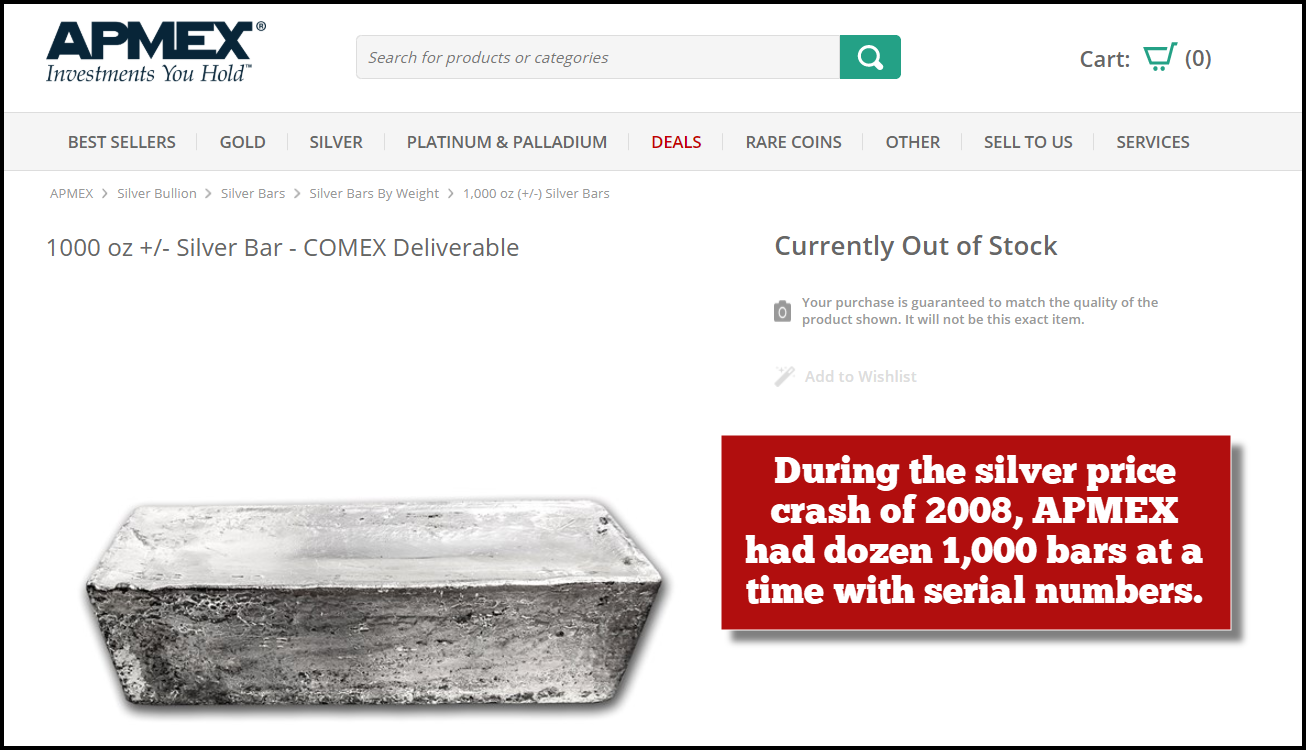 Dan at Cloud Hard Assets told me that they could get some 1,000 oz silver bars, but it would take 4-6 weeks.  So, we already see tightness in the 1,000 oz wholesale silver market.
I believe investors still don't realize just how bad the Global Economy and Financial System has deteriorated.  Over the next 2-4 weeks, watch as more fireworks take place in the market, forcing a more significant number of investors to move into physical precious metals.  Unfortunately, that will only make the shortages and availability more extreme.
THANK YOU ALL FOR THE SUPPORT:  I just wanted to thank all the individuals who continue to support the SRSrocco Report website and youtube channel.  I know some of you have canceled memberships as times are tough.  I totally understand.  If you are new to the site and find the information valuable, please consider supporting the website, if you have the means to do so, at Paypal or Patreon below.
If you are new to the SRSrocco Report, please consider subscribing to my:  SRSrocco Report Youtube Channel.
DISCLAIMER: SRSrocco Report provides intelligent, well-researched information to those with interest in the economy and investing. Neither SRSrocco Report nor any of its owners, officers, directors, employees, subsidiaries, affiliates, licensors, service and content providers, producers or agents provide financial advisement services. Neither do we work miracles. We provide our content and opinions to readers only so that they may make informed investment decisions. Under no circumstances should you interpret opinions which SRSrocco Report or Steve St. Angelo offers on this or any other website as financial advice.
Check back for new articles and updates at the SRSrocco Report.  You can also follow us on Twitter and Youtube below: