The secret known by many wealthy investors is that Diamonds are the most portable form of wealth in the world.  Jacques Voorhees, known as the Father of online Diamond Trading, explains why Diamonds provide investors with the highest concentrated form of wealth when it's critical to move quickly.
If we do simple math, the following chart shows the current value of the leading Hard Assets and copper.  I included copper because it has also been used as money and currency in the past.  As you can see, one troy ounce of diamonds is worth $1.4 million compared to $1,850 for gold, $24 for silver, and 26 cents for copper.  Diamonds are 750 times more condensed hard asset than gold.  As you can see, an investor would have to carry 750 ounces of gold or nearly two metric tons of silver to equal the same amount in one ounce of high-quality diamonds.  I am not even going to calculate copper… LOL.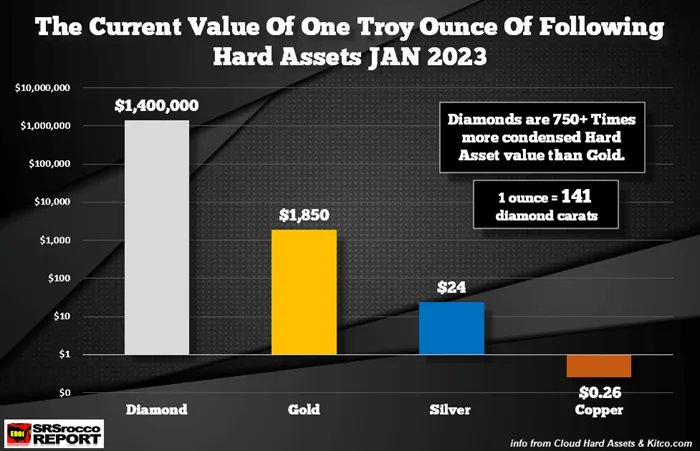 There are more than 141 carats of diamonds weighing one ounce.  Based upon the current average market price of a (1) carat diamond at $10,000, that equals $1.4 million.  That $10,000 price is based upon the high-quality triple-X rated diamonds that make up only 2% of the total diamond market.  The Triple-X-rated diamonds are where the wise professional investors put their money.  So, it is no coincidence that for thousands of years, investors have used diamonds as a more portable store of concentrated wealth.
Unfortunately, many precious metals investors continue to harbor negative opinions of the diamond market.  I know; I read the comments.  However, those who spend some time reading up on the professional diamond market, driven by the Triple-X-Rated Diamonds, using Cloud Hard Assets, will find another excellent Hard Asset to consider investing.  Jacques Voorhees is trying to provide a marketplace for diamonds that lowers the typical high BID-ASK Spread to a much lower and more competitive level.  
Interestingly, Diamond prices have been trending along with precious metals prices.  Take a look at the following chart: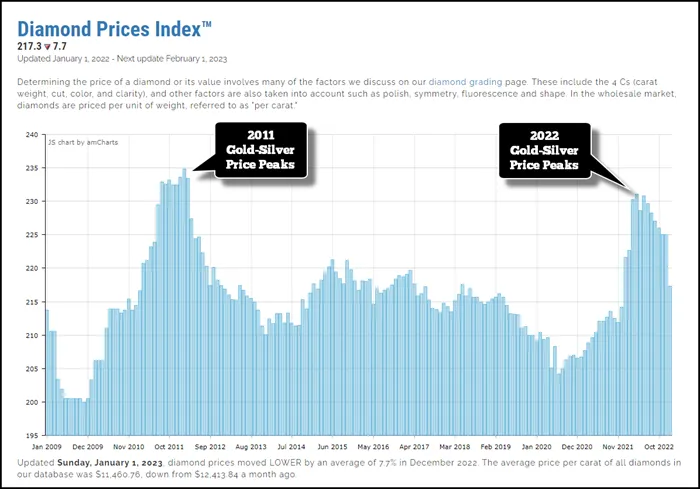 While Diamond Investing is not for everyone, those interested in diversifying and owning a more portable condensed hard asset should consider investing in high-quality diamonds.
With 48% of global diamond sales in the United States, I see more investors moving into diamonds to protect wealth.  With Icecap.diamonds, it allows a much more efficient way to buy and sell diamonds with much lower margins.
If you want to learn more about diamond investing, you can call up Tom Cloud at (912) 771-9353.  You can also contact Tom by email: tomcloud1630@gmail.com.
DISCLAIMER: SRSrocco Report provides intelligent, well-researched information to those with interest in the economy and investing. Neither SRSrocco Report nor any of its owners, officers, directors, employees, subsidiaries, affiliates, licensors, service and content providers, producers or agents provide financial advisement services. Neither do we work miracles. We provide our content and opinions to readers only so that they may make informed investment decisions. Under no circumstances should you interpret opinions which SRSrocco Report or Steve St. Angelo offers on this or any other website as financial advice.
Check back for new articles and updates at the SRSrocco Report.  You can also follow us on Twitter and Youtube below: