Many precious metals investors are wondering if the silver price will continue to rally over the next several months.  Well, that depends on what happens to the silver price over the next two weeks.  In my newest video update, Will The Silver Rally Continue In August, I discuss what I think will happen to the silver price by the end of the month.
Of course, this is only my opinion, but from watching Day Trading trends and the underlying positive fundamentals, I believe the silver rally will continue:
Towards the end of the video, I provide my analysis as to where I see silver closing by the end of August.  Furthermore, I discuss the positive change in the newest Silver COT Report, shown below: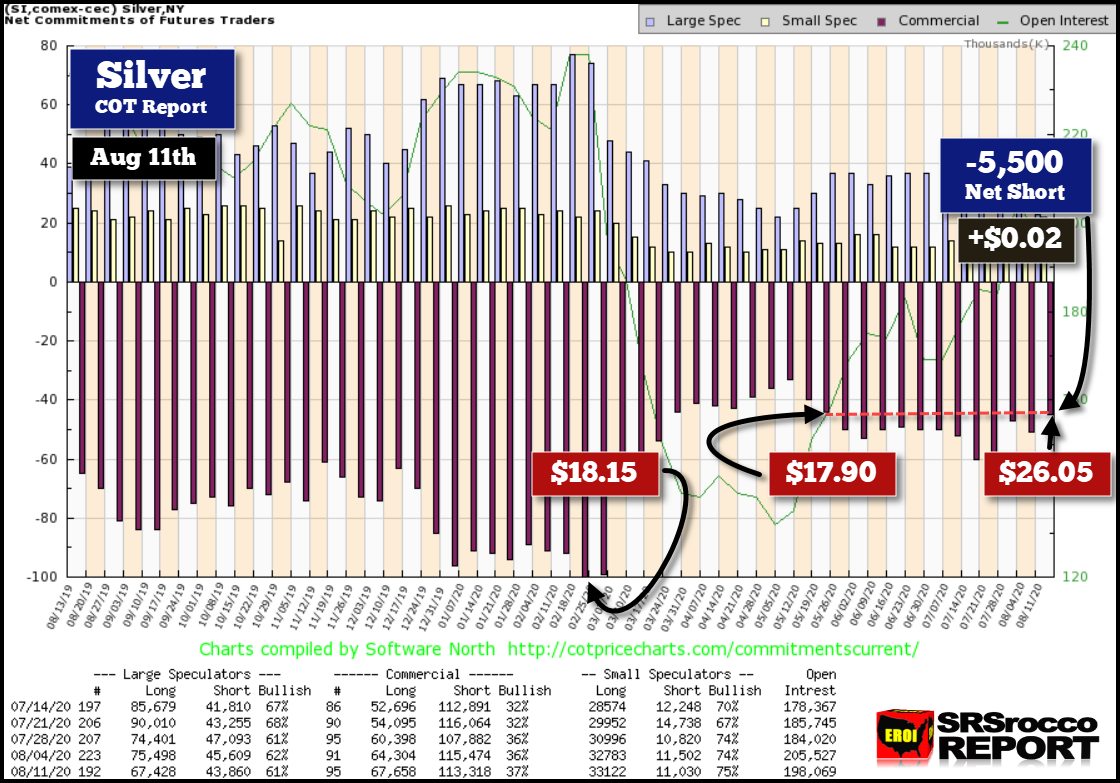 With the silver price trending higher as the Commercial Net Short positions decline, it suggests a very positive signal for a continued rally in the coming months ahead.
I wanted to remind followers that the SRSrocco Report will be transitioning to a Subscription Service by Friday, August 21st.  While we will provide some public posts, 80% will only be available to paid subscribers of one of the membership levels.  To learn more about the Membership Plans, you can click here: SRSrocco Report Patreon Membership Plans.
Also, there is information on the new membership levels here at the SRSrocco Report:  MEMBERSHIPS
DISCLAIMER: SRSrocco Report provides intelligent, well-researched information to those with interest in the economy and investing. Neither SRSrocco Report nor any of its owners, officers, directors, employees, subsidiaries, affiliates, licensors, service and content providers, producers or agents provide financial advisement services. Neither do we work miracles. We provide our content and opinions to readers only so that they may make informed investment decisions. Under no circumstances should you interpret opinions which SRSrocco Report or Steve St. Angelo offers on this or any other website as financial advice.
Check back for new articles and updates at the SRSrocco Report.  You can also follow us on Twitter and Youtube below: