With the enormous investor demand for Silver Eagles, the U.S. Mint sold nearly three million official coins in September.  While this wasn't the highest monthly amount this year, it was a record when we compare the Silver Eagle sales to Gold Eagles.  And, it seems that U.S. citizens are purchasing the majority of the Silver Eagles as Americans prefer silver bullion coins (and rounds) over bars.
For those who might be new to the precious metals market, the official coins such as Silver Eagles, Maples, Philharmonics, Krugerrands, Kangaroos, Britannias, Pandas, and Libertads are known as "COINS." In contrast, private rounds such as Buffalos, Walking Liberty, etc are labeled as "ROUNDS."
While some investors prefer the Silver Maples because they have a better fineness (99.99% silver) versus the Silver Eagles (99.9% silver), there has been one heck of a lot more Silver Eagles sold and held in the market than Maples.  I don't have a total Silver Maple Leaf coin figure because the Royal Canadian Mint stopped providing updates since 2015 on the amount of Gold & Silver Maples sold.
Regardless, here is an updated chart of the total Silver Eagles sold to date since 1986.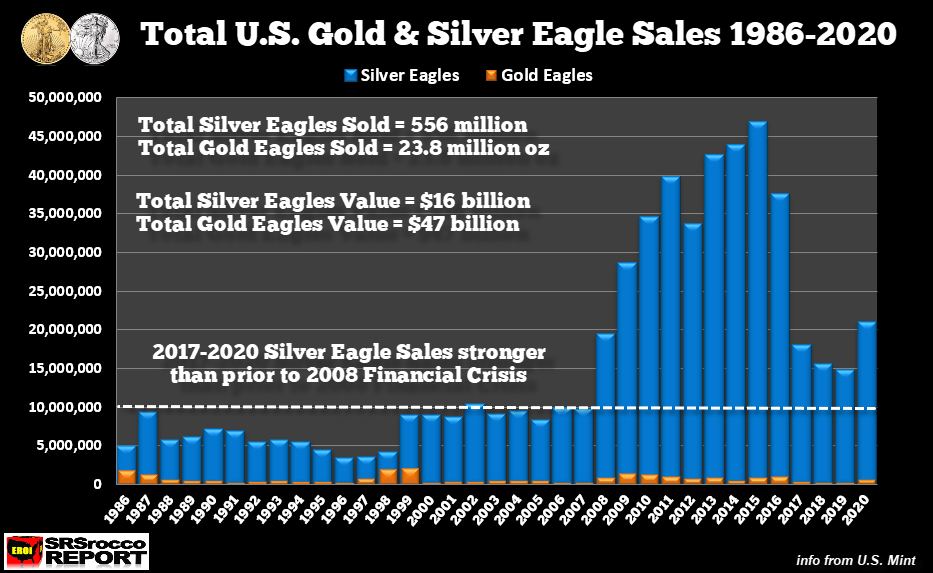 A total of 556 million Silver Eagles and 23.8 million Gold Eagles were sold from 1986 to September 2020.  That's a half-billion oz of Silver Eagles sold since the U.S. Mint began producing them in 1986.  The ratio of total Silver Eagles to Gold Eagles over the 35 years was 23/1.  However, if we look at the ratio for September this year, it's considerably higher.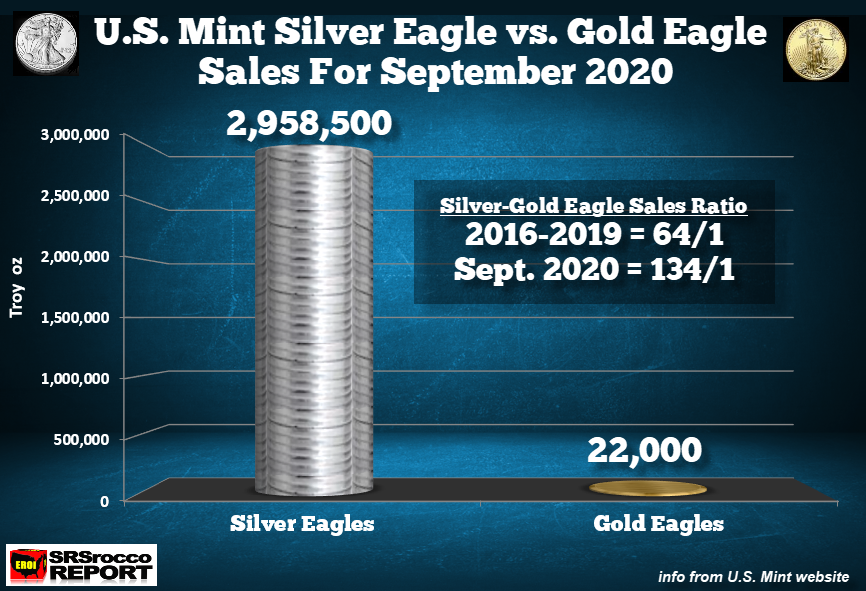 The U.S. Mint sold 2,958,500 Silver Eagles and 22,000 oz of Gold Eagles during September.  Thus, the ratio was 134 times more Silver Eagles than Gold Eagles.  The average ratio over the 2016-2019 period was 64/1.
Here is the table from the U.S. Mint website on the total Gold Eagle coins (different denominations) and Silver Eagles for each month: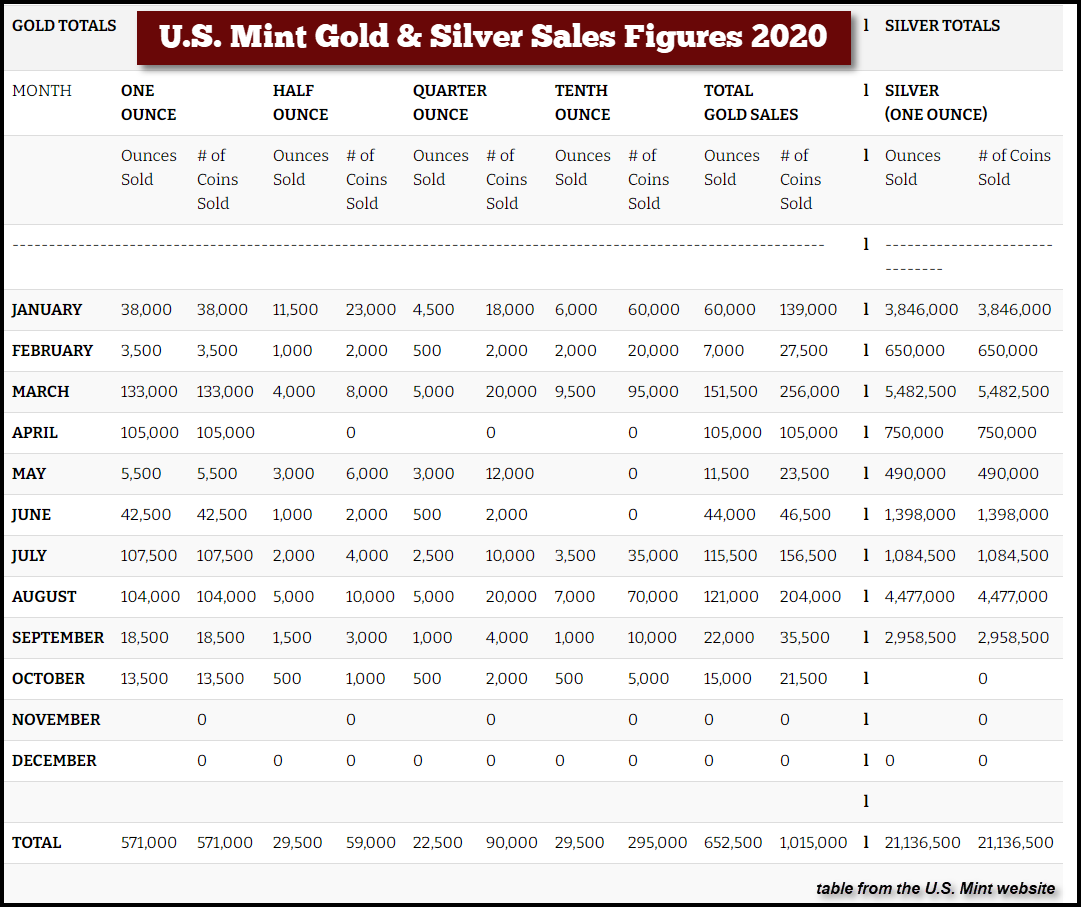 The 1 oz Gold Eagles (571,000 coins) accounted for 87% of the total 652,500 troy oz.  With total Silver Eagles at 21.1 million, it will be interesting to see if the final count reaches 25 million by the end of the year.
Regardless, there is a half-billion oz of Silver Eagles held mostly by Americans.  I can assure you, those who own Silver Eagles will be glad they protected wealth in these high-quality silver bullion coins.
DISCLAIMER: SRSrocco Report provides intelligent, well-researched information to those with interest in the economy and investing. Neither SRSrocco Report nor any of its owners, officers, directors, employees, subsidiaries, affiliates, licensors, service and content providers, producers or agents provide financial advisement services. Neither do we work miracles. We provide our content and opinions to readers only so that they may make informed investment decisions. Under no circumstances should you interpret opinions which SRSrocco Report or Steve St. Angelo offers on this or any other website as financial advice.
Check back for new articles and updates at the SRSrocco Report.  You can also follow us on Twitter and Youtube below: