As the Fed and central banks prop up the economy and markets with even more stimulus and liquidity this year, investment demand for physical precious metals continues to be quite strong.  Since my Silver and Gold Eagle update on January 12th, sales of Gold Eagles surged once again over the past two days.  The U.S. Mint has already sold more than double Gold Eagles in the first half of January than they did in the same month for the past several years.
Here is my Gold Eagle sales chart for Jan 12th.  The U.S. Mint sold 80,000 oz of Gold Eagles as of Jan 12th and 4.64 million Silver Eagles.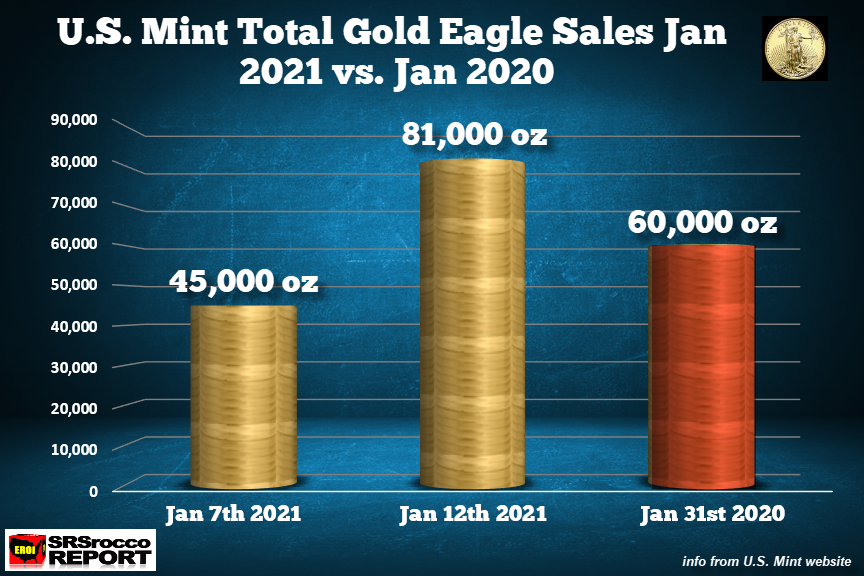 However, when I was putting together the chart for this update, Gold Eagle sales had jumped again to 113,000 oz on Jan 13th.  Silver Eagle sales only increased to 4.67 million.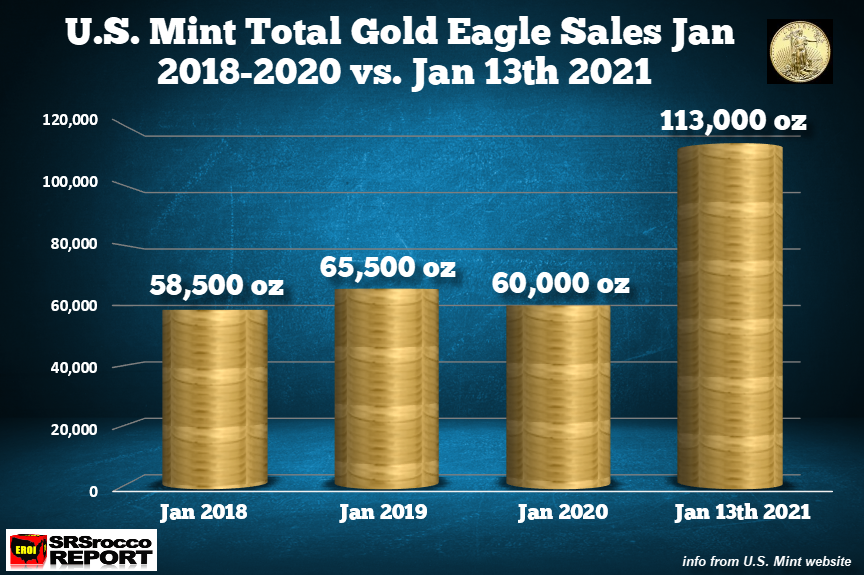 As we can see, Gold Eagle sales so far in January are nearly double what they were for the entire month in the past three years, 2018-2020.  But, when I was getting ready to write the article, I checked to see if the U.S. Mint had updated today for the Silver Eagles.  Surprisingly, the Silver Eagle sales didn't change, but the Gold Eagle sales jumped to 141,000 oz.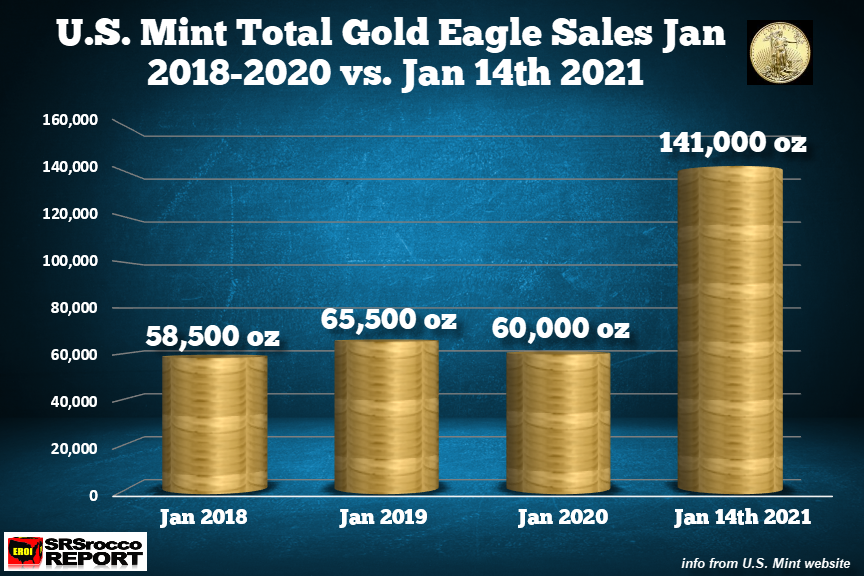 In just two days, the Authorized Dealers purchased 61,000 oz more Gold Eagles.  GET THIS… in just two days, the U.S. Mint sold more Gold Eagles than they did for the same month last year (60,000 oz).
The last time the U.S. Mint sold more Gold Eagles in January was in 2013, when the gold price started its large decline.  Gold Eagle sales in January 2013 were 150,000 oz.  Already, the U.S. Mint sold 141,000 oz, and it will be interesting to see what the total sales for January will be in the next few weeks.
I believe investors will be buying a HECK OF A LOT more Physical Gold and Silver in 2021.
DISCLAIMER: SRSrocco Report provides intelligent, well-researched information to those with interest in the economy and investing. Neither SRSrocco Report nor any of its owners, officers, directors, employees, subsidiaries, affiliates, licensors, service and content providers, producers or agents provide financial advisement services. Neither do we work miracles. We provide our content and opinions to readers only so that they may make informed investment decisions. Under no circumstances should you interpret opinions which SRSrocco Report or Steve St. Angelo offers on this or any other website as financial advice.
Check back for new articles and updates at the SRSrocco Report.  You can also follow us on Twitter and Youtube below: