With the U.S. Mint now temporarily suspended, it will become even more difficult to acquire Silver Eagles.  According to James Anderson at SD Bullion, the U.S. Mint shut down its West Point Facility due to an officer testing positive for the virus.  The U.S. Mint West Point facility will remain closed for two weeks until further notice.
However, the U.S Mint updated its Silver Eagle sales on the last day of the month to show a total of 5.5 million sold.  Since my previous update, the U.S. Mint sold another 650,000 Silver Eagles, for a total of 5,482,500.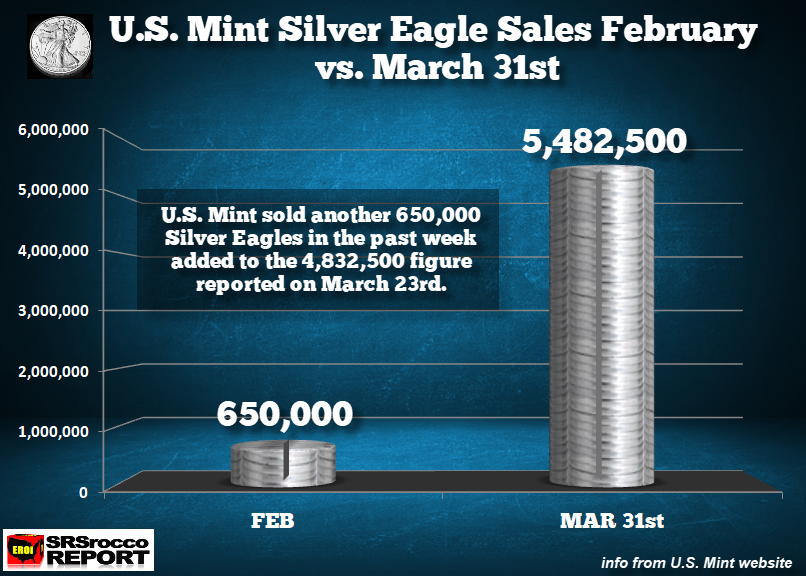 The last time the U.S. Mint sold Silver Eagles to this level in March was back in 2014, when 5,354,000 coins were sold.  With the premiums on Silver Eagles exploding, investors are now quoted delivery times of 3-4+ weeks or months.
I spoke with Dan at Cloud Hard Assets today, and I was shocked to find out that the quoted time for 1,000 oz wholesale silver bars was 4-6 weeks!!!!  Can you believe that??  When the silver price crashed in 2008, investors were buying 1,000 oz bars and turning them into small coins and bars.  However, that option is much more difficult because the availability of 1,000 wholesale silver bars is similar to RETAIL BULLION… LOL.
I was also surprised to hear that Cloud Hard Assets was only charging $6.50 over spot to purchase Silver Eagles.  I have been making comparisons of some of the well-known online precious metals dealers Silver Eagles BUY & SELL prices, and have now included the price from CLOUD HARD ASSETS which I sponsor on this website: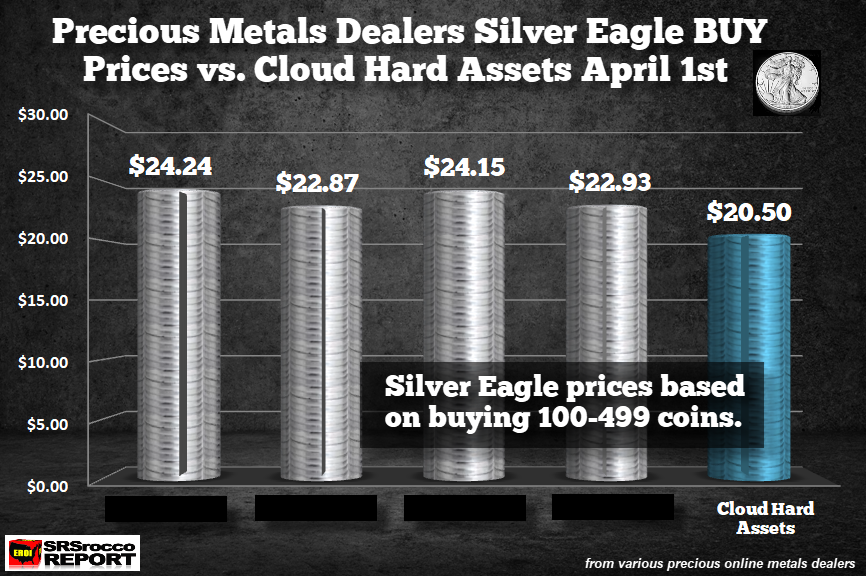 These prices are based upon buying between 100-499 Silver Eagles from these various dealers on a silver spot price early afternoon on April 1st.  If the silver spot price is trading at $14, then CLOUD HARD ASSETS will sell its clients Silver Eagles at $20.50.  Dan told me that the clients could expect delivery of these Silver Eagles within 3-4 weeks.  I have never done this before, but I was quite surprised to see the difference in their Silver Eagle price versus the top competitors.
If you want to contact Tom or Dan at Cloud Hard Assets, you can do so at this link: CLOUD HARD ASSETS.
One of the positive services that Cloud Hard Assets provides is that they put their clients' money in an ESCROW ACCOUNT until the metal is shipped.  So, the client's funds are protected.  Several large online dealers got into trouble in the past and were shut down due to selling more metal than they had in stock.  Thus, it is VERY IMPORTANT that you use a precious metals dealer that protects your funds until the metal is shipped.
During my conversation with Dan earlier today, he told me that they could only quote prices on FOUR SILVER PRODUCTS:
Silver Eagles ($6.50 over spot)
Silver Misc Private 1 oz Rounds ($3.60 over spot)
Silver Misc Private 1 & 10 oz Bars ($3.60 over spot)
90% Junk Silver ($6.00 over spot)
They can't even provide any quotes for any Canadian Maple Leaf products… Silver or Gold.  There just isn't much gold and silver bullion available in the market… and that will only get worse going forward.  
As I mentioned earlier, when I asked Dan about the 1,000 oz wholesale Silver bars, the availability is 4-6 weeks.  He said that they are selling these 1,000 oz Silver bars, when they can get them, at $1.75 over spot.
CRAZY TIMES indeed.
IMPORTANT NOTE:  There is a reason I sponsor Tom Cloud on my site because I believe he is one of the most honest and upfront precious metals dealers in the industry.  Not only does Tom offer some of the best rates to purchase gold and silver, but also whenever someone sells metals back to him, HE DOES NOT CHARGE A COMMISSION.  The overwhelming majority of precious metals dealers charge a commission to buy back gold and silver.
I challenge you to check for yourself.
Also, if you need to store metal at a secure facility, Tom offers some of the lowest storage rates in the industry.  TOM DOES NOT MAKE MONEY OFF HIS CLIENTS PRECIOUS METALS STORAGE.  The overwhelming majority of precious metals dealers add an additional percentage to store their clients gold and silver
I challenge you to check for yourself.
Tom Cloud has been in the precious metals business for 46 years, since 1973.  He has a lot of experience in the precious metals industry and understands the gold and silver market better than most dealers in the industry.
If you are new to the precious metals market and had questions, Tom Cloud would be happy to answer any questions.
DISCLAIMER:  While Tom offers information about precious metals, you should not take this as investment advice.  You should contact a professional advisor and or do your due diligence before making investment decisions.  
If you are new to the SRSrocco Report, please consider subscribing to my:  SRSrocco Report Youtube Channel.
DISCLAIMER: SRSrocco Report provides intelligent, well-researched information to those with interest in the economy and investing. Neither SRSrocco Report nor any of its owners, officers, directors, employees, subsidiaries, affiliates, licensors, service and content providers, producers or agents provide financial advisement services. Neither do we work miracles. We provide our content and opinions to readers only so that they may make informed investment decisions. Under no circumstances should you interpret opinions which SRSrocco Report or Steve St. Angelo offers on this or any other website as financial advice.
Check back for new articles and updates at the SRSrocco Report.  You can also follow us on Twitter and Youtube below: