Sales of the U.S. Mint Gold Eagle and Buffalo coins are already double what they were for full-year 2019.  And, with the Fed and central banks continuing to print money hand-over-fist, I doubt the demand for gold coins will diminish anytime soon.
Interestingly, sales for precious metals bullion retail products, according to Dan at Cloud Hard Assets, are running about 60% for gold and 40% for silver (total value, not ounces).  Investors would be buying more silver, but due to the backlog and shortage of retail silver bullion products, individuals are being forced to buy more gold.
According to the U.S. Mint's most recent update, sales of 2020 Gold Eagles totaled 332,000 oz compared to only 152,000 oz for 2019.  Furthermore, Gold Buffalo coin sales have reached 117,500 oz versus only 61,500 for 2019.  Again, we are only five months into 2020, so it will be interesting to see what demand for these U.S. Gold coins will be for the remainder of the year.
Investors looking to acquire Gold Eagles and Buffalos are still paying high premiums.  In comparing the premiums for 2020 Gold Eagles and Buffalos, the best value that I could find from the leading online dealers is about 8%.  However, the Gold Buffalo coin premiums were even higher.
Here is an update on the BEST BUY PRICES for 2020 Gold Eagles and Buffalos from the leading online dealers' vs. CLOUD HARD ASSETS  (Prices below based on $1,745+ gold spot price early Thursday):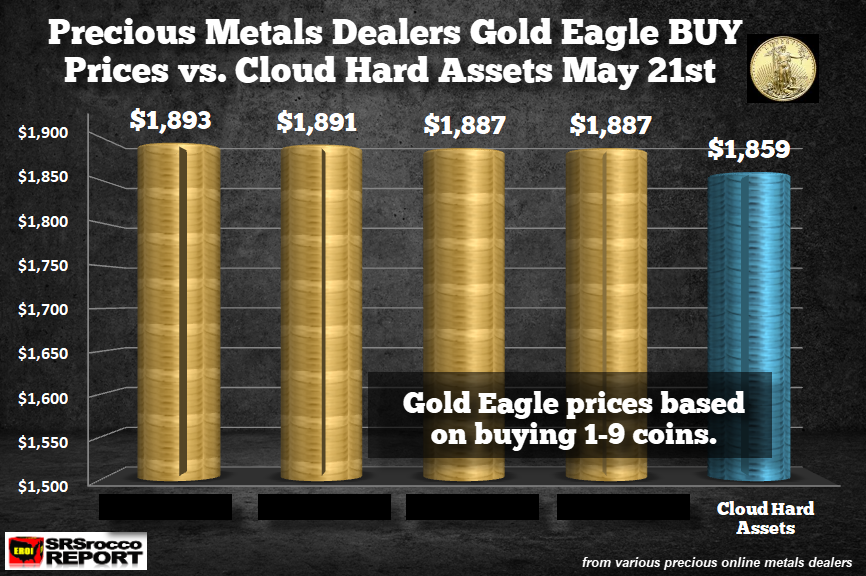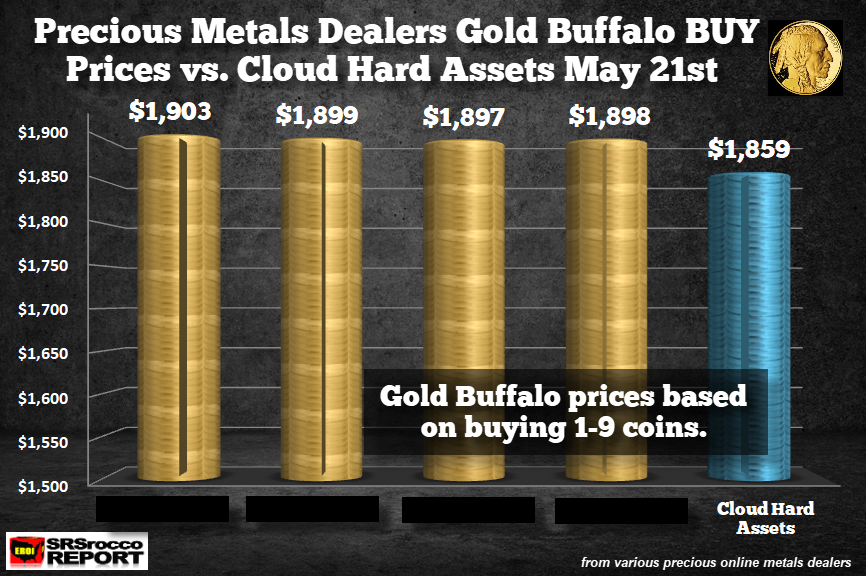 As you can see, it's important to compare the prices of gold bullion products (and services).  Moreover, I am putting together a spreadsheet comparing the top online dealers' Silver Eagle premiums vs. CLOUD HARD ASSETS.  Today, the top online dealers 2020 Silver Eagle premiums are running about 59% of the current spot price vs. 39% for CLOUD HARD ASSETS.  Again, it's wise to compare prices and services at the different precious metals dealers.
Again, the prices above were based on a $1,745+ gold spot price during early Thursday trading.
IMPORTANT VIEWPOINT:  While some followers may find my comparing prices for precious metals bullion products with Cloud Hard Assets on the "SALESMEN" side, I believe in FREE MARKETS and the ability for individuals to find the best deals.  Furthermore, I am getting sick and tired of the rampant corruption in the Resource Stock Promoting Newsletter Operations, so buyer beware.
If you are buying JUNIOR STOCKS promoted by newsletters or websites, you best check to see if the same individual or organization is being paid to promote the stock for ULTERIOR motives.  There are a lot of PUMP and DUMP stock promoting services that seem legit, as they put out factual information to COVER their SCHEMES.  However, while they publish factual articles on gold and silver, their real BREAD & BUTTER is to get investors to part with their hard-earned money.
You would be surprised at the names of some of these newsletters and websites.
Anyhow… if you want to pay more money to buy gold and silver bullion products, IT's A FREE WORLD.  However, I believe it is wise to compare prices, and more importantly, SERVICES from the various online precious metals dealers.  Also, watch out for HIGH-PRESSURE salesman from dealers that push products and services that are in THEIR BEST INTEREST… not YOURS.
You can contact Tom or Dan at CLOUD HARD ASSETS here:  PRECIOUS METALS INVESTING.
IMPORTANT NOTE:  There is a reason I sponsor Tom Cloud on my site because I believe he is one of the most honest and upfront precious metals dealers in the industry.  Not only does Tom offer some of the best rates to purchase gold and silver, but also whenever someone sells metals back to him, HE DOES NOT CHARGE A COMMISSION.  The overwhelming majority of precious metals dealers charge a commission to buy back gold and silver.
I challenge you to check for yourself.
Also, if you need to store metal at a secure facility, Tom offers some of the lowest storage rates in the industry.  TOM DOES NOT MAKE MONEY OFF HIS CLIENTS PRECIOUS METALS STORAGE.  The overwhelming majority of precious metals dealers add an additional percentage to store their clients gold and silver.
I challenge you to check for yourself.
Tom Cloud has been in the precious metals business for 46 years, since 1973.  He has a lot of experience in the precious metals industry and understands the gold and silver market better than most dealers in the industry.
If you are new to the precious metals market and had questions, Tom Cloud would be happy to answer any questions.
DISCLAIMER:  While Tom offers information about precious metals, you should not take this as investment advice.  You should contact a professional advisor and or do your due diligence before making investment decisions.  
If you are new to the SRSrocco Report, please consider subscribing to my:  SRSrocco Report Youtube Channel.
DISCLAIMER: SRSrocco Report provides intelligent, well-researched information to those with interest in the economy and investing. Neither SRSrocco Report nor any of its owners, officers, directors, employees, subsidiaries, affiliates, licensors, service and content providers, producers or agents provide financial advisement services. Neither do we work miracles. We provide our content and opinions to readers only so that they may make informed investment decisions. Under no circumstances should you interpret opinions which SRSrocco Report or Steve St. Angelo offers on this or any other website as financial advice.
Check back for new articles and updates at the SRSrocco Report.  You can also follow us on Twitter and Youtube below: