In a stunning change, Turkish silver exports surged to the United States in 2021 as citizens sold metal to offset the collapse of the Lira.  Thus, silver behaved exactly how it should by protecting wealth for Turkish citizens as its currency, the Lira, continues to depreciate.  However, this is just the beginning.
Wait until the ENERGY CLIFF spreads to other parts of the world.  More Fiat currencies will come under pressure forcing more citizens to buy more silver to protect wealth.  And of course, when the large institutions start moving into silver, then there really isn't that much available supply… only at much HIGHER PRICES.
I also wanted to let you know that CLOUD HARD ASSETS sells Silver Krugerrands & Silver Philharmonics (& Britannias) at only $3.75 over spot.  If you go to the large online dealers and compare prices, you will find out that Cloud Hard Assets has the best prices.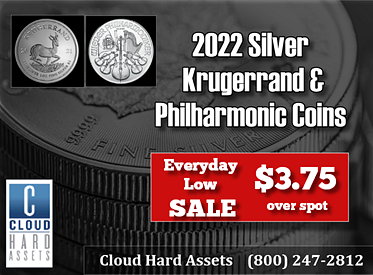 You can contact Tom, Dan, or Jade… Click here: CLOUD HARD ASSETS.  You can also call (800) 247-2812.
DISCLAIMER: SRSrocco Report provides intelligent, well-researched information to those with interest in the economy and investing. Neither SRSrocco Report nor any of its owners, officers, directors, employees, subsidiaries, affiliates, licensors, service and content providers, producers or agents provide financial advisement services. Neither do we work miracles. We provide our content and opinions to readers only so that they may make informed investment decisions. Under no circumstances should you interpret opinions which SRSrocco Report or Steve St. Angelo offers on this or any other website as financial advice.
Check back for new articles and updates at the SRSrocco Report.  You can also follow us on Twitter and Youtube below: