Today, Tom Cloud provided another interesting precious metals update.  He discusses how rising interest rates will impact the precious metals and why the Federal Reserve is forced to continue increasing rates.  Tom also explains what is going on with official gold reserves in China and Russia.
Tom also mentions how his precious metals sales volume has changed since 2007.  I spoke with Tom on the phone this week to get an update as he hears a lot of what is going on in the industry.  I asked him if he could look at his precious metals sales figures and see how the small and larger investor buying volume has changed:
If you look at the chart below, the smaller precious metals investor had, the larger pie in gold and silver volume during the 2007-2009 period.  According to Tom's sales figures, the small investor, $50,000 or less, accounted for 62% of total volume while the large investor was 38%.  This trend changed in the next period, 2013-2017 as the large investor made up 58% of total volume while the small investor fell to 42%.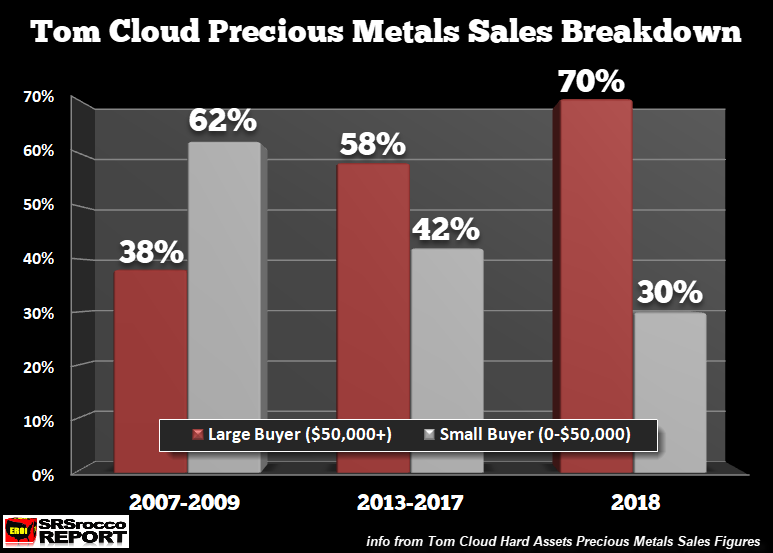 Tom said that so far this year, the large investor accounted for 70% (or more) of total precious metals sales as smaller investor buying fell further to only 30%.  So, the little guy is not participating in the precious metals market as they were in 2007-2009 when the stock and economy was disintegrating.
However, the larger gold and silver buyer is usually the wiser investor.  The small investor is more fickle and has to wait until panic comes back into the market before they start buying once again.  Furthermore, the small investor is also the one that loses faith much easier and is known to flip-flop by getting out frustrations by writing negative comments about gold and silver.  So, the more negative comments we see on gold and silver, the closer we are to a bottom in sentiment.  And by that, I am referring to a bottom in small investor precious metals sentiment.
IMPORTANT:  Tom states in the video that he will provide anyone a 20-minute conference call to discuss any questions or share information from his 40+ years experience in the precious metals market.
One more thing… if you are have been buying precious metals or are considering purchasing gold and silver, I would highly recommend that you give Tom a Call.  I sponsor Tom Cloud on my website because his rates are some of the best in the industry and he is by far one of the most honest and upfront precious metals dealers I have come across.
Lastly, if you haven't checked out our new PRECIOUS METALS INVESTING section or our new LOWEST COST PRECIOUS METALS STORAGE page, I highly recommend you do.
If you are new to this site, you may want to check out our PRECIOUS METALS WEBINAR.  There is a lot of excellent material discussed during that webinar… for free.
DISCLAIMER: SRSrocco Report provides intelligent, well-researched information to those with interest in the economy and investing. Neither SRSrocco Report nor any of its owners, officers, directors, employees, subsidiaries, affiliates, licensors, service and content providers, producers or agents provide financial advisement services. Neither do we work miracles. We provide our content and opinions to readers only so that they may make informed investment decisions. Under no circumstances should you interpret opinions which SRSrocco Report or Steve St. Angelo offers on this or any other website as financial advice.
Check back for new articles and updates at the SRSrocco Report.  You can also follow us on Twitter and Youtube below: