In Tom's newest precious metals update, he says that the increased demand for gold and silver bullion products has pushed premiums up even higher.  Tom believes premiums will likely continue to increase as more investors move into physical metal to protect wealth.  Amazingly, Silver Eagle premiums are at $10 per coin.
Tom explained that Gold premiums had declined about a few months ago, but have since started back higher.  This is the same for most of the Silver bullion products.
I also wanted to let you know that CLOUD HARD ASSETS sells Silver Krugerrands & Silver Philharmonics (& Britannias) at only $3.50 over spot.  If you go to the large online dealers and compare prices, you will find out that Cloud Hard Assets has the best prices.  Also, Cloud Hard Assets puts your funds in an ESCROW ACCOUNT until the metal is shipped, and this protects the clients' funds.  I find that this is an excellent service not offered by many dealers in the industry.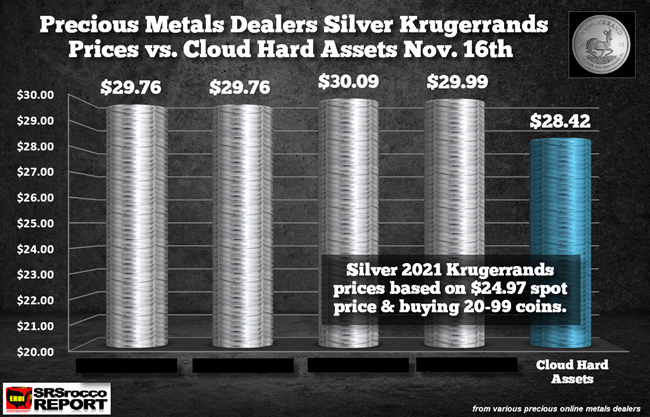 You can contact Tom, Dan, or Jade… Click here: CLOUD HARD ASSETS.  You can also call (800) 247-2812.
DISCLAIMER: SRSrocco Report provides intelligent, well-researched information to those with interest in the economy and investing. Neither SRSrocco Report nor any of its owners, officers, directors, employees, subsidiaries, affiliates, licensors, service and content providers, producers or agents provide financial advisement services. Neither do we work miracles. We provide our content and opinions to readers only so that they may make informed investment decisions. Under no circumstances should you interpret opinions which SRSrocco Report or Steve St. Angelo offers on this or any other website as financial advice.
Check back for new articles and updates at the SRSrocco Report.  You can also follow us on Twitter and Youtube below: