Tom Cloud discusses the silver market and the new 2018 Silver Krugerrand.  According to Tom, the silver price has hit $15.80 for the fifth time suggesting we are closer to a bottom.  Of course, the gold and silver prices could continue to trend lower, but we must understand that silver is now below 200-day moving average (MA) while gold is still well above its 200 MA.
Tom also mentions the new release of the new 2018 Silver Krugerrand.  While the South African Mint produced the first Silver Krugerrand last year, it was a 50-year anniversary limited release, and the price was $45-$50.  However, the South African Mint has now decided to add the Silver Krugerrand as another Official Mint silver coin to compete with the U.S. Silver Eagle, Silver Maple, Silver Philharmonic, Silver Panda, Silver Kangaroo, and Silver Libertad.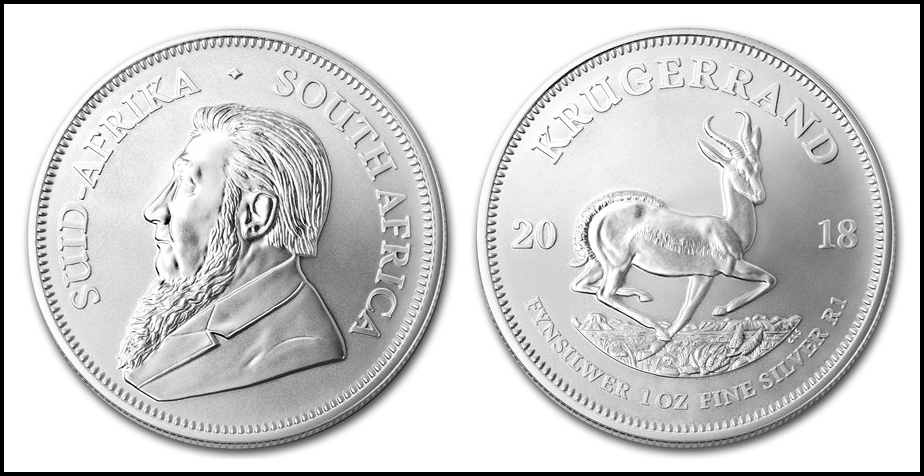 The precious metals dealers will be offering the Silver Krugerrand for sale next week.  I believe the South African Mint made an excellent decision to add the Silver Krugerrand as an ongoing Official Silver coin because these coins will be in huge demand when the silver market turns around.
Here is Tom Cloud's newest update:
Lastly, there is a profoundly different setup with silver than it was in 2008.  If we look at the Dow Jones Index vs. the Silver price, using the 200 Day Moving Average (MA), we can see just how much closer silver is to its 200 MA than the Dow Jones Index: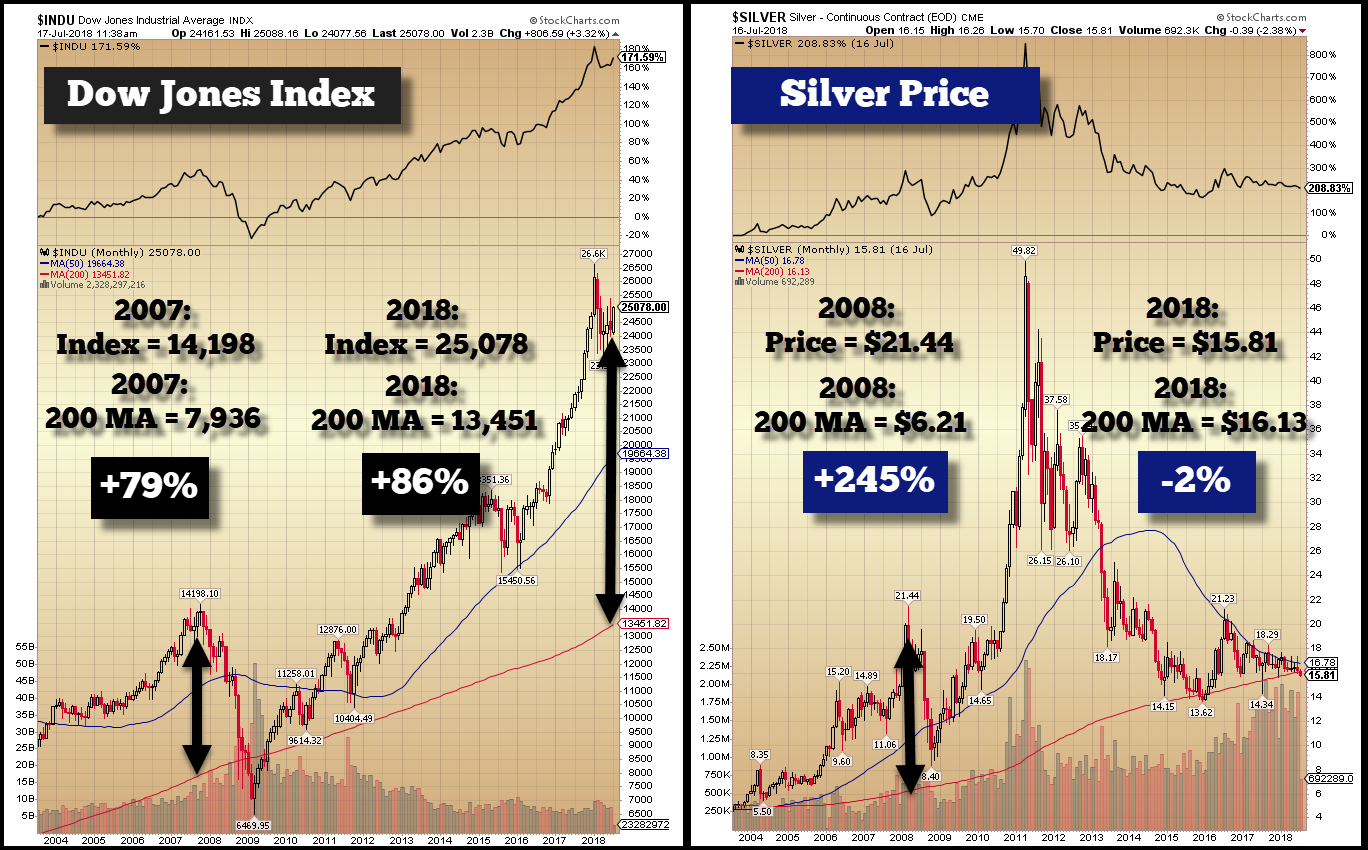 As we can see, the Dow Jones Index was 79% above its 200 MA (Red Line) in 2007 before it crashed below it in 2009.  Currently, the Dow Jones Index is 86% above its 200 MA.  If we look at the silver price, its current price of $15.81 is 2% below its 200 MA of $16.13.  In 2008, the silver price was a stunning 245% above its 200 Ma of $6.21.
I will be discussing this chart and others in more detail in a new article this week.
When the price of silver fell below $9 at the end of 2008, it was still above its 200 MA.  However, this time around, it has fallen below it.  Now, we could see the silver price trend lower, but I doubt it would stay below its 200 MA for long as the markets crash in the future.  Of course, there could be a spike lower, but to me, this would be a tremendous buying opportunity because most assets, Stocks, Bonds, & Real Estate are seriously overvalued.
If anyone has any questions about precious metals investment, I would suggest that you call Tom on the phone as he has been in the business for over 40 years and is one of the most trustworthy dealers I know.  He is very easy going and would enjoy answering any question you may have.
Lastly, if you haven't checked out our new PRECIOUS METALS INVESTING section or our new LOWEST COST PRECIOUS METALS STORAGE page, I highly recommend you do.
If you are new to this site, you may want to check out our PRECIOUS METALS WEBINAR.  There is a lot of excellent material discussed during that webinar… for free.
DISCLAIMER: SRSrocco Report provides intelligent, well-researched information to those with interest in the economy and investing. Neither SRSrocco Report nor any of its owners, officers, directors, employees, subsidiaries, affiliates, licensors, service and content providers, producers or agents provide financial advisement services. Neither do we work miracles. We provide our content and opinions to readers only so that they may make informed investment decisions. Under no circumstances should you interpret opinions which SRSrocco Report or Steve St. Angelo offers on this or any other website as financial advice.
Check back for new articles and updates at the SRSrocco Report.  You can also follow us on Twitter and Youtube below: