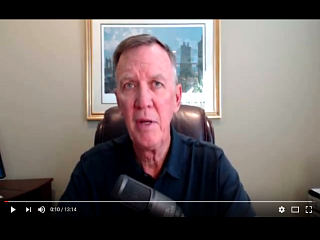 Precious metals expert and dealer Tom Cloud issued a new Buy alert for gold during his update this week. I have spoken to Tom on the phone recently, and this is one of the very few gold buy alerts he has made in his 41 year history as a precious metals dealer.
Tom discusses how the majority of the previous price moves in gold and silver normally occurs within a 12 month period.  For example, the gold price increased from a low of $1,323 to a high of $1,923 between January and September 2011.  That was a $600 move in nine months.
Tom also discusses a large a large silver order out of Asia-Singapore that was 28 cents higher for each 100 oz bar versus in the U.S. due to higher demand:
In the update, Tom describes how the Stock Market is overdue for a large market correction… I agree.  Tom states that the Stock Market is now selling at 36 times earnings, when the average has been 15.  Furthermore, Mike Pento stated on a recent interview with Greg Hunter at USAWatchDog.com, that the average value of the Stock Market divided by the GDP was 55% over the past 2-3 decades.  However, the current Stock Market value is currently a lofty 135% of the GDP.  So, we can plainly see that these highly inflated stock market values will not last for long.
The last time the stock market fell a mere 2,000 points, in the beginning of 2016, the price of gold and silver jumped 20-30%.  So, the idea that the precious metals will sell off with the broader markets, wasn't true the last time it happened.
In addition, Tom talks about a conference call he had with two money managers and how they were trying to get more of their clients to get into gold.  Unfortunately, 98% of money managers have no gold exposure for their clients.
Lastly… Tom discusses a meeting he had in New York a few weeks ago about a new Gold-Silver backed crypto-currency.  From this meeting, Tom believes that a lot of individuals will move their funds from risky banks to these Gold-Silver backed crypto-currencies over the next 18+ months.
This may not sound that far-fetched as there are now three Gold-Backed Crypto-currencies already:
OneGram
ZenGold
OzCoinGold
Now, the Gold-Silver-backed BCX asset that Andrew Maquire has been talking about on King World News is not a crypto-currency, rather it is a digital asset.  Gold and silver on the BCX will be traded as digital assets on the Billion Coin Exchange, not as a Gold-Silver backed crypto-currency.
Clif High mentioned on a recent interview that the value of gold will become meaningless in the future due to too much supply and the crypto-currency market taking over… I COMPLETELY DISAGREE.  I will be posting an article on the details why I don't see this happening.  However, the major point that Clif High omits from his forecasts is ENERGY.
One more thing.  I had to remove the details of Tom Clouds Lowest Cost Storage rates in the industry on our webpage because it caused too much of a stir in the industry.  So, if you want to find out about Tom's LOWEST COST PRECIOUS METALS STORAGE rates, you have to call his number on the page.
Lastly, if you haven't checked out our new PRECIOUS METALS INVESTING section or our new LOWEST COST PRECIOUS METALS STORAGE page, I highly recommend you do.
If you are new to this site, you may want to check out our PRECIOUS METALS WEBINAR.  There is a lot of good material discussed during that webinar… for free.
Check back for new articles and updates at the SRSrocco Report.  You can also follow us at Twitter and Youtube below: