With the lack of availability of precious metals retail bullion products, the premiums for gold and silver coins-bars continue to be quite elevated.  Depending on the dealer, 2020 Silver Eagle premiums are still ranging between $7.5 and $13.  Thus, the Silver Eagle premiums are between 47-81% of the spot price, depending on the dealer.
I continue to check the U.S. Mint website, but there still hasn't been any update for Silver Eagle sales for May.  While the U.S. Mint sold 7,000 oz of Gold Eagles in May so far, it shows no figure for Silver Eagles.  The large online dealers are still struggling to obtain supplies of silver bullion products with the availability pushed back 2-4 weeks or longer.
Precious metals investors are wondering when retail gold and silver premiums will begin to decline.  That's a good question.  Gold Eagle Premiums back in early 2009 shot up to 8% and then declined substantially in early summer.  By the end of 2009, Gold Eagle premiums had fallen back to 4%, shown here from GoldChartsRus: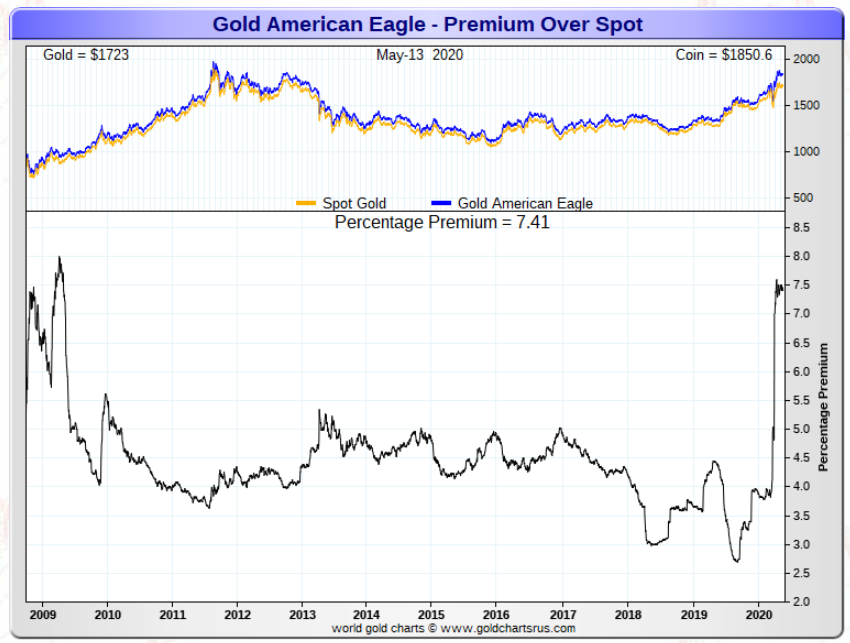 The gold and silver coin premiums used on Nick Laird's GoldChartsRus website mainly come from MONEX.  While these premiums provide investors with a guide, I wouldn't trust MONEX as a company.  It seems like Monex continues to get into trouble by DEFRAUDING investors.
Federal Court Allows CFTC Case Against $290M Fraud to Proceed
The CFTC alleges Monex Deposit Company scammed thousands of retail customers out of more than $290 million (July 26, 2019)
Newport Beach precious metal dealer Monex accused of $290-million fraud (Sept 16, 2017)
So, good luck if you use or want to use MONEX to acquire precious metals.
Even though some gold bullion product premiums have declined, it will be interesting to see how the premiums will change as the global contagion continues to wreak havoc in the financial system and economy.
Top Online Dealers Silver & Gold Eagle Buy Prices
I wanted to do an update on the various leading online precious metals dealers Silver & Gold Eagle BUY PRICES versus CLOUD HARD ASSETS.  I just spoke with Dan from Cloud Hard Assets a few minutes ago, and he updated some of the prices for the products they sell.  It seems like the gold bullion product premiums are falling because the large Gold Refineries have reopened, allowing more availability of the product.  However, premiums for Silver bullion products remains high because of elevated demand and lack of available supplies.
Dan also told me that investors are buying about 40% silver and 60% in gold bullion products.  The silver percentage would be higher, but due to the lack of available physical silver bullion products, investors are buying more gold.
Here are some of the leading online dealers BUY NOW prices for Silver Eagles vs. CLOUD HARD ASSETS: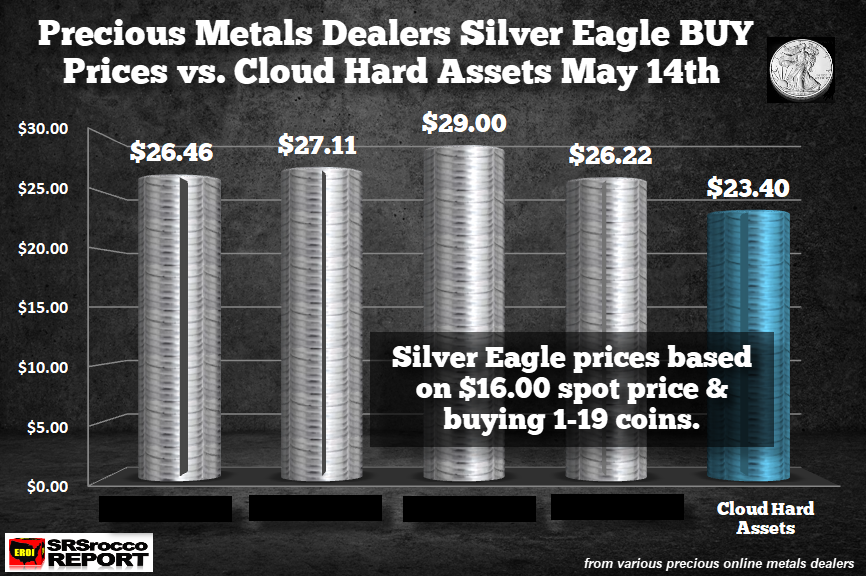 As you can see, CLOUD HARD ASSETS is still providing the best BUY PRICES for 2020 Silver Eagles.  I was quite surprised to see one of the largest online dealers charging a whopping $13 over spot for Silver Eagles.  Thus, this dealer is charging an 81% premium for its 2020 Silver Eagles.
As for the 2020 Gold Eagles, here are the same online dealer's BUY PRICES: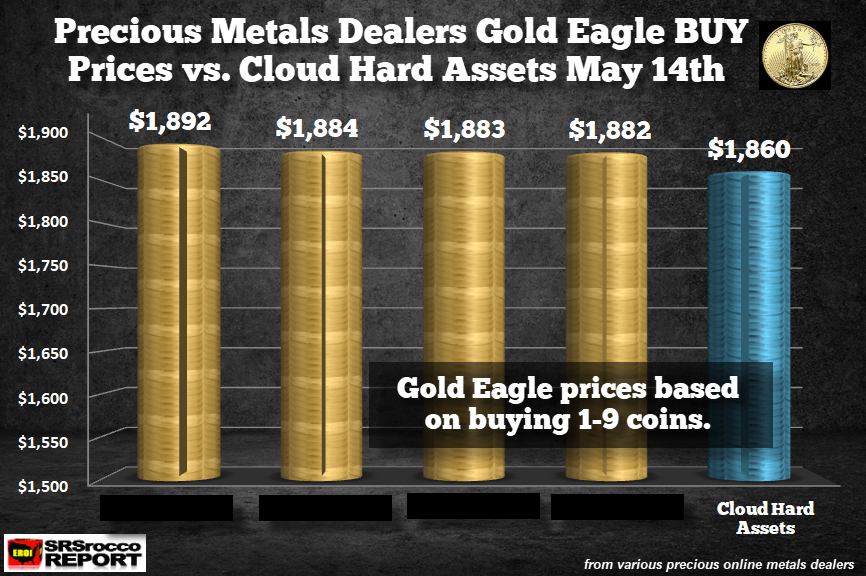 Please also check the following prices for CLOUD HARD ASSET bullion products versus the competitors:
Silver Eagles 2020 ($7.40 over spot) – 4 week delivery time
Silver Eagles Random ($6.70 over spot) – 4 week delivery time
Silver Misc Private 1 oz Rounds ($3.60 over spot) – 4 week delivery
Silver Krugerrands ($4.40 over spot) – 2 week delivery
Silver Britannias ($4.40 over spot) – 2 week delivery
Silver Misc. Kangaroos ($4.60 over spot) – 1 week delivery
Silver Philharmonics ($4.40 over spot) – 2 week delivery
Silver 1,000 oz Bars ($1.20 over spot) available
Gold Eagles (7.0% over spot) – available
Gold Buffalo (7.0% over spot) – available
Gold Philharmonic (5.5% over spot) – available
Gold Kangaroos (5.7% over spot) – available
Gold Kilo Bars (3.75% over spot) – available
You can contact Tom or Dan at CLOUD HARD ASSETS here:  PRECIOUS METALS INVESTING.
IMPORTANT NOTE:  There is a reason I sponsor Tom Cloud on my site because I believe he is one of the most honest and upfront precious metals dealers in the industry.  Not only does Tom offer some of the best rates to purchase gold and silver, but also whenever someone sells metals back to him, HE DOES NOT CHARGE A COMMISSION.  The overwhelming majority of precious metals dealers charge a commission to buy back gold and silver.
I challenge you to check for yourself.
Also, if you need to store metal at a secure facility, Tom offers some of the lowest storage rates in the industry.  TOM DOES NOT MAKE MONEY OFF HIS CLIENTS PRECIOUS METALS STORAGE.  The overwhelming majority of precious metals dealers add an additional percentage to store their clients gold and silver.
I challenge you to check for yourself.
Tom Cloud has been in the precious metals business for 46 years, since 1973.  He has a lot of experience in the precious metals industry and understands the gold and silver market better than most dealers in the industry.
If you are new to the precious metals market and had questions, Tom Cloud would be happy to answer any questions.
DISCLAIMER:  While Tom offers information about precious metals, you should not take this as investment advice.  You should contact a professional advisor and or do your due diligence before making investment decisions.  
If you are new to the SRSrocco Report, please consider subscribing to my:  SRSrocco Report Youtube Channel.
DISCLAIMER: SRSrocco Report provides intelligent, well-researched information to those with interest in the economy and investing. Neither SRSrocco Report nor any of its owners, officers, directors, employees, subsidiaries, affiliates, licensors, service and content providers, producers or agents provide financial advisement services. Neither do we work miracles. We provide our content and opinions to readers only so that they may make informed investment decisions. Under no circumstances should you interpret opinions which SRSrocco Report or Steve St. Angelo offers on this or any other website as financial advice.
Check back for new articles and updates at the SRSrocco Report.  You can also follow us on Twitter and Youtube below: