Something quite interesting took place in the gold market this year that hasn't happened before.  Let's just say the global gold market's main driver has totally reversed and is setting a new precedent.  However, this is just the beginning as the world hasn't quite figured out how bad the situation will become as the global economy continues to disintegrate.
So, what's the main driver of the gold market this year??  Well, I can tell you what it isn't… it's not gold jewelry demand.  World gold jewelry demand has been the leading driver of the gold market for decades.  The chart below shows how much more annual gold jewelry demand has been versus investment demand over the past decade.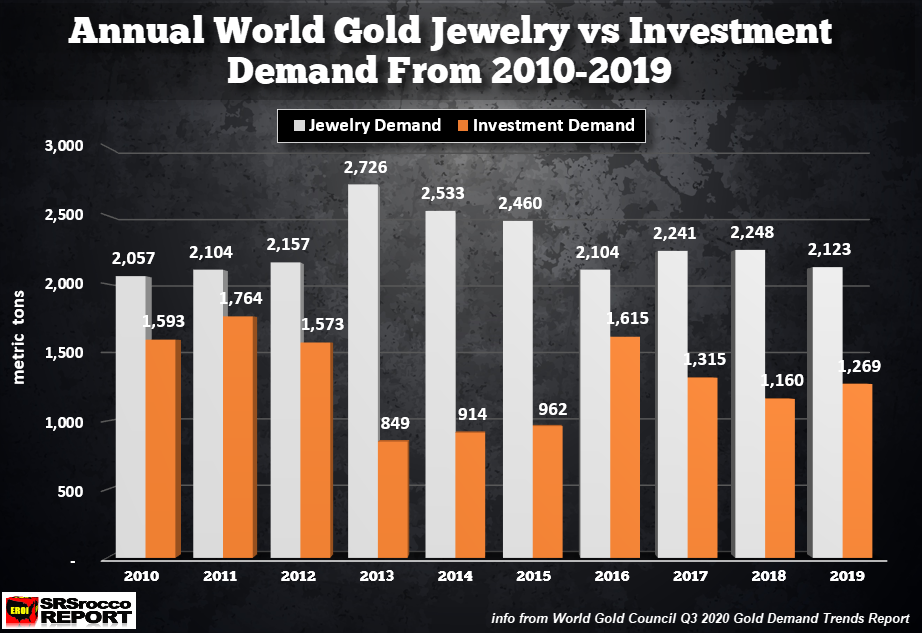 If we add up all the annual totals for the 10-year period, there were 22,734 metric tons of gold jewelry demand (731 million oz) versus 13,015 metric tons of net gold investment demand (418 million oz).  And, if we go back to 2000 or 2001, the ratio was much worse.  According to the World Gold Council Gold Demand Trends data, there was a total of 166 metric tons of retail gold investment in 2000 compared to 3,204 metric tons of gold jewelry demand.  So, the main driver for the gold market before the 2008-2009 financial crisis was jewelry demand.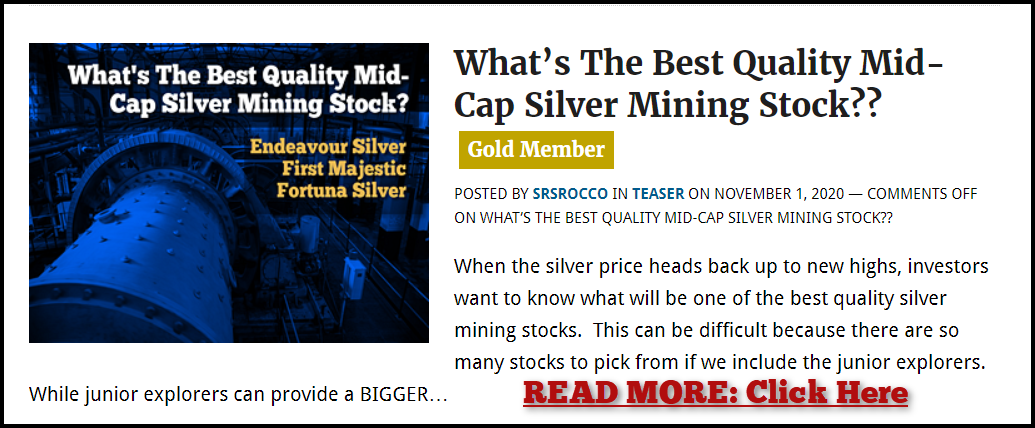 However, this all changed in 2020 as the pandemic forced the Fed and Central Banks to do what they do best… PROP UP THE ECONOMY & FINANCIAL SYSTEM, but on steroids.  This has a profound impact on global gold investment, especially in the west.
As we can see in the chart below, global gold jewelry demand reversed with investment demand as being the main driver of the gold market.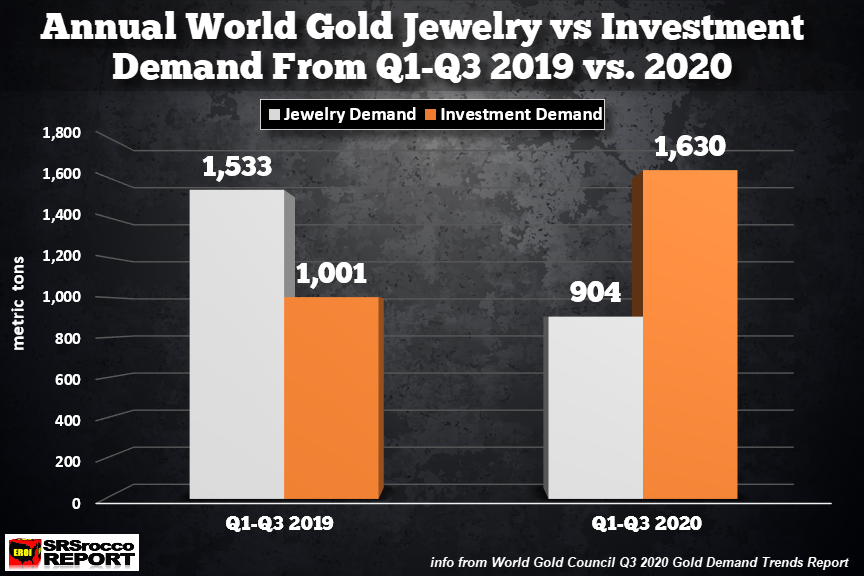 Demand for gold jewelry (904 metric tons) declined considerably during Q1-Q3 2020 versus the same period last year (1,533 metric tons).  On the other hand, global gold investment surged to 1,630 metric tons versus 1,001 metric tons last year.  While it's no surprise that gold jewelry demand is lower due to the lockdown of retail stores and outlets, investors are beginning to wake up to owning gold as protection against the continued destruction of the U.S. Dollar, the Euro, and other foreign currencies.
For the first time, world gold investment has surpassed jewelry demand.  Even though we may see a continued recovery in gold jewelry demand, the main driver will likely continue to be investment demand, especially next year as the Fed and Central banks turn up the monetary printing and liquidity spigot.
DISCLAIMER: SRSrocco Report provides intelligent, well-researched information to those with interest in the economy and investing. Neither SRSrocco Report nor any of its owners, officers, directors, employees, subsidiaries, affiliates, licensors, service and content providers, producers or agents provide financial advisement services. Neither do we work miracles. We provide our content and opinions to readers only so that they may make informed investment decisions. Under no circumstances should you interpret opinions which SRSrocco Report or Steve St. Angelo offers on this or any other website as financial advice.
Check back for new articles and updates at the SRSrocco Report.  You can also follow us on Twitter and Youtube below: