Something BIG just happened in the U.S. Mint Gold Eagle Market this month.  Not only have Gold Eagle sales in the first three weeks of January surpassed last year's total by a factor of three, but it's also the highest figure since the 2008-2009 Financial Crisis.  While Silver Eagle sales have been the main focus of precious metals investors in the past year, Gold Eagle sales are now the new spotlight.
In my last update on Jan 14th, Gold Eagle Sales reached 141,000 oz, compared to 60,000 oz in the same month last year.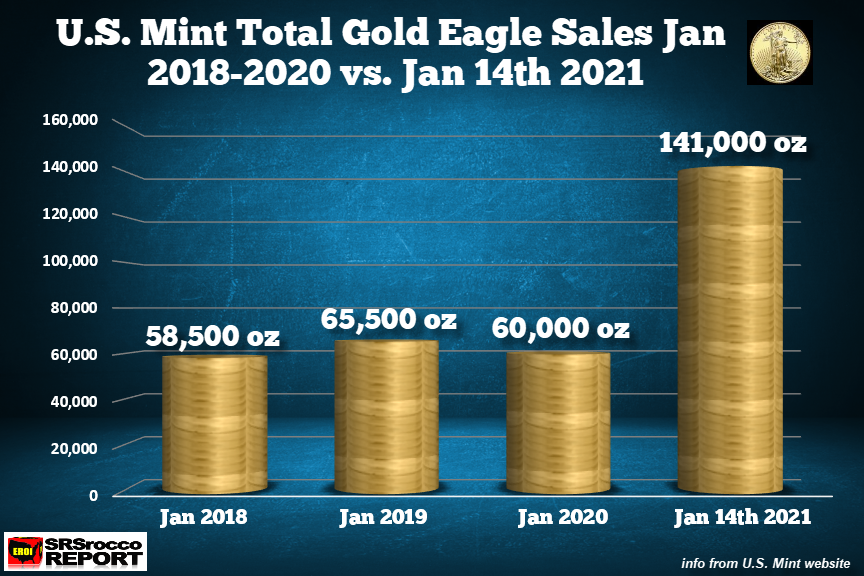 Thus, Gold Eagle sales on Jan 14th were already more than double the previous year, with still two weeks remaining in the month.  When the U.S. Mint updated their figures earlier today, they reported 62,500 oz sold in the past week.  Remarkably, the U.S. Mint sold more Gold Eagles in the last week than they did for the entire month last year.  The total Gold Eagle sales as of Jan 25th are 203,500 oz.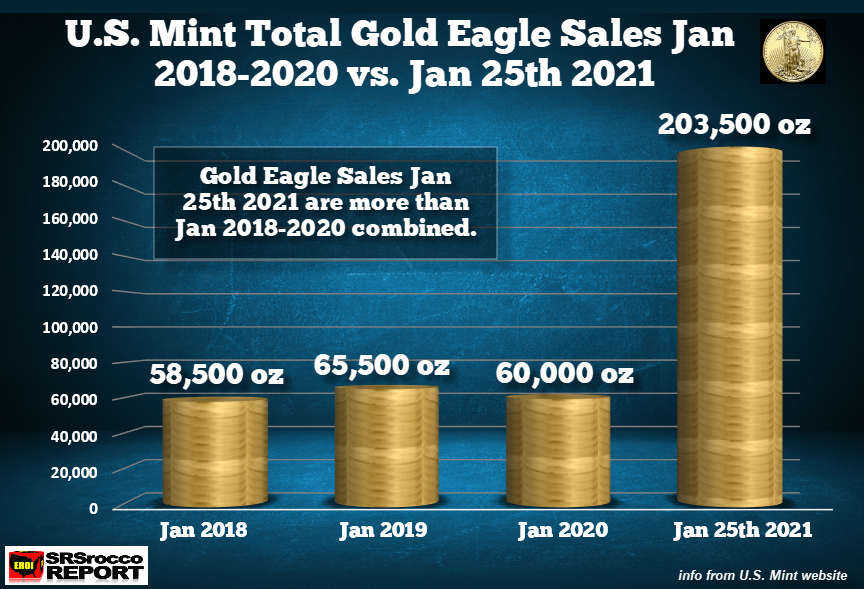 As we can see, the U.S. Mint has already sold more Gold Eagles this month than they did for the past three January's combined.  Folks, this is a BIG DEAL.  Investors are concerned about the crazy Fed and Central bank money printing and stimulus that will continue to be pumped into the markets to prop up the U.S. and global economies.  The fundamentals for the precious metals will only get stronger.
However, we believe the metals and miners' market prices will fluctuate due to HOW THE MARKET TRADES.  We provide updates on the technicals on the markets and metals to better understand the price movements.  Unfortunately, most precious metals analysts only forecast HIGHER PRICES.  This is a disservice to investors.  Nothing goes up in a straight line.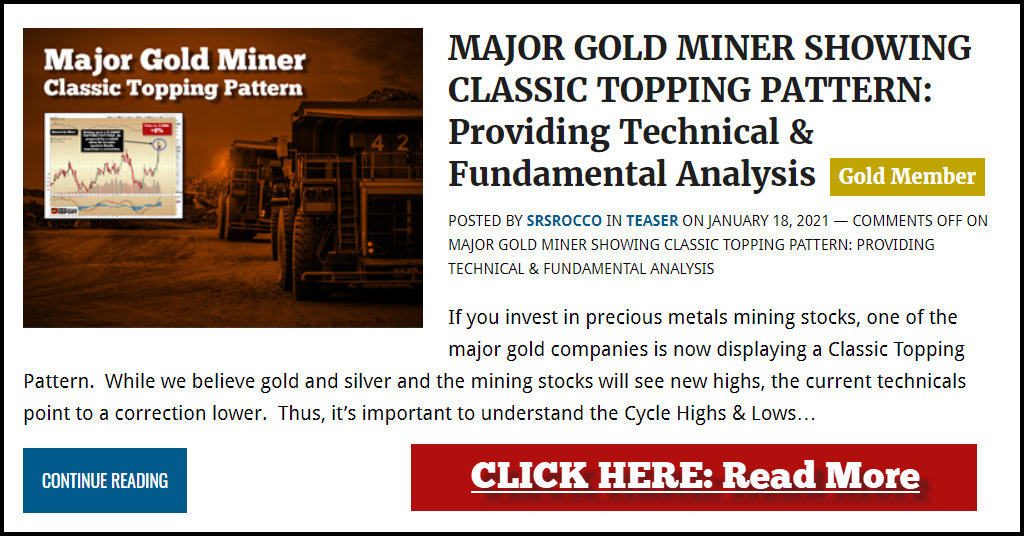 Many precious metals investors do not take advantage of their PROFITS because they do not understand the CYCLE HIGHS and CYCLE LOWS of the mining stocks.  We try to provide these levels as best we can to remove some of the mystery.  This is why we still believe the major gold miner shown in the graphic above is still exhibiting a TOPPING PATTERN.
But, that doesn't mean that investors will not continue to acquire physical precious metals.  THEY SHOULD!  And, if we look at the following long-term Gold Eagle sales chart for January, we can see that this year is the highest since the 2008-2009 Financial Crisis.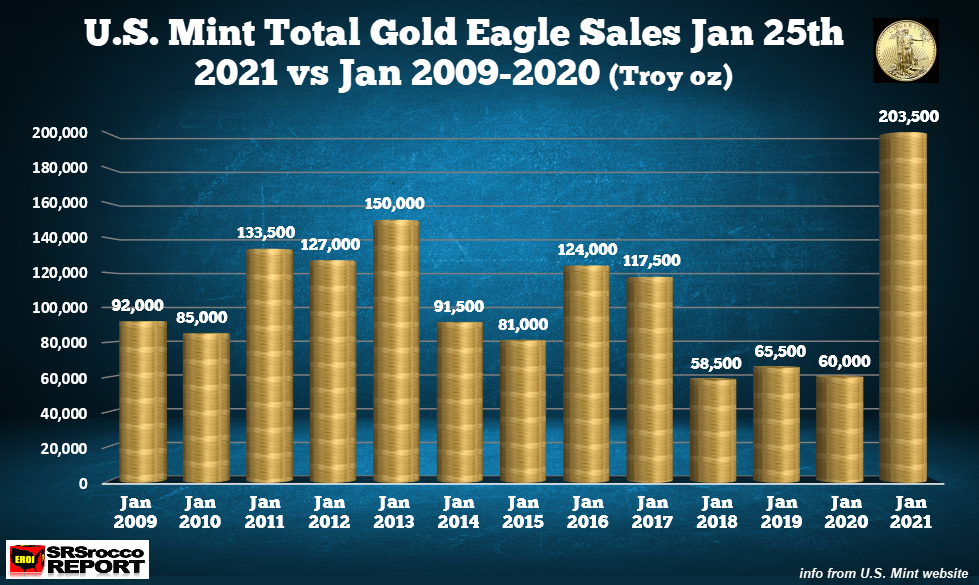 When the gold price was hitting a new high in 2011, the U.S. Mint sold 133,500 oz of Gold Eagles in January.  Furthermore, when the gold price experienced a massive correction lower in 2013, investors were buying a lot of Gold Eagles.  The U.S. Mint sold 150,000 oz of Gold Eagles in January 2013.  However, Gold Eagle sales are at record levels this year, and we still have another week remaining.
Unfortunately, next Monday falls on the first of February.  So, the U.S. Mint may put the newest sales figures in February rather than in January.  We will see.  Regardless, this is a clear sign that investors will continue to acquire RECORD amounts of physical precious metals as they realize the Fed & Central banks will continue to destroy the value of fiat currencies to keep the markets and economies from collapsing.
If you want to understand the markets' technicals and indicators, you should check out our weekly Markets and Metals Updates.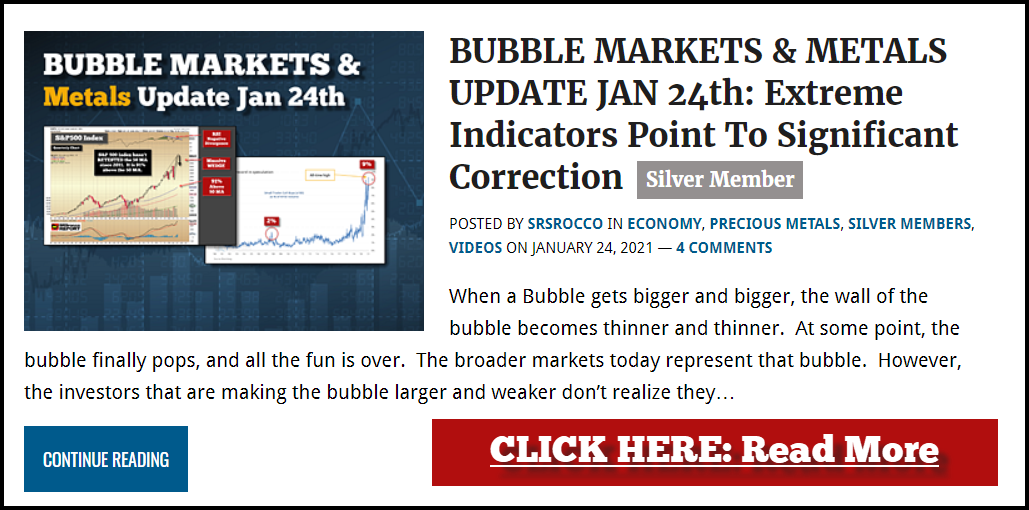 DISCLAIMER: SRSrocco Report provides intelligent, well-researched information to those with interest in the economy and investing. Neither SRSrocco Report nor any of its owners, officers, directors, employees, subsidiaries, affiliates, licensors, service and content providers, producers, or agents provide financial advisement services. Neither do we work miracles. We provide our content and opinions to readers only so that they may make informed investment decisions. Under no circumstances should you interpret opinions which SRSrocco Report or Steve St. Angelo offers on this or any other website as financial advice.
Check back for new articles and updates at the SRSrocco Report.  You can also follow us on Twitter and Youtube below: