Investor demand for precious metals remains strong as the U.S. Mint Silver Eagle sales in November were the highest in nine months.  Not only were Silver Eagle sales the highest since March, when the pandemic caused investors to wipe-out inventories, but Gold Eagle sales also jumped by another 25,500 troy oz this past week.
According to the U.S. Mint data, Silver Eagles sales increased from 4,081,000 on Nov. 23rd to 4,805,000 on Nov 30th.  Total Silver Eagle sales for 2020 are now 29.3 million.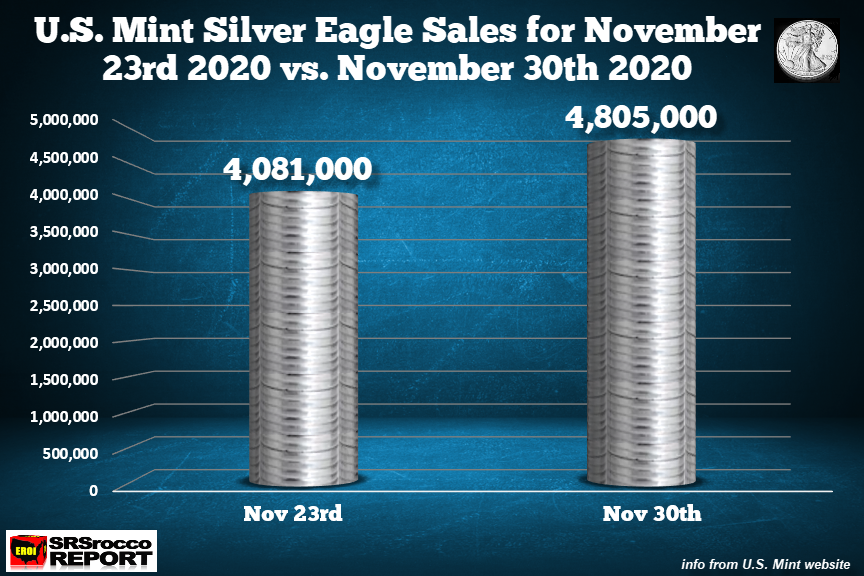 Silver Eagle sales in November at 4.8 million are the second highest in the year compared to the 5.5 million sold in March when the silver price fell to $12 during the stock market crash due to the pandemic lockdown.  It seems likely that Silver Eagle sales will reach and surpass 30 million this year.
UPDATE DEC 1st 2:30 PM MST:  It looks like the U.S. Mint sold another 276,000 Silver Eagles on the first day of December.  Total Silver Eagles for 2020 are now 29.6 million.  I believe we may even see 31 million sold for the year.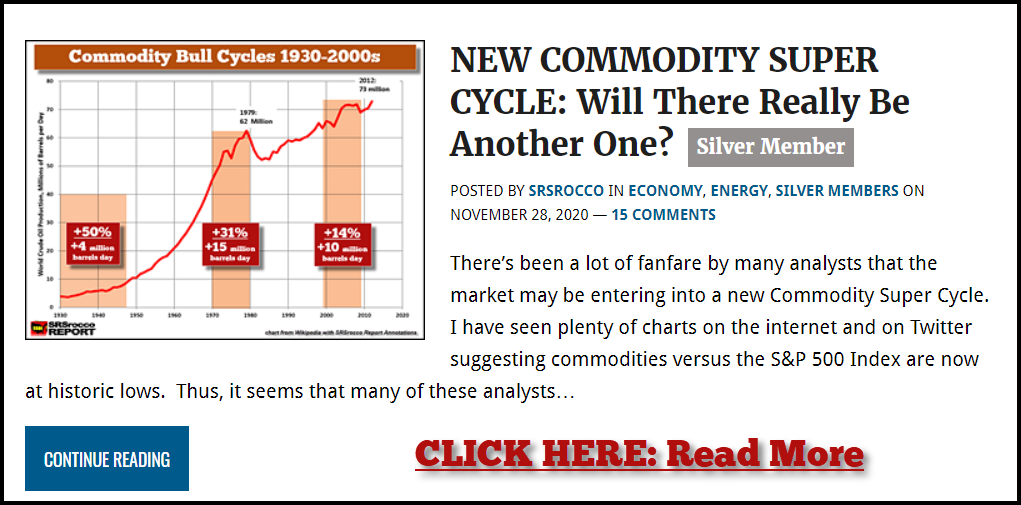 Furthermore, in November, Gold Eagle sales reached 88,000 oz for a total of 794,500 oz for the year versus 152,000 oz for full-year 2019.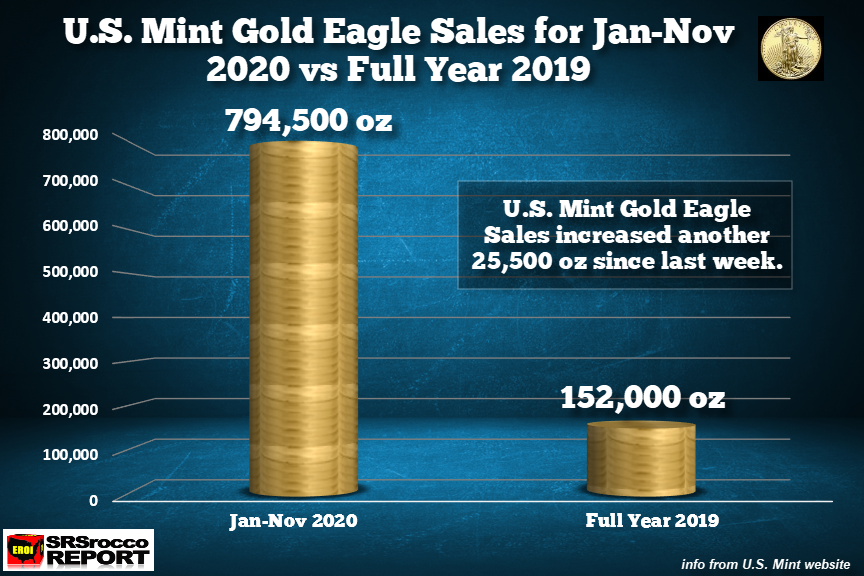 As I have stated many times, I believe we are just beginning to see the MASSIVE SURGE of precious metals investment demand over the following years, especially in 2021.  There is so much CARNAGE taking place in the U.S. economy that hasn't been factored into the stock markets or mainstream media.
Here is my interview with Tom Bodrovics at Palisades Radio, which we recorded last week on Friday:
NOTICE: The paid content is not to be "Republished" on websites, blogs, or, elsewhere.  This is especially true for the signature SRSrocco Report Charts & Graphics.  No paid member SRSrocco Report charts-graphics can be republished elsewhere.  We will allow limited amounts of data or information to be shared elsewhere for the purpose of debate or analysis.
Any information (data, charts & graphs) that are published for free public use, can be republished elsewhere.
DISCLAIMER: SRSrocco Report provides intelligent, well-researched information to those with interest in the economy and investing. Neither SRSrocco Report nor any of its owners, officers, directors, employees, subsidiaries, affiliates, licensors, service and content providers, producers or agents provide financial advisement services. Neither do we work miracles. We provide our content and opinions to readers only so that they may make informed investment decisions. Under no circumstances should you interpret opinions which SRSrocco Report or Steve St. Angelo offers on this or any other website as financial advice.
Check back for new articles and updates at the SRSrocco Report.  You can also follow us on Twitter and Youtube below: