As the Fed and central banks desperately continue to buy treasuries and bonds to prop up the highly leveraged Global Ponzi Economy, sales of Gold Eagles continue to be RED HOT.  According to the U.S. Mint, nearly another 20,000 oz of Gold Eagles were sold in the past two days.  Also, the mint sold another 156,000 Silver Eagles.
The U.S. Mint Gold Eagle sales increased from 78,500 oz on Monday (Aug 16th) to 98,000 oz today (Aug 18th).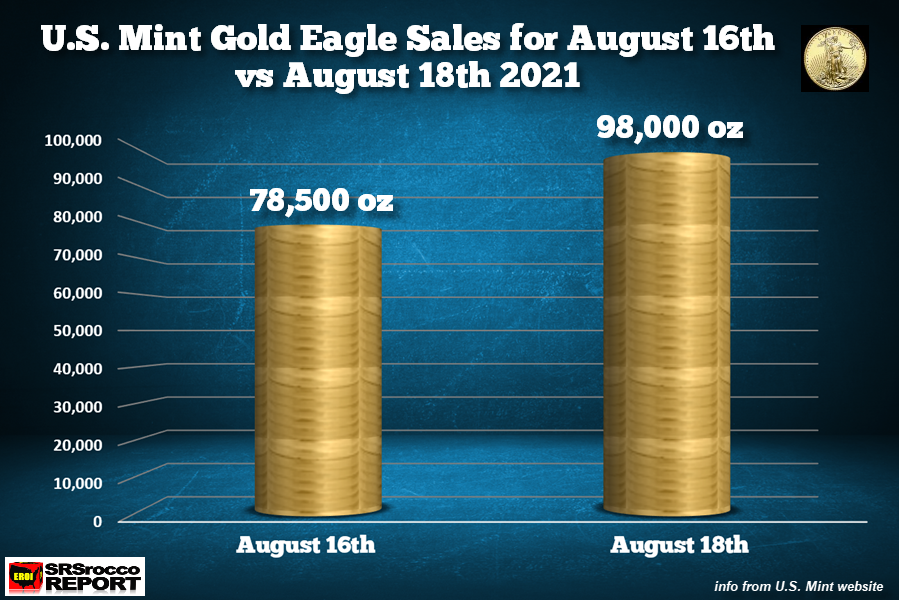 That's a pretty nice additional CLIP of Gold Eagle sales in just a couple of days.  Moreover, if Gold Eagle sales continue at this pace for the remainder of the month, they will already surpass total sales for Full Year 2020.
Last year, the U.S. Mint sold 844,000 oz of Gold Eagles, and as of August 18th, total sales this year are already 809,500 oz.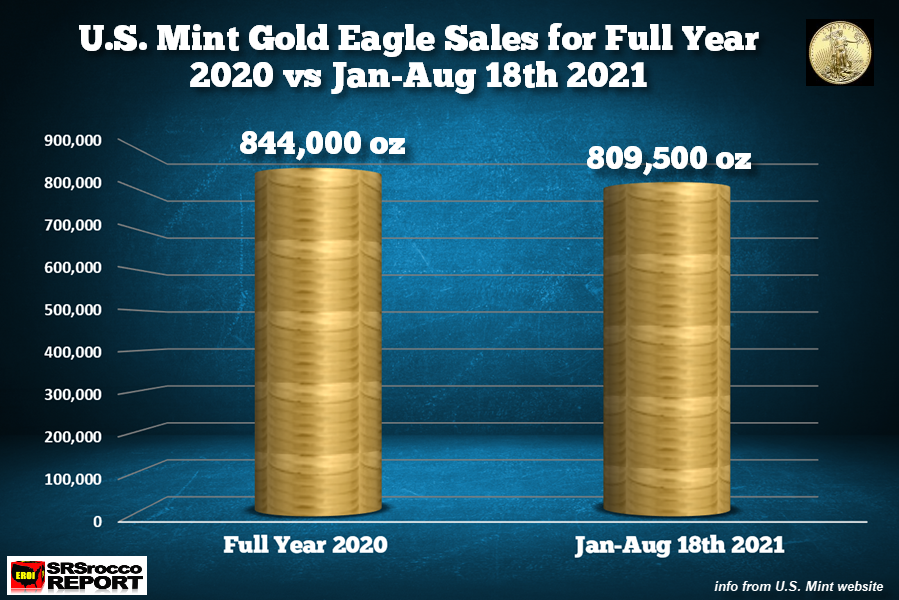 With more than four months left in the year, Gold Eagle sales look to surpass 1 MILLION oz easily.
While the Fed and central banks can continue to prop up the market with FUNNY PAPER, at some point, the RUBBER is going to hit the ROAD, and those holding only paper will feel VERY SILLY… INDEED.
Gold Metals Premiums Are Falling, But Are You Paying Too Much?
After I posted the Silver Eagles post showing how much lower Cloud Hard Assets Silver Eagles & Maples were compared to the leading online dealers, I wanted to show the current prices for the new 2021 1 oz Gold Eagles.
I didn't have time to make a chart, but I will show the leading Four Online Dealers TYPE #2 2021 Gold Eagle prices (premiums) based on buying 1-9 coins at the current silver spot price of $1,789.50.
New 2021 1 oz Gold Eagles
SD Bullion = $1,905 (+$112)
JM Bullion = $1,923 (+$130)
Money Metals = $1,922 (+$129)
APMEX Inc.= $1,921 (+$128)
Cloud Hard Assets  = $1,905 (+$112)
Here we can see that Cloud Hard Assets is selling the new 2021 1 oz Gold Eagles for the same price as SD Bullion, one of the lowest price dealers on the internet.  Also, Cloud Hard Assets puts the clients' funds in an ESCROW account to protect the funds until the metal is shipped.  Not many dealers provide this excellent service.
I have a feeling that if we see lower precious metals prices, demand for Gold and Silver bullion products is going to only get stronger.  To see another 20,000 oz of Gold Eagles sold in just two days suggests… DEMAND HAS NOT SLOWED DOWN.
If you have any questions about precious metals, I suggest that you call up and talk with Dan or Jade at Cloud Hard Assets.  Tom is in the office a few days a week, but they are happy to answer any questions and are very easygoing.
In stark contrast, I called up Monex not long ago just to get a quote and I received two return sales calls… even though I did not ask for a callback.  This is not the kind of service I am looking for in a dealer.
If you want to contact Cloud Hard Assets, you can click here: CLOUD HARD ASSETS.  Call at (800) 247-2812.
DISCLAIMER: SRSrocco Report provides intelligent, well-researched information to those with interest in the economy and investing. Neither SRSrocco Report nor any of its owners, officers, directors, employees, subsidiaries, affiliates, licensors, service and content providers, producers or agents provide financial advisement services. Neither do we work miracles. We provide our content and opinions to readers only so that they may make informed investment decisions. Under no circumstances should you interpret opinions which SRSrocco Report or Steve St. Angelo offers on this or any other website as financial advice.
Check back for new articles and updates at the SRSrocco Report.  You can also follow us on Twitter and Youtube below: