Today the gold and silver prices surged higher as the Fed and central banks continue to prop up the global economy and financial system that suffered a massive heart attack.  Today, the gold price jumped to the $1,750 level, while silver is almost back to $16.  Demand for physical gold and silver bullion remains high as the availability of coins, bars, and rounds are still in short supply.
While the metals prices increased along with the broader markets, the oil price went in the opposite direction and is currently down 8% at $20.61.  This is horrible news for the continued dream of U.S. Energy Independence.  Shale oil and gas companies are being DESTROYED in rapid order, even though the corpses haven't shown up yet.
And, with world oil demand now down between 26-35 million barrels per day, depending on the analyst, the Highly Leveraged Global Debt-Derivatives Financial Ponzi Scheme is now under serious threat of imploding.  Why?  I will be explaining that in a new video update on the SRSrocco Report Youtube Channel shortly.  If you have not yet subscribed to our youtube channel, you can so here:  SRSrocco Report Youtube Channel.
Here's a bit of a PREVIEW.  What do all Ponzi Schemes need to stay alive??  A new supply of investor funds is necessary to keep the Ponzi going.  What is required to keep the Global Financial Ponzi Scheme alive??  World oil production growth is vital in allowing the Global Ponzi Scheme to continue.  So, what happens when not only OIL GROWTH is gone, but the world has now lost 30 million barrels per day of demand??  Correct.. the entire FINANCIAL PONZI FACADE comes crashing down.
This is by far the most misunderstood factor totally missed by financial analysts and economists.  Furthermore, this is precisely why the Fed is now buying JUNK BONDS and JUNK BOND ETFs.
So, it should be no surprise why investors continue to purchase a record amount of gold and silver bullion.
SILVER EAGLE BEST BUY PRICE UPDATE:  April 14th
Here is an update of the Silver Eagle Buy prices from the leading online precious metals dealers versus CLOUD HARD ASSETS, which I sponsor on this site.  When the silver spot price was trading at $15.96, here are the Silver Eagle buy prices from these leading online dealers.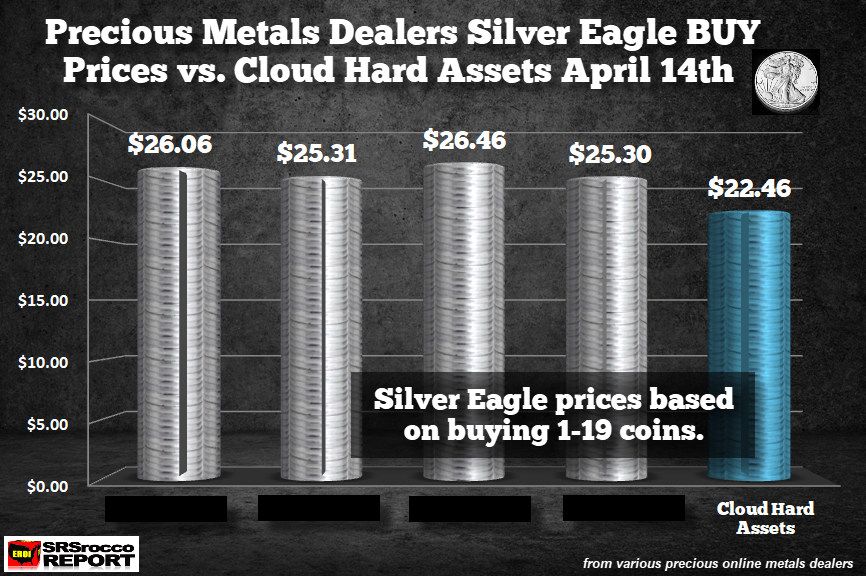 Based on the silver spot price of $15.96, the premiums (above spot) on Silver Eagles from the four leading online dealers range from $9.34 to $10.50.  These prices are based on purchasing 1-19 Silver Eagles from these dealers.  However, the prices will decline depending on the quantity purchased.  You will notice that CLOUD HARD ASSETS offers the BEST BUY PRICE compared to these leading competitors at only $6.50 over spot.
I just got done talking with Dan at Cloud Hard Assets, and he told me that the phone continues to ring from sun-up to sun-down.  They also lowered the spot price for 1,000 oz wholesale silver bars, shown below.  Availability of 1,000 oz bars at Cloud Hard Assets is now one week to 10 days:
Here are some other prices for bullion products also offered by Cloud Hard Assets:
Silver Eagles ($6.50 over spot)
Silver Misc Private 1 oz Rounds ($3.60 over spot)
Silver Misc Private 5 & 10 oz Bars ($3.60 over spot)
Silver Kilo Bars ($3.60 over spot)
Silver Misc. Kangaroos ($4.50 over spot)
Silver 1,000 oz Bars ($1.25 over spot)
Gold Eagles (9.25% over spot)
Gold Buffalo (9.25% over spot)
Gold Philharmonic (8% over spot)
Gold Kilo Bars (4.2% over spot)
Not only is it important to shop around for better gold and silver bullion prices, but it's also very wise to use a dealer that will "PROTECT" your funds until your metal is shipped.  As I have stated, in the past several precious metals dealers were selling more metal than they had in stock.  Thus, many investors lost money when they did not receive metal after the company went bankrupt.
With gold and silver bullion products in short supply, with availability pushed back weeks or months, it is essential that your funds are protected during these crazy times.  Tom Cloud at Cloud Hard Assets puts all of his clients' funds into an escrow account until the metal is shipped.  So, if CLOUD HARD ASSETS cannot obtain the metal for whatever reason, the clients' funds are protected in an escrow account.
If you would like to chat with Tom or Dan at Cloud Hard Assets, you can find their contact info at the following link on my website:  CLOUD HARD ASSETS.
Lastly, I still believe the U.S. Mint West Point Facility is still closed, but they updated their website to show an additional 56,500 oz of Gold Eagles sold and 350,000 Silver Eagles.  They haven't updated their website figures for a while, so it will be interesting to see what kind of sales they will be showing once they reopen.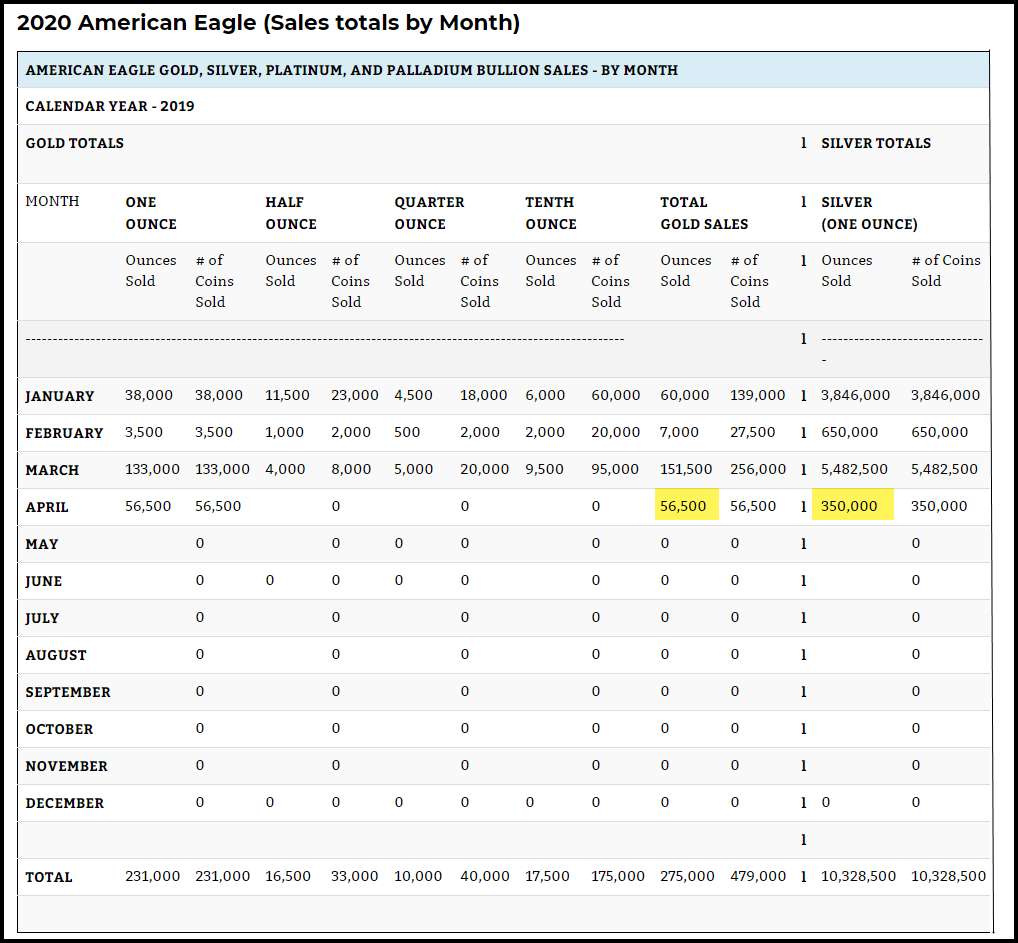 I will be providing a new Youtube Video Update on the Coming Explosion in the Gold and Silver Prices when the Global Financial Ponzi Scheme Implodes in the next 1-2 days.
IMPORTANT NOTE:  There is a reason I sponsor Tom Cloud on my site because I believe he is one of the most honest and upfront precious metals dealers in the industry.  Not only does Tom offer some of the best rates to purchase gold and silver, but also whenever someone sells metals back to him, HE DOES NOT CHARGE A COMMISSION.  The overwhelming majority of precious metals dealers charge a commission to buy back gold and silver.
I challenge you to check for yourself.
Also, if you need to store metal at a secure facility, Tom offers some of the lowest storage rates in the industry.  TOM DOES NOT MAKE MONEY OFF HIS CLIENTS PRECIOUS METALS STORAGE.  The overwhelming majority of precious metals dealers add an additional percentage to store their clients gold and silver.
I challenge you to check for yourself.
Tom Cloud has been in the precious metals business for 46 years, since 1973.  He has a lot of experience in the precious metals industry and understands the gold and silver market better than most dealers in the industry.
If you are new to the precious metals market and had questions, Tom Cloud would be happy to answer any questions.
DISCLAIMER:  While Tom offers information about precious metals, you should not take this as investment advice.  You should contact a professional advisor and or do your due diligence before making investment decisions.  
If you are new to the SRSrocco Report, please consider subscribing to my:  SRSrocco Report Youtube Channel.
DISCLAIMER: SRSrocco Report provides intelligent, well-researched information to those with interest in the economy and investing. Neither SRSrocco Report nor any of its owners, officers, directors, employees, subsidiaries, affiliates, licensors, service and content providers, producers or agents provide financial advisement services. Neither do we work miracles. We provide our content and opinions to readers only so that they may make informed investment decisions. Under no circumstances should you interpret opinions which SRSrocco Report or Steve St. Angelo offers on this or any other website as financial advice.
Check back for new articles and updates at the SRSrocco Report.  You can also follow us on Twitter and Youtube below: