With Americans out voting in record numbers today, the U.S. Mint updated its figures to show a stunning amount of Silver Eagles sold during the first few days of November.  The U.S. Mint sold nearly four times the Silver Eagles in the first two days of November than it did during the same month last year.
I thought Silver Eagle sales might slow a bit during the last few months of the year, but it seems as if demand for the official coin continues to be very strong.  In my last update, I reported that the U.S. Mint sold a total of 3,397,000 Silver Eagles in October.  However, with the most recent update on the U.S. Mint website, 1,6530,000 Silver Eagles were sold as of November 3rd.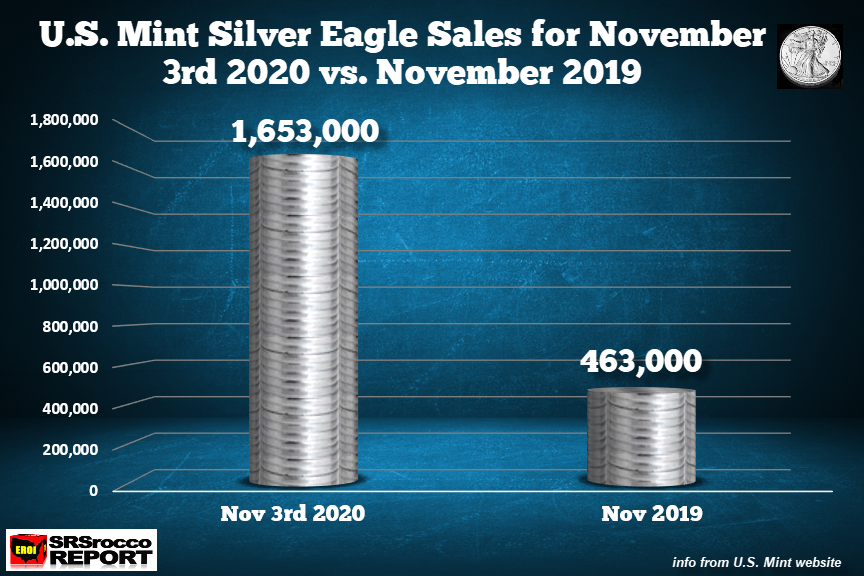 This is quite an impressive figure for the first few days of November as it is already 50% of the sales compared to the total sold last month.  Furthermore, we can see how many more Silver Eagles have been sold in November compared to last year.
The total Silver Eagles sold for 2019 were 14,863,500 compared to 26,186,500 so far this year.  If demand remains strong for the next two months, we may see 30 million Silver Eagles sales for 2020.
The chart above shows the total for 2020 as of September.  It's now past the 25 million level.  The last time the U.S. Mint sold over 30 million Silver Eagles was back in 2016.  If the economic and financial situation continues to deteriorate for the rest of the year and into 2021, we could see record demand return for the Silver Eagle.
I will be watching the Presidential Election results and will provide a new Silver Member update tomorrow.
DISCLAIMER: SRSrocco Report provides intelligent, well-researched information to those with interest in the economy and investing. Neither SRSrocco Report nor any of its owners, officers, directors, employees, subsidiaries, affiliates, licensors, service and content providers, producers or agents provide financial advisement services. Neither do we work miracles. We provide our content and opinions to readers only so that they may make informed investment decisions. Under no circumstances should you interpret opinions which SRSrocco Report or Steve St. Angelo offers on this or any other website as financial advice.
Check back for new articles and updates at the SRSrocco Report.  You can also follow us on Twitter and Youtube below: