The global meltdown will turn into an economic depression in which few are prepared.  The mainstream financial media focuses on the highly inflated stock rally and safety in the bond market, while the underlying fundamentals of the economy continue to disintegrate.  However, "Earnings Season" is getting ready to start… so watch for fireworks to begin shortly.
Even though the Fed and central banks can prop up the stock market and financial assets, they can't stop the coming gauntlet of LOUSY EARNINGS DATA.  How can the Dow Jones Index be trading at 24,000 while the main driver of the economy, "The Oil Industry," is being destroyed in rapid order?  With the U.S. oil price closing in the $12 range, negative oil prices are once again around the corner.
In my newest video, GLOBAL MELTDOWN:  Major Impact On Silver Investment & Market, I discuss the deteriorating economic indicators and how they will be negative for silver supply and positive for silver investment.
In one of my last video updates, I forecasted that the global silver mine supply would decline between 100-150 Moz in 2020.  Well, this looks like a more realistic forecast because both Peru and Mexico extended the lockdown of their economies: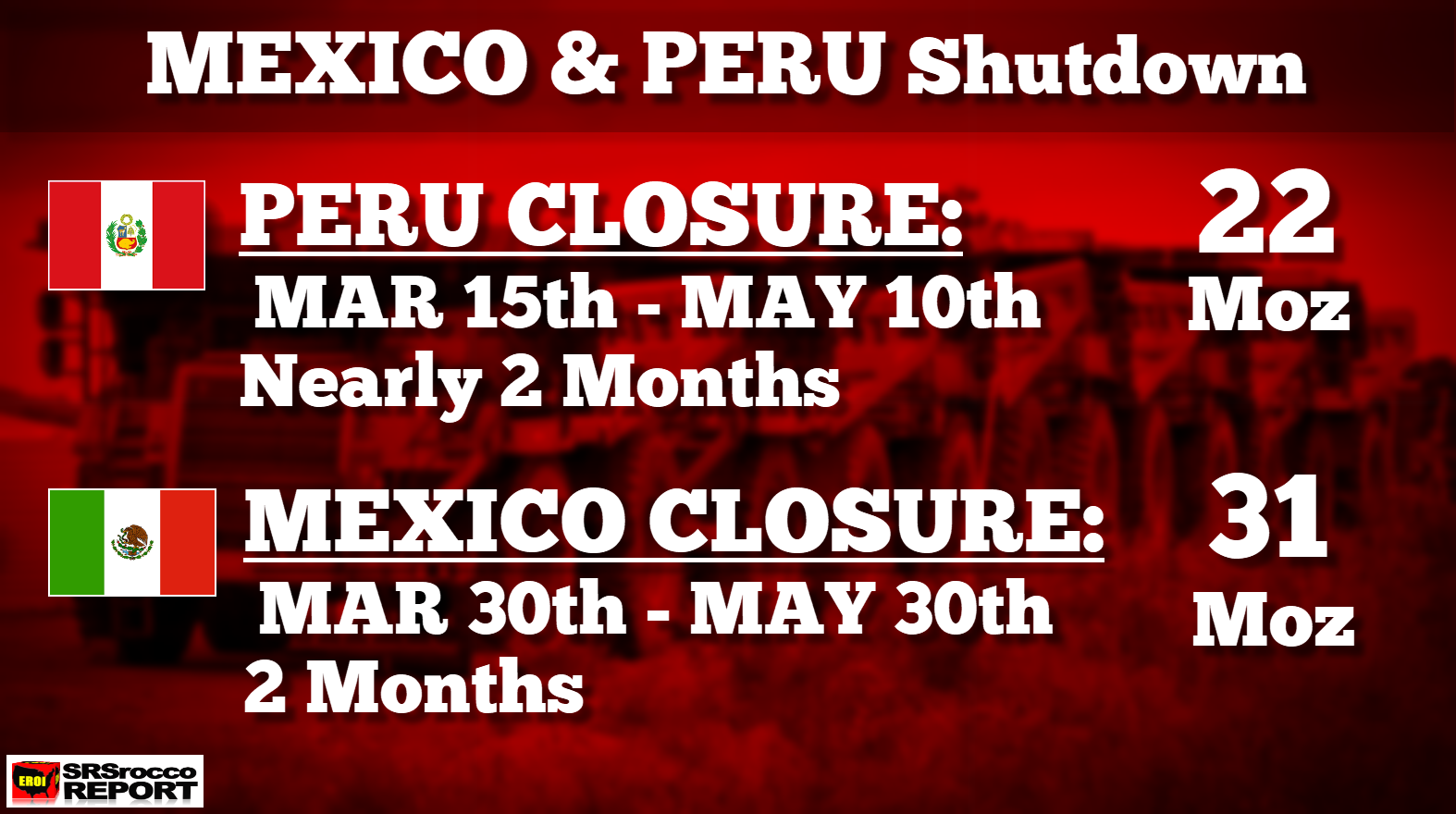 With Mexico and Peru locked down for two months, upwards of 50 million oz of silver was lost.  Furthermore, if we include the coming collapse in global base metal demand, we could easily see 100+ million oz of silver mine supply curtailed this year.   In the video, I provide the most updated data on global silver supply as a by-product of base metal mining.
I believe global silver mine supply will be falling right at the very time we see RECORD PHYSICAL SILVER INVESTMENT demand.
THANK YOU ALL FOR THE SUPPORT:  I just wanted to thank all the individuals who continue to support the SRSrocco Report website and youtube channel.  I know some of you have canceled memberships as times are tough.  I totally understand.  If you are new to the site and find the information valuable, please consider supporting the website, if you have the means to do so, at Paypal or Patreon below.
If you are new to the SRSrocco Report, please consider subscribing to my:  SRSrocco Report Youtube Channel.
DISCLAIMER: SRSrocco Report provides intelligent, well-researched information to those with interest in the economy and investing. Neither SRSrocco Report nor any of its owners, officers, directors, employees, subsidiaries, affiliates, licensors, service and content providers, producers or agents provide financial advisement services. Neither do we work miracles. We provide our content and opinions to readers only so that they may make informed investment decisions. Under no circumstances should you interpret opinions which SRSrocco Report or Steve St. Angelo offers on this or any other website as financial advice.
Check back for new articles and updates at the SRSrocco Report.  You can also follow us on Twitter and Youtube below: