Investors bought a record amount of silver bullion coins as the Fed, and central banks continued to prop up the global economy and financial system with massive asset purchases in 2021.  And, this looks to continue into 2022 as the U.S. Mint Silver Eagle sales have already reached 4.4 million in January.
According to the 2021 World Silver Survey, Silver Coin sales were estimated to be 147.7 million oz in 2021.  However, they have revised their total silver bar and coin demand higher for 2021, thus I believe silver coin sales topped 150 million oz (Moz).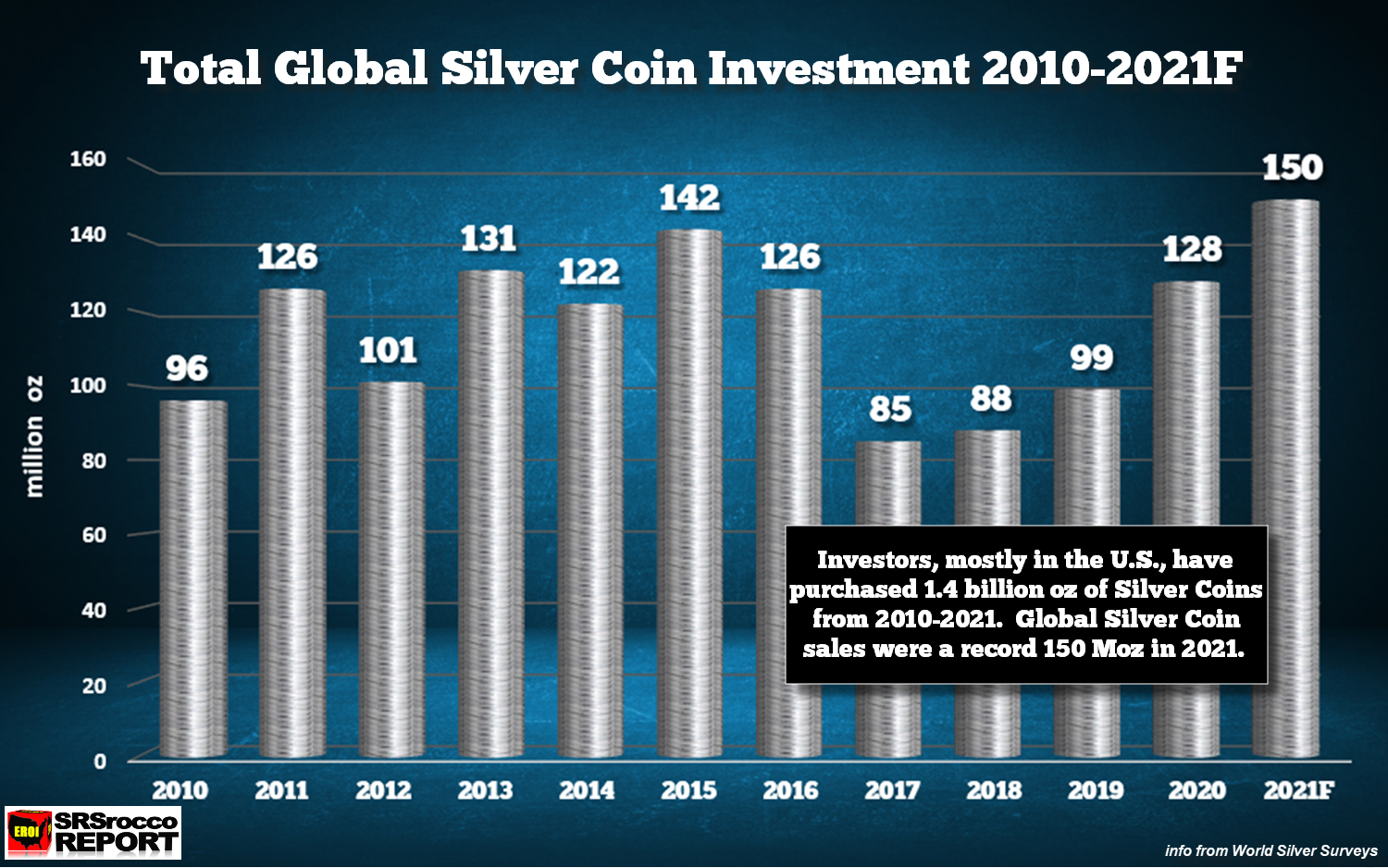 Interestingly, the 150 Moz figure is that several countries experienced a significant increase in demand for their official silver coin sales last year due to higher premiums for U.S. Silver Eagles and Canadian Maple Leaf coins.  Investors turned to the South African Krugerrands, Austrian Philharmonics, and U.K. Britannia's, selling for much lower premiums.  We won't know the exact sales totals of these official coins until the 2022 World Silver Survey is released in May.
---
I also wanted to let you know that CLOUD HARD ASSETS sells Silver Krugerrands & Silver Philharmonics (& Britannias) at only $3.75 over spot.  If you go to the large online dealers and compare prices, you will find out that Cloud Hard Assets has the best prices.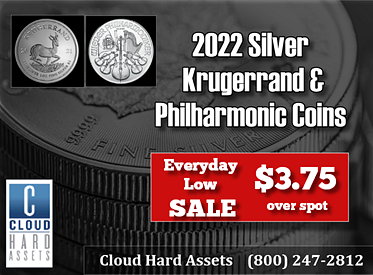 ---
Breaking News… CoinNews.net just published that the Australian Perth Mint Silver bullion sales for 2021 also reached a record high of 19 Moz.  It seems as if the official mints around the world are seeing record demand for silver coins.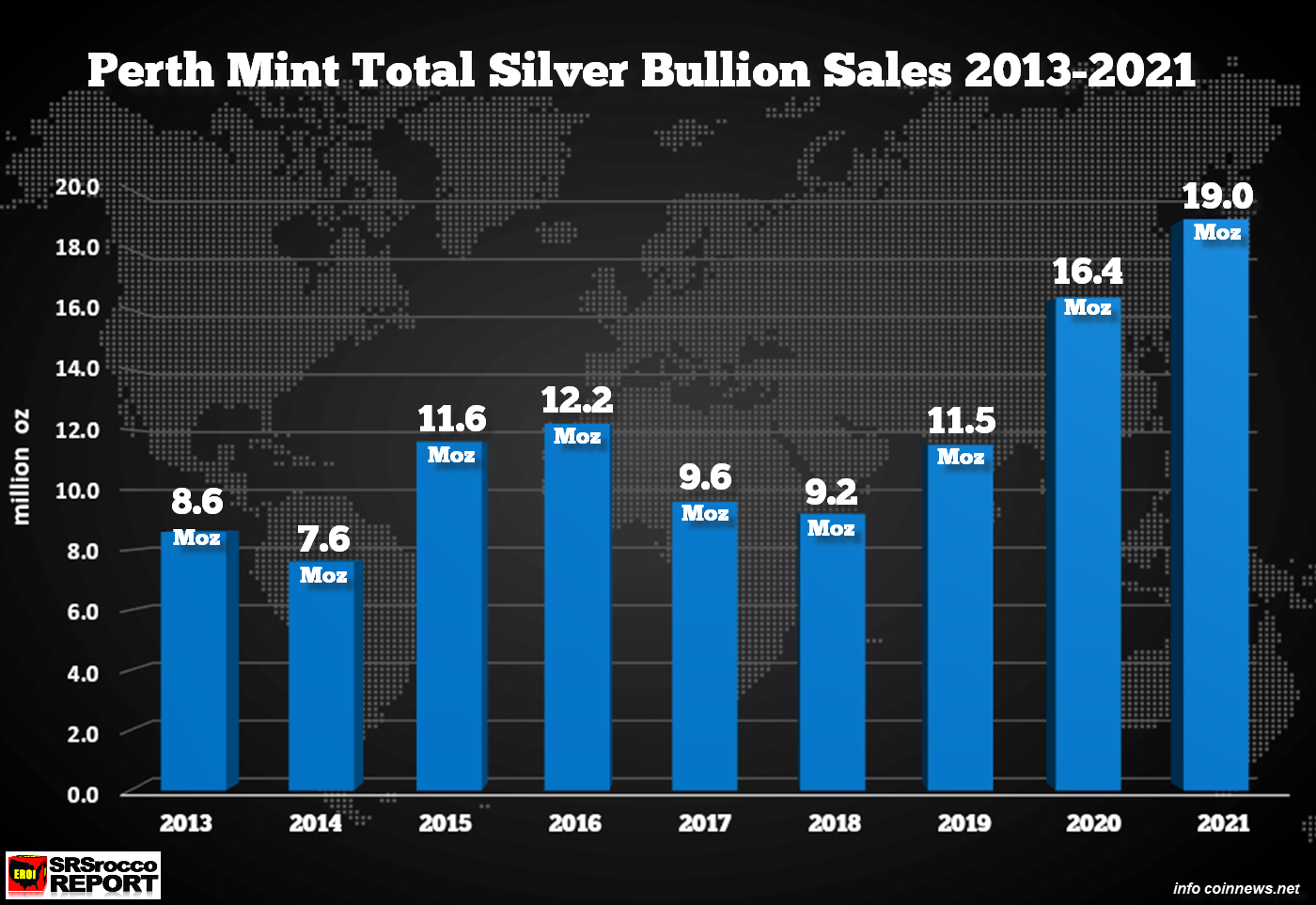 Interestingly, Silver Eagle sales were slightly lower in 2021 to 28.2 Moz versus 30 Moz in 2020.  For whatever reason, the U.S. Mint sold very few Silver Eagles in November and zero for December.  But, I believe we will see continued strong Silver Eagle sales this year if the U.S. Mint can access enough silver blanks to meet demand.
Also, the Royal Canadian Mint reported Q1-Q3 2021 total Silver Maple and Bar sales were 27.8 Moz.  So, I would estimate Canadian Silver Maple and coin sales will likely surpass 35-36 Moz in 2021, up from 33.3 Moz in 2020.
Lastly, it seems investors are demanding more Silver Coins over Silver Bars.  The World Silver Survey estimated last year 148 Moz of Silver Coin demand versus only 105 Moz for Silver Bar.  The advantage of Official Silver Coins is that most of the public would recognize the coins are 1 oz, and because they are smaller, they are easier to trade or sell than the larger 10-100 oz bars.
You can contact Tom, Dan, or Jade… Click here: CLOUD HARD ASSETS.  You can also call (800) 247-2812.
DISCLAIMER: SRSrocco Report provides intelligent, well-researched information to those with interest in the economy and investing. Neither SRSrocco Report nor any of its owners, officers, directors, employees, subsidiaries, affiliates, licensors, service and content providers, producers or agents provide financial advisement services. Neither do we work miracles. We provide our content and opinions to readers only so that they may make informed investment decisions. Under no circumstances should you interpret opinions which SRSrocco Report or Steve St. Angelo offers on this or any other website as financial advice.
Check back for new articles and updates at the SRSrocco Report.  You can also follow us on Twitter and Youtube below: