Precious metals investors are wondering if the Silver Rally will continue in September.  After the silver price reached nearly $30 in August, it has been consolidating lower over the past few weeks.  However, silver tried to surpass the $29 level but fell last week along with the broader markets.  So, the trend for silver in September may rely upon the broader markets.
I discussed this in my newest YouTube video update, Another Big Month For The Silver Price?  In the video, I explain some of the forces that will impact the silver price in September.
Furthermore, the $26 level on silver's weekly chart is a significant support level going back ten years.  As you can see, once silver broke above the $26 level in late 2010, it remained above it until 2013.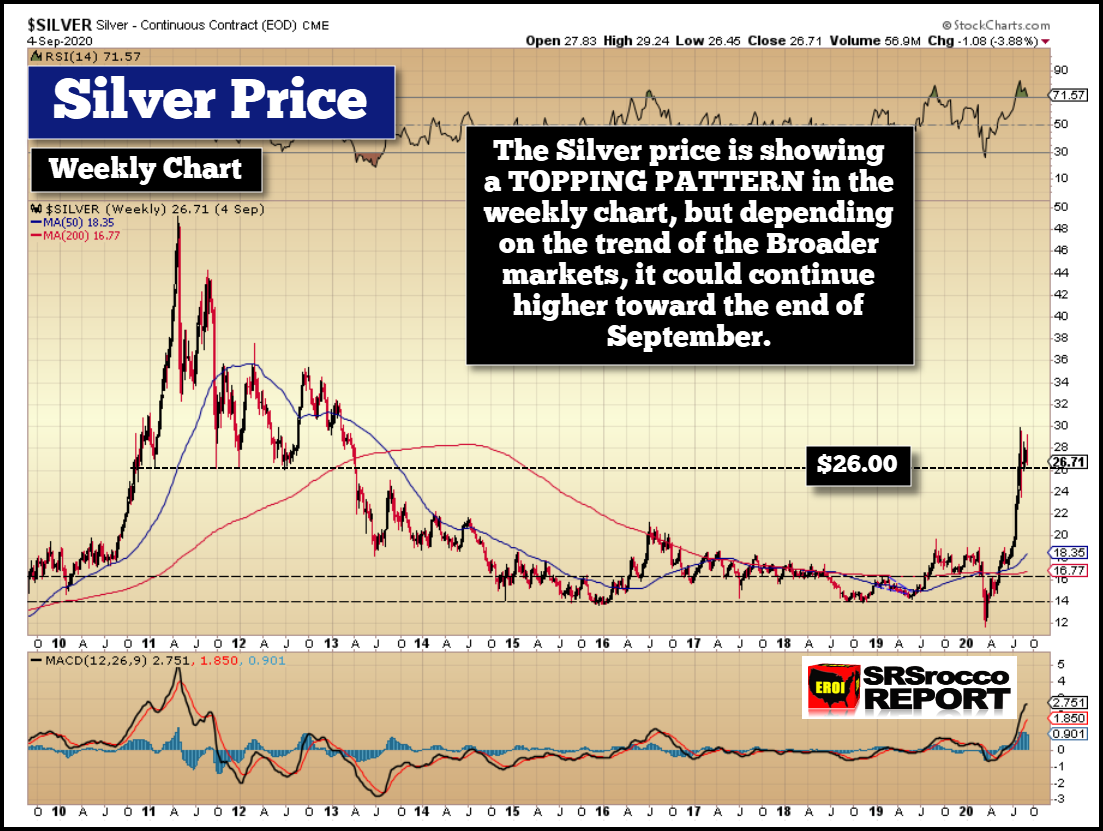 We need to keep an eye on the broader markets as they will be one of the larger drivers of the gold and silver prices in September.  However, at some point, I believe the precious metals will DISCONNECT from the broader markets as investors move into gold and silver to protect wealth.
If you have not seen this article, it's worth a read as Peru's silver production declined in July, suggesting that the virus is still impacting the mining industry in the country.

With Peru's silver production declining in July, this could cause more issues in the silver market as investors continue to move into the shiny metal.
DISCLAIMER: SRSrocco Report provides intelligent, well-researched information to those with interest in the economy and investing. Neither SRSrocco Report nor any of its owners, officers, directors, employees, subsidiaries, affiliates, licensors, service and content providers, producers or agents provide financial advisement services. Neither do we work miracles. We provide our content and opinions to readers only so that they may make informed investment decisions. Under no circumstances should you interpret opinions which SRSrocco Report or Steve St. Angelo offers on this or any other website as financial advice.
Check back for new articles and updates at the SRSrocco Report.  You can also follow us on Twitter and Youtube below: