More evidence of the absurdity called "Green Renewable Energy" occurred last month as 90 Mitsibushi wind turbines were demolished in New Mexico.   Thus, the BIG JOKE is that Renewable Energy is really Non-Renewable as a large percentage of old wind and solar power units end up in landfills.
First… IMPORTANT UPDATE:  I had originally planned to provide a Metals & Market Update for the Silver & Gold Members today, but my wife and I were up all night with one of our beloved dogs who past-away earlier today.  So, I will provide that update in a few days.  Furthermore, YES… I am still working on the Gold Member Part 2 of the Late Bronze Age & Modern High Tech Global Collapse Video presentation.  I apologize for this taking longer to post, but the data and information are quite interesting, to say the least.

Secondly, I continue to find more and more evidence showing just how NON-RENEWABLE Green Energy really is and why it's not an Energy Savoir.  According to the What's Up With That article, When wind turbines are no longer useful: They get explosive demolition:
Controlled Demolition, Inc. (CDI) of Phoenix, Maryland, USA (acting as Explosives Design and Performance Subcontractor to Main Demolition Contractor, Dallas Demolition of Houston, Texas who was working for RiverCap Ventures of Rocky River, Ohio, the General Demolition Contractor) performs the successful explosives felling of 90, Mitsubishi 1000A Wind Turbines in New Mexico.
No effort was made to preserve foundations or other wind farm infrastructure. CDI's crew felled the 90 Units in two (2) mobilizations to the site, permitting the Wind Farm Owner to complete salvage of blades and drive-train elements from some of the wind turbines to provide replacement parts for similar Units they operate at other wind farm locations. The Units were safely felled, exactly per plan, and ahead of schedule.
If you read the BOLD text from the article above, NO EFFORT was made to preserve the foundations or other wind farm infrastructure.  While some blades and wind turbine parts were savaged as replacement parts for other wind farms, a large percentage of the wind scrap made it to the landfill.
According to this article, MHI wins largest ever wind turbine order; Mitsubishi provided the 1000A Wind Turbines for the Aragonne Mesa Wind Farm that was erected at the end of 2006 and early 2007.  So, it seems that these Mitsubishi Wind Turbines and blades only had a 14-year lifespan… LOL.  I read that GE has a contract to install new 145 MW larger wind turbines to replace the (90) 1 MW Mitsubishi wind turbines that were, again, only 14 years old.
Here is a short video of the controlled explosive demolition of these 90 RENEWABLE WIND TURBINES;
What is going to happen to the GE Wind Turbines that are installed this year to replace the Mitsubishi models in the next 15 years??  Any guesses?
IMPORTANT ENERGY VIDEO PREVIEW:
As I had mentioned, I ordered and read the book, TOO MUCH BY HALF: The Coming Cut In Proved Oil Reserves and will do a video update on that.  I will also discuss this chart below, which shows the MAJOR OIL COMPANIES are cutting reserves… and this is just the beginning.  Thus, we are going to head over the ENERGY CLIFF with most of the world totally clueless.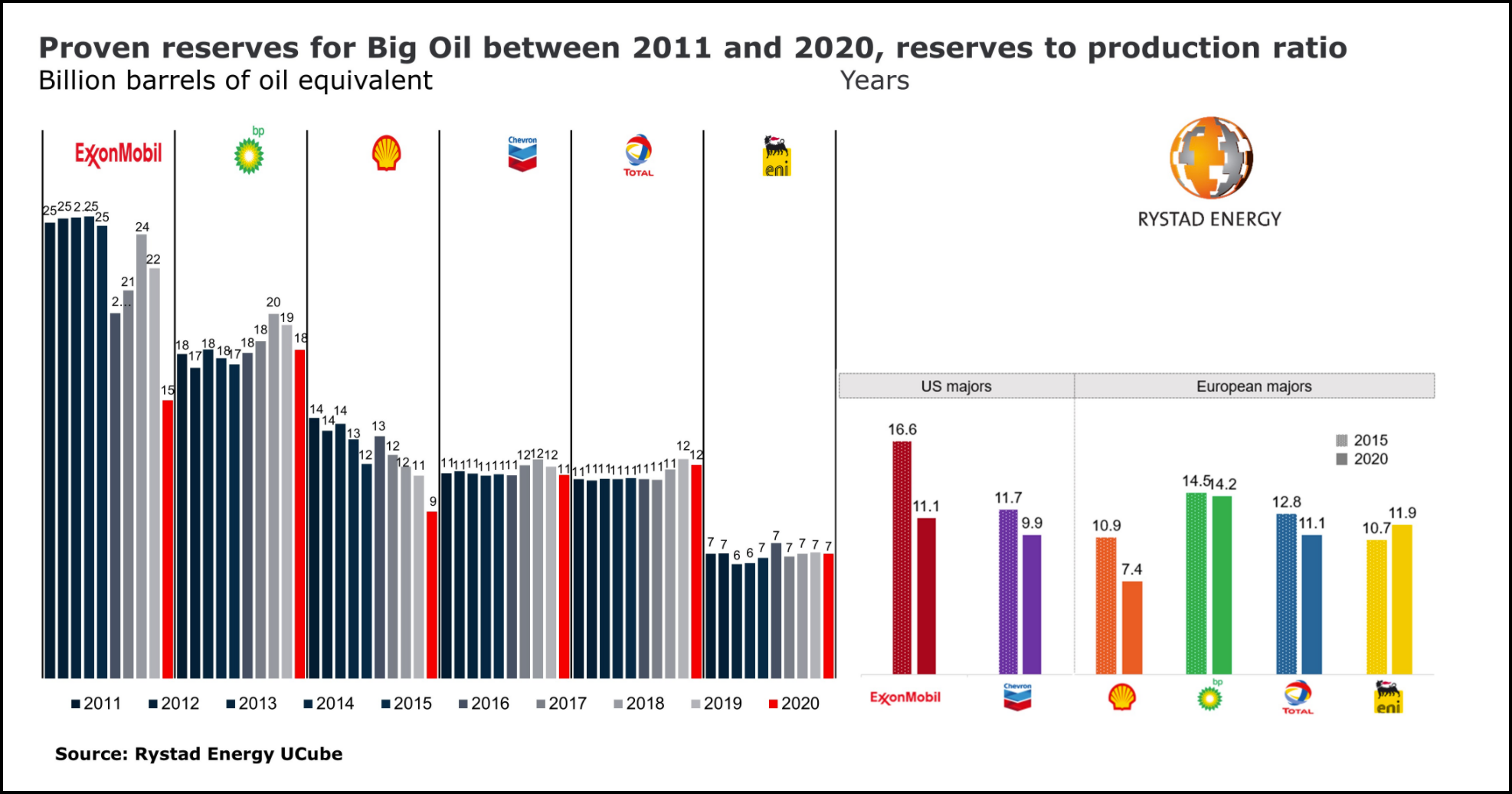 Any information (data, charts & graphs) that are published for free public use, can be republished elsewhere.
DISCLAIMER: SRSrocco Report provides intelligent, well-researched information to those with interest in the economy and investing. Neither SRSrocco Report nor any of its owners, officers, directors, employees, subsidiaries, affiliates, licensors, service and content providers, producers or agents provide financial advisement services. Neither do we work miracles. We provide our content and opinions to readers only so that they may make informed investment decisions. Under no circumstances should you interpret opinions which SRSrocco Report or Steve St. Angelo offers on this or any other website as financial advice.
Check back for new articles and updates at the SRSrocco Report.  You can also follow us on Twitter and Youtube below: