Now that the silver price has broken through the important $18.50 level, will it reach $21 during this current rally?  Silver was up 70 cents for the day (Monday).  However, after Dallas, Fed President Kaplan announced today that the "Emergency Facilities" used to support the economy might be pulled back, the markets sold off from their highs.
This included Tesla, which briefly touched $1,795 about 15 minutes after the market opened, then closed at $1,497.   I imagine many "unsophisticated" investors lost their lunch after Tesla's stock price shed nearly $300 in just a few hours.  Anyone crazy enough to trade a stock worth $1,500 a share has to be insane unless you are a seasoned professional.
Even after the market sell-off, silver was still up nicely for the day.  Stockcharts shows silver closing near the highs of the day at $19.79.  But before I reveal the chart, here is my silver chart posted on Wednesday, July 8th: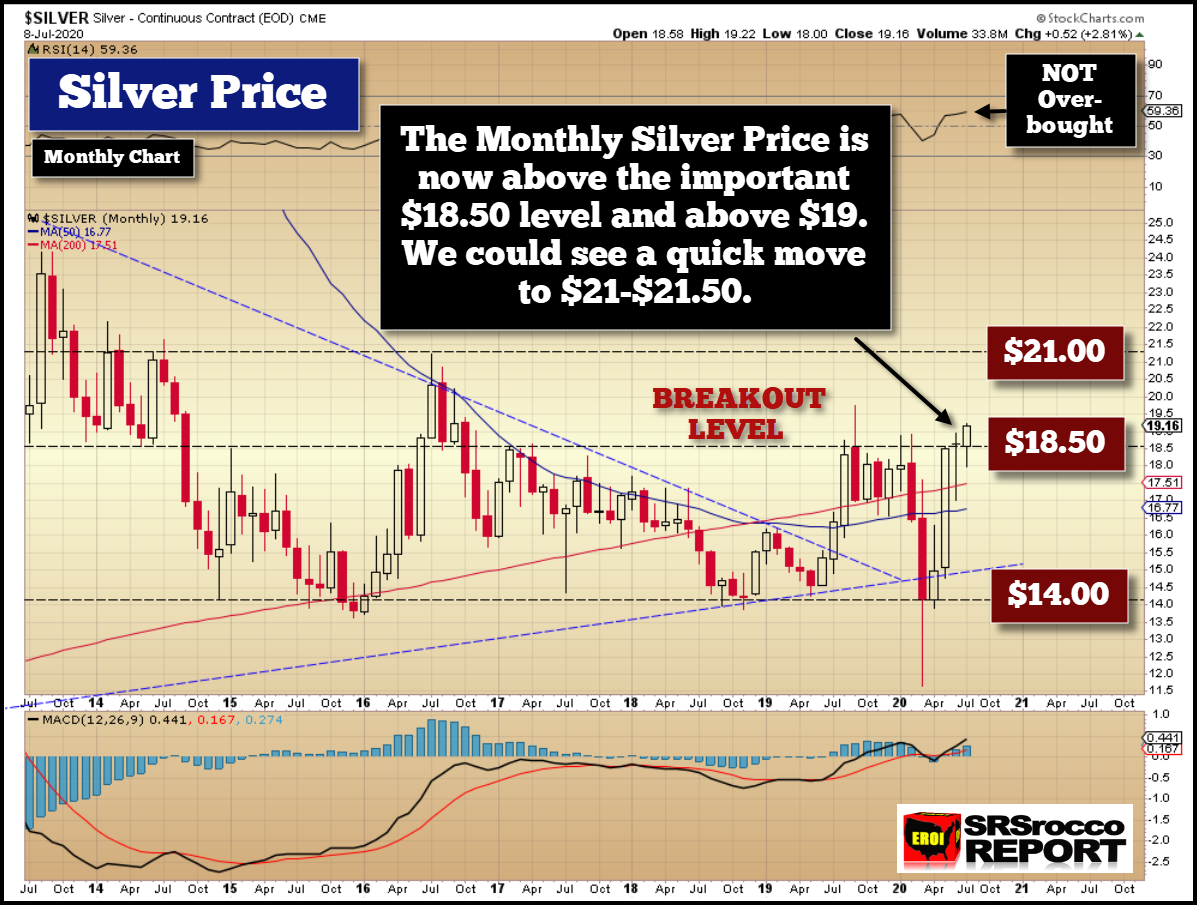 As I have mentioned in several articles, when a stock or commodity price BREAKS above a certain key technical level, it goes on the professional traders' radar.  Thus, a BREAKOUT is a motivation for traders to jump aboard and ride the price higher to the next level… which is $21.  On July 8th, silver closed at $19.16 (stockcharts.com, not Kitco's price).
Today, silver shot up 70 cents and closed at $19.79, only $1.21 from that $21 target level.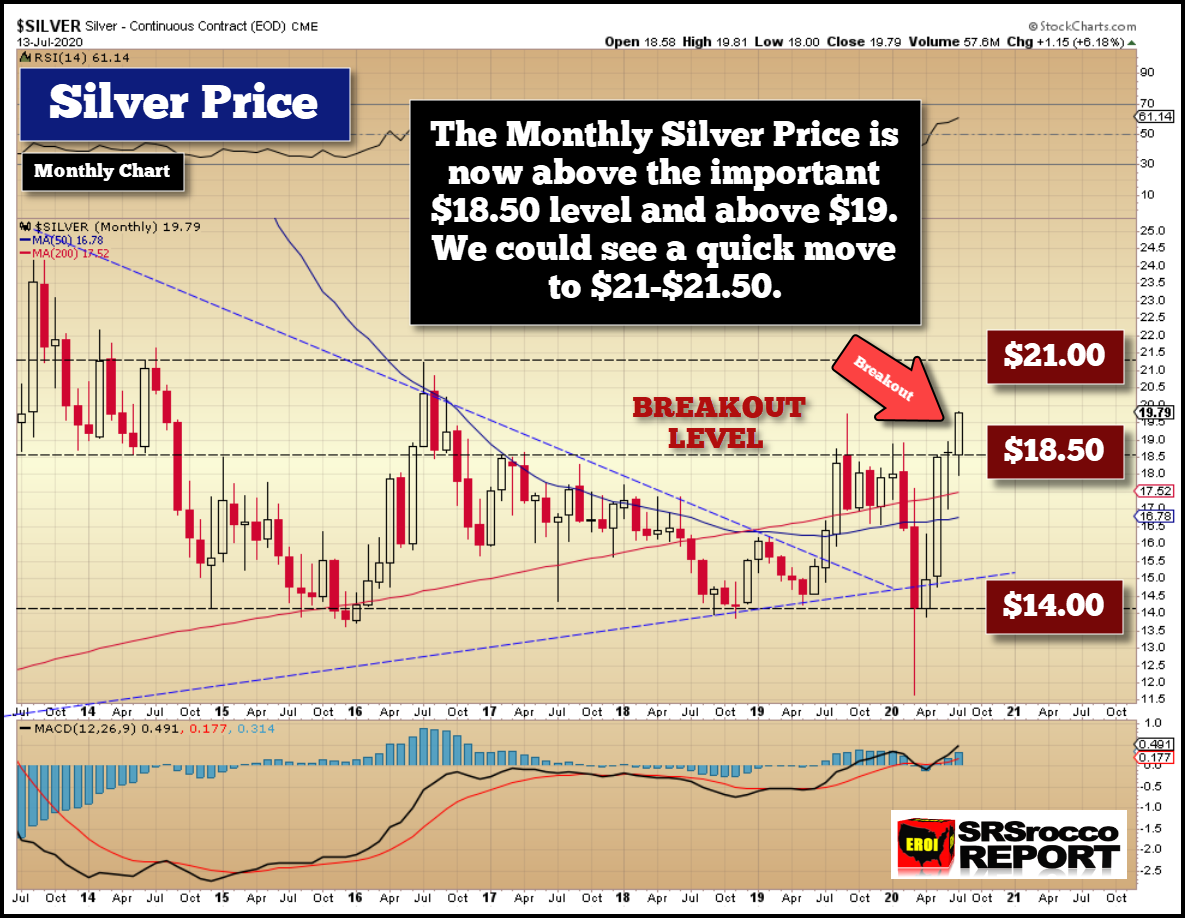 These are monthly charts, which show an entire month's worth of trading in once candlestick.  I like to use the monthly chart because the technical levels are more long-term.  The silver price has remained below the $18.50 level since October of 2016.  And, by that, I mean the silver price closed below the $18.50 level (on a monthly basis) since October 2016.
Interestingly, if you look closely at the June candlestick, it barely closed above the $18.50 level.  With silver now trading $1.00 above the $18.50 level, there is a good chance that traders will continue to push it up to the $21 level.  
I have to say, after watching the Day Trading markets for a year, it's amazing how these technical levels are MAGNETS for the price action.  Of course, there is no guarantee that the price will move a certain way, but there is a better chance when it breaks above or below critical technical levels.
When silver finally does reach the $21 level, we are likely going to see a correction before resuming the longer-term bull market.  Furthermore, the $21 level is much more important than the $18.50 level.  When silver finally BREAKS the $21 level, it can move up to $27.50 very quickly.  I will be posting a new video on this shortly.
Lastly, CLOUD HARD ASSETS still has the lowest 2020 Silver Eagle prices in the market.   I just updated the premium prices and chart for the top four leading precious metals dealers versus CLOUD HARD ASSETS and here are the prices as of close today:
Top Four Leading Online Precious Metals Dealers 2020 Silver Eagle Prices (based on 1-19 coins)
Precious Metals Dealer #1 = $28.36
Precious Metals Dealer #2 = $27.16
Precious Metals Dealer #3 = $27.11
Precious Metals Dealer #4 = $26.13
CLOUD HARD ASSETS       = $24.33
Not only does CLOUD HARD ASSETS have the lowest Silver Eagle Prices, but they also have the lowest prices for Silver Maples Leafs, only $3.40 over spot.
If you want to find out more about CLOUD HARD ASSETS, click on this page:  PRECIOUS METALS INVESTING.
DISCLAIMER: SRSrocco Report provides intelligent, well-researched information to those with interest in the economy and investing. Neither SRSrocco Report nor any of its owners, officers, directors, employees, subsidiaries, affiliates, licensors, service and content providers, producers or agents provide financial advisement services. Neither do we work miracles. We provide our content and opinions to readers only so that they may make informed investment decisions. Under no circumstances should you interpret opinions which SRSrocco Report or Steve St. Angelo offers on this or any other website as financial advice.
Check back for new articles and updates at the SRSrocco Report.  You can also follow us on Twitter and Youtube below: