Sales of the U.S. Mint's Silver Eagles continued to be strong in the first few days of April.  With the most recent update from the U.S. Mint, Silver Eagle sales are on track to surpass Jan-Apr 2020 figures by a wide margin.  Of course, the U.S. Mint suspended operations in April last year due to the pandemic, but the mint is also shutting down production for a week or so for the new Silver & Gold Eagle design.
I am not quite sure when or if the U.S. Mint has already set up the mint for the new Silver & Gold Eagle design, but when it gets back to full production; I wouldn't be surprised to see 3.5-4 million Silver Eagles being sold per month.
As of April 5th, the U.S. Mint sold 596,000 Silver Eagles, bringing the total for 2021 at 12,649,500 compared to 10,728,500 for Jan-Apr 2020.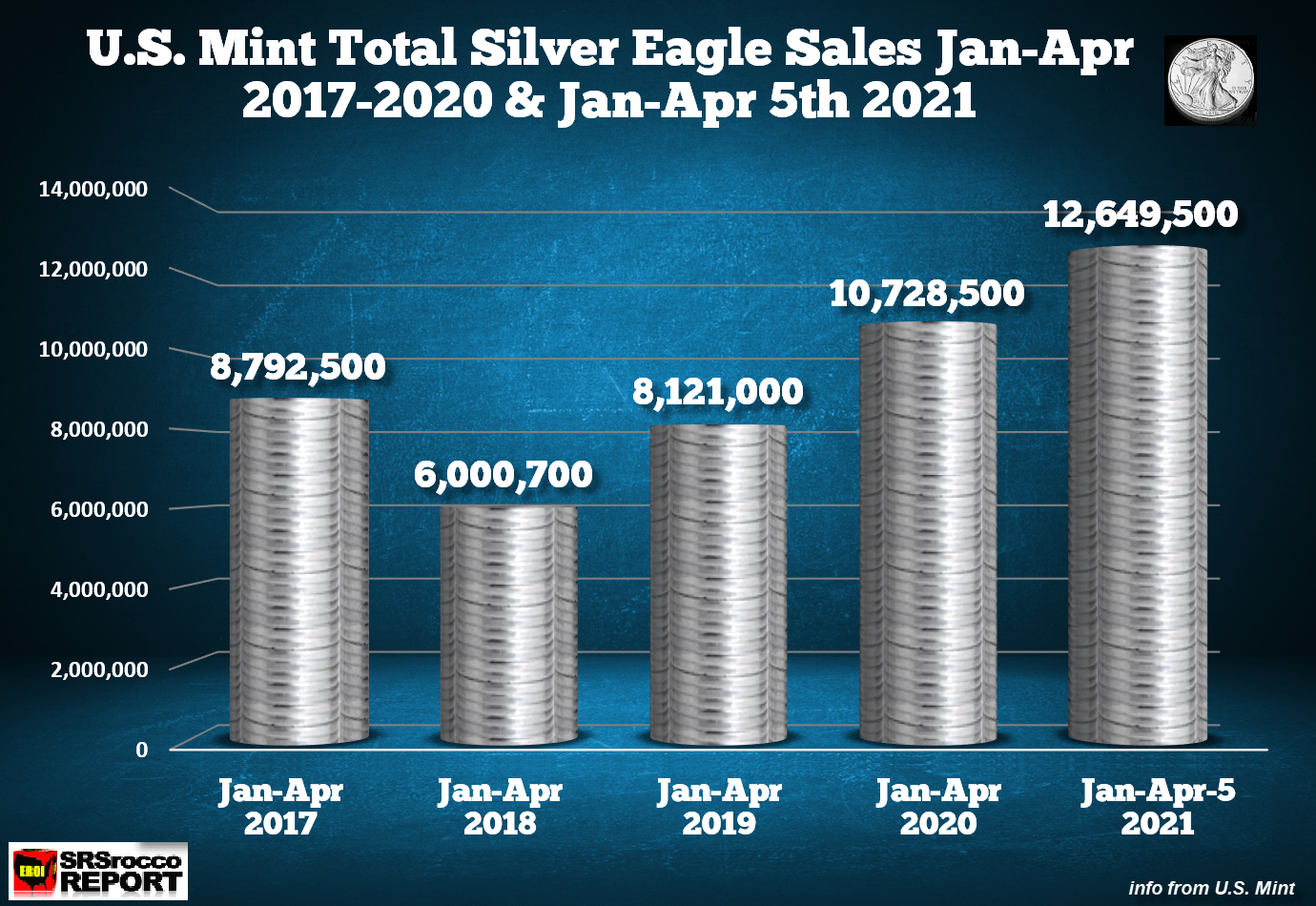 You will notice that the current Silver Eagle sales are more than double than Jan-Apr 2018… and this is still only the first week of April.  If the U.S. Mint begins full-time production of the new Silver Eagle design quickly, then we could see over 15 million sold for the first four months of the year.
Furthermore, the U.S. Mint sold 13,000 oz of Gold Eagles in the first few days of April.  Total Gold Eagle sales are now 425,000 oz, and they are still be sold for 10-12% over spot!!  I also saw one of the larger online dealers who had some supply of 1/10 oz 2021 Gold Eagles were selling them at a stunning 34% over spot!!
I spoke with Dan, the general manager at Cloud Hard Assets, the precious metals dealer that we sponsor on our website, earlier in the week, and he said that the 1/10 oz Gold Eagles used to sell for only 12-13% over spot.  So, we have seen a tripling of the premium for these smaller denomination Gold Eagle coins.  Also, Dan told me that during June-July 2020, the 1 oz Gold Eagles they were selling were going for 6.75% over spot.  While most of the large online dealers are currently selling 1 oz Gold Eagles at 11-12% over spot, Cloud Hard Assets sells them for 9.75% over spot.
But, here is one of the main reasons we sponsor Cloud Hard Assets.  Take a look at what Cloud Hard Assets is selling the 2021 Silver Maple Leafs for compared to the leading large online dealers.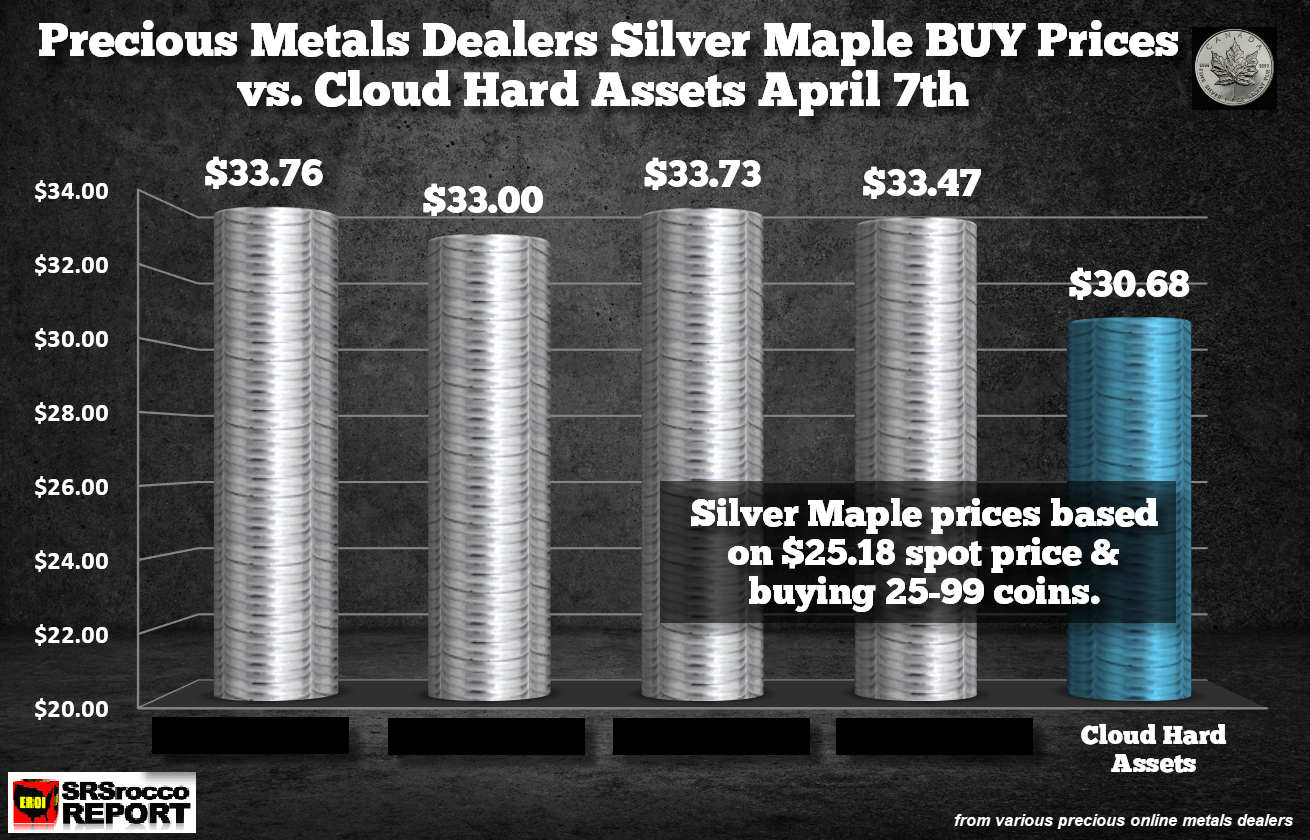 There is just no comparison.  Cloud Hard Assets did the same thing with very low Silver Eagle premiums after the pandemic.   Take a look at the chart from last year: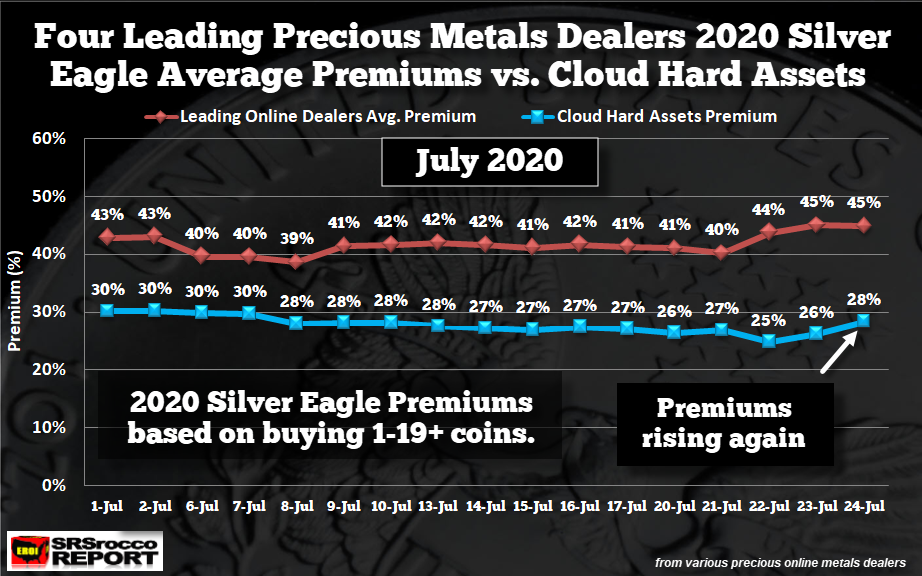 Cloud Hard Assets was selling 2020 Silver Eagles at only 28% over spot, much lower than the 45% average charged by the leading online dealers.  The proof is in the numbers.
While I try to keep my promotion of Cloud Hard Assets to a minimum, just about all precious metals analysts sponsor one dealer or several.  Several dealers contacted me to sponsor on this website, but I refused them all until I came across Tom Cloud, who has been in the industry since 1978.
It isn't just the lower prices that Cloud Hard Assets charges their clients compared to many of the leading online dealers; they also provide excellent service and some of the lowest storage fees for metals in the industry.  Most dealers collect a percentage for every ounce of metal they store for their clients.  TOM CLOUD DOESN'T CHARGE A PENNY MORE for storage than what the company he uses.  His clients only pay what the storage company he uses charges.
Also, when clients purchase precious metals from Cloud Hard Assets, they put your funds in a safe ESCROW ACCOUNT until the metal is shipped, so the client's funds are protected.  Very few dealers provide this service.
More importantly, if you sell metal back to Cloud Hard Assets… they CHARGE NO EXTRA PREMIUM.  You sell metal back to Cloud Hard Assets for the exact price the wholesalers are paying.  Just about all of the large online dealers will charge a percentage above the wholesale price if you sell metal back to them.  Very few precious metals investors understand this.
Tom, Dan, and Jade at Cloud Hard Assets are very easy to talk to and are always willing to answer any questions.  Some of the larger dealers don't spend much time with individuals who only want to purchase a small amount of metal, not so at Cloud Hard Assets.
For these reasons… I am glad to share this information with subscribers and public followers even if it may turn a few off members, because why on earth would you want to SPEND MORE MONEY for the same precious metals products and storage??
Lastly, Tom Cloud will be doing a precious metals update next week.  He has some interesting things to share.
If you want to find out more about Cloud Hard Assets… CLICK HERE:  Cloud Hard Assets
DISCLAIMER: SRSrocco Report provides intelligent, well-researched information to those with interest in the economy and investing. Neither SRSrocco Report nor any of its owners, officers, directors, employees, subsidiaries, affiliates, licensors, service and content providers, producers or agents provide financial advisement services. Neither do we work miracles. We provide our content and opinions to readers only so that they may make informed investment decisions. Under no circumstances should you interpret opinions which SRSrocco Report or Steve St. Angelo offers on this or any other website as financial advice.
Check back for new articles and updates at the SRSrocco Report.  You can also follow us on Twitter and Youtube below: