It looks like demand for Silver Eagles hasn't subsided as the U.S. Mint sold nearly another million since last week.  Total Silver Eagle sales for October have now surpassed September, and there are still three more days remaining in the month.  Not only are October Silver Eagle sales higher than the previous month, but they are also more than double the entire sales for the last three quarters of 2019 (Oct-Dec).
When I did my last update on U.S. Silver Eagle sales on October 21st, the U.S. Mint reported 2,460,000 sales for the month.  Today, the U.S. Mint provided new figures for Silver Eagles at 3,397,000 or 937,000 more coins sold in less than a week.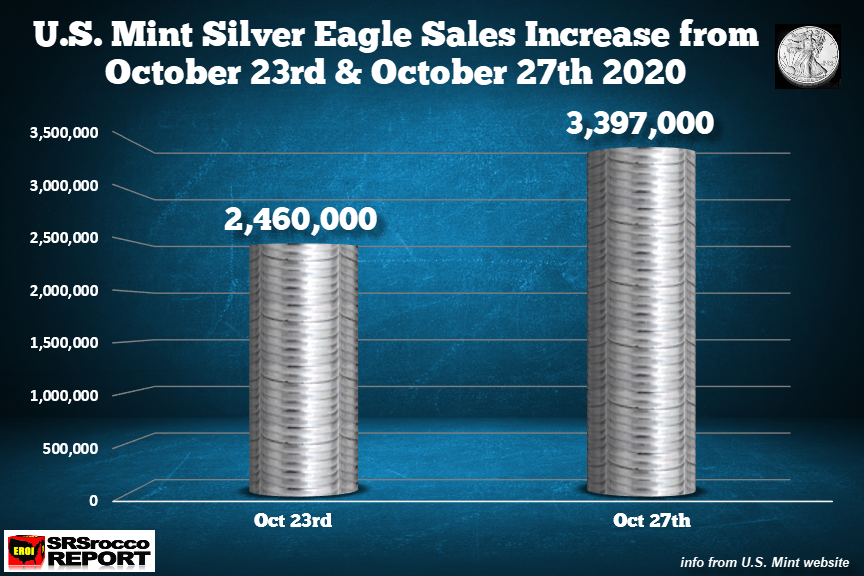 Silver Eagle sales in October are 438,500 higher than last month's total of 2,958,500.  Furthermore, October sales are now more than double the entire sales from Oct-Dec 2019.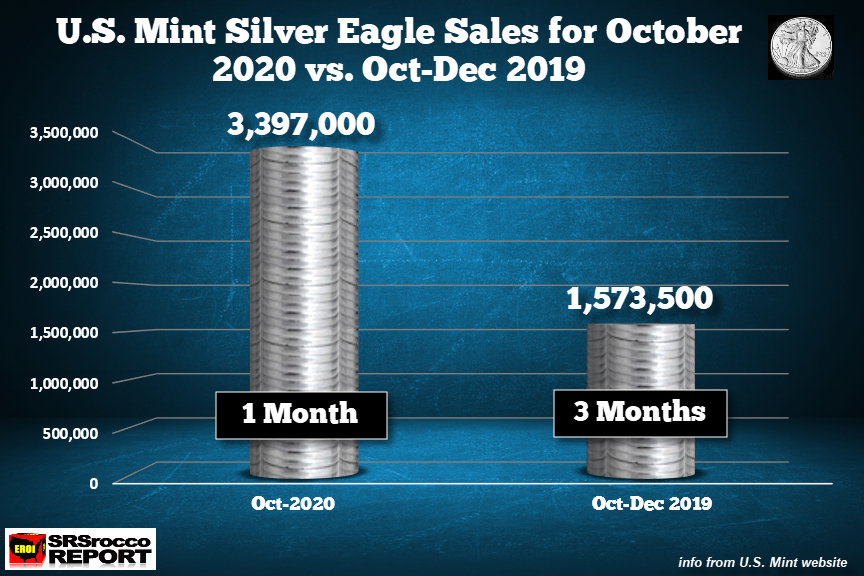 I mentioned in my previous update that the total Silver Eagle sales for Oct-Dec 2020 would likely reach 6 million.  With this newest U.S. Mint update, it seems as if this will be an easy target to reach.  If sales in November are 3 million with 1.5 million in December, we are looking at 7-8 million Silver Eagles for the last quarter with total sales at 28-29 million, double last year's total of 14.8 million.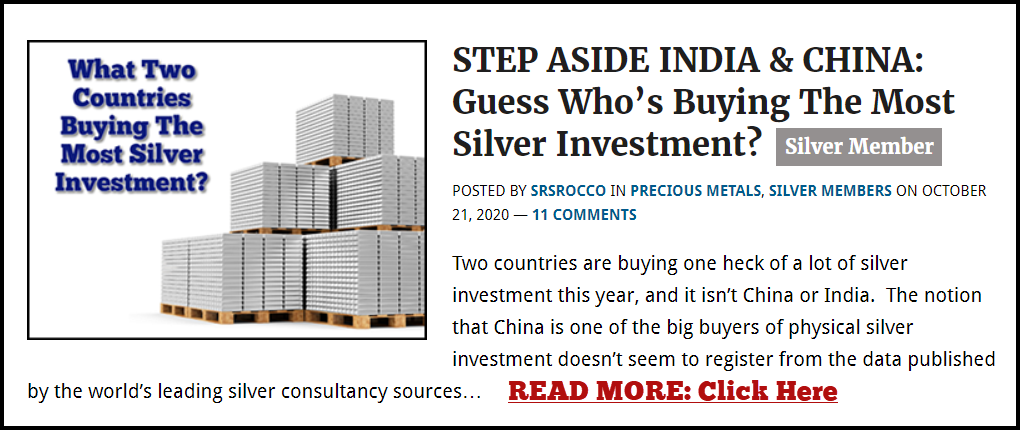 Moreover, sales of Gold Eagles also increased in October to 61,500 oz versus 22,000 oz in September.  The overwhelming majority of the total Gold Eagle sales in October are from the 1 oz coins accounted for 54,500 oz.
And, if we look at the U.S. Mint sales of Gold Buffalos, they also surged in 2020.  According to the U.S. Mint, Gold Buffalo sales increased from 59,500 oz Jan-Oct 2019 to 207,500 oz Jan-Oct 2020.  Thus, here are the total Official Gold Coins sold by the U.S. Mint so far this year compared to full-year 2019:
Official Gold Coins Full-Year 2019
Total Gold Eagles = 152,000 oz
Total Gold Buffalos = 61,500 0z
Grand Total = 213,500 oz
Official Gold Coins Jan-Oct 2020
Total Gold Eagles = 699,000 oz
Total Gold Buffalos = 207,500 0z
Grand Total = 906,500 oz
The total official U.S. Gold coins sold this year (906,500 oz) have more than quadrupled last year's 213,500 oz sales.  These figures do not include an additional commemorative of specialized proof or etc. coins.
I believe we are just in the first stage of the coming MASSIVE DEMAND for Silver and Gold bullion products.  It will be interesting to see the U.S. Mint Silver and Gold Eagle sales next year when the Federal Reserve and U.S. Government continue to inject trillions of dollars to prop up the economy.
DISCLAIMER: SRSrocco Report provides intelligent, well-researched information to those with interest in the economy and investing. Neither SRSrocco Report nor any of its owners, officers, directors, employees, subsidiaries, affiliates, licensors, service and content providers, producers or agents provide financial advisement services. Neither do we work miracles. We provide our content and opinions to readers only so that they may make informed investment decisions. Under no circumstances should you interpret opinions which SRSrocco Report or Steve St. Angelo offers on this or any other website as financial advice.
Check back for new articles and updates at the SRSrocco Report.  You can also follow us on Twitter and Youtube below: