Even though the premiums for Silver Eagles are still quite high, U.S. Mint sales this month continue to be RED HOT.  In just five days, the U.S. Mint sold another 850,000 Silver Eagles.  In March, sales of Silver Eagles already surpassed last month's total by 110,500, and there is still another week remaining in the month.
According to the U.S. Mint's website, a total of 3,302,000 Silver Eagles have been sold as of March 23rd.  This brings to total for the year at 11,248,000.  Furthermore, Silver Eagle sales for the first three months of the year surpassed the 9,978,500 sold during the Pandemic shutdown.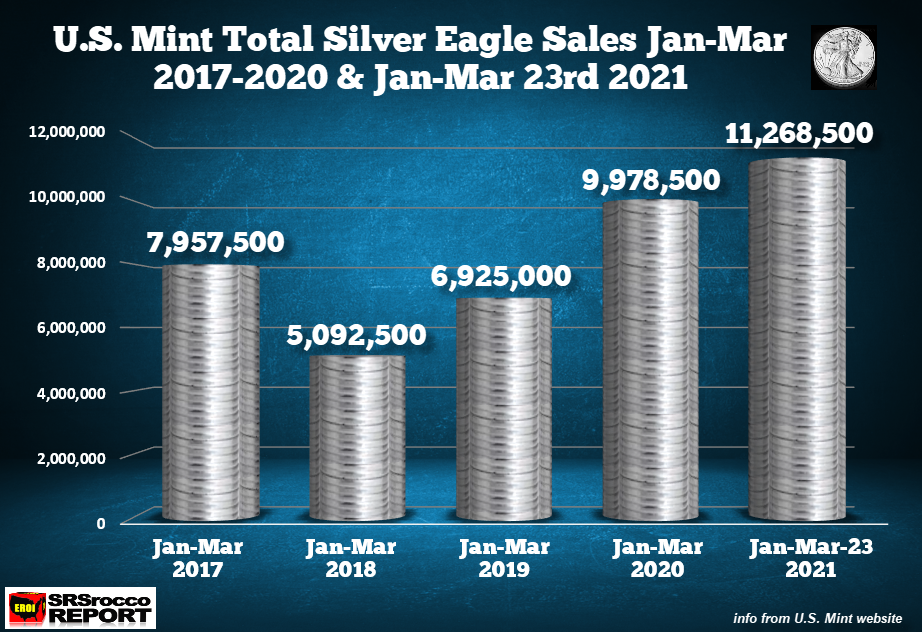 If sales remain strong for the rest of the month, we will likely see over 4 million Silver Eagles sold and 12+ million for JAN-MAR.  It seems as if investors don't care about the $10 premiums on the 2021 Silver Eagles as they continue to buy HAND-OVER-FIST.  And why shouldn't they?
There are so many reasons to own the precious metals, especially silver, that only get stronger each passing day.  For example, it seems that Peru's silver production is beginning to decline once again, after recovering towards the end of 2020.  I explained the reason why Peru's silver production declined in January 2021 for SRSrocco Report subscribers below, and how it will likely continue to be weak for at least the first quarter.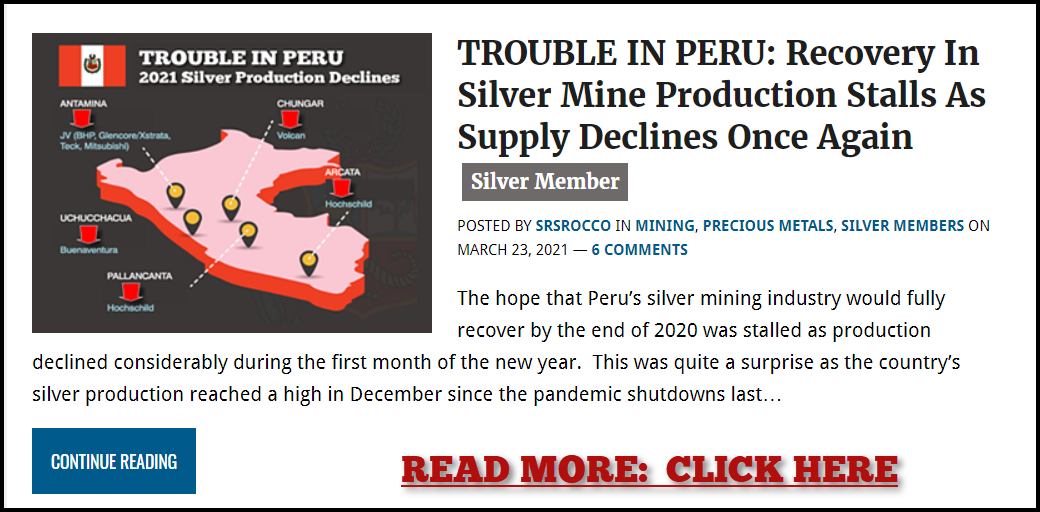 Peru has been the second-largest silver-producing country in the world, and to see mine supply continue to be weak can only add more FLAMES to the SILVERSQUEEZE FIRE.
Not only are Silver Eagle sales hitting on all cylinders, but Gold Eagle sales have also already exceeded 400,000 oz!!  Gold Eagle sales of 401,500 oz are more than FULL YEAR 2018 & 2019 combined.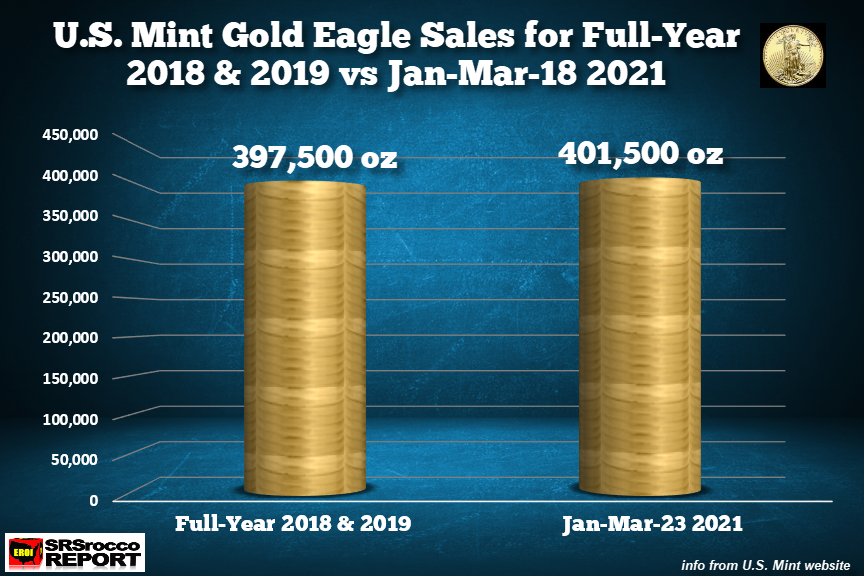 With Gold Eagle sales at 401,500 oz, they are about half of the total last year at 844,000 oz (2020).  So, in a little less than three months, Gold Eagle sales for 2021 are nearly half of the total sold last year.
Remarkably, even the 1 oz Gold Eagles are fetching very high premiums of 9-11%.  Thus, investors are paying $160-$200 over spot for a 1 oz 2021 Gold Eagle.  At some point in time, it won't be easy to acquire physical precious metals products, only at MUCH HIGHER PRICES.
People are starting to wake up to the Financial Disaster heading our way.  Unfortunately, most Stocks, Bonds, and Real Estate will not provide a STORE OF WEALTH as the world heads over the ENERGY CLIFF.  So, don't try to time the market to get into physical metals.  It would be very unwise to take a WAIT & SEE approach to acquiring precious metals if you haven't already.
Any information (data, charts & graphs) that are published for free public use, can be republished elsewhere.
DISCLAIMER: SRSrocco Report provides intelligent, well-researched information to those with interest in the economy and investing. Neither SRSrocco Report nor any of its owners, officers, directors, employees, subsidiaries, affiliates, licensors, service and content providers, producers or agents provide financial advisement services. Neither do we work miracles. We provide our content and opinions to readers only so that they may make informed investment decisions. Under no circumstances should you interpret opinions which SRSrocco Report or Steve St. Angelo offers on this or any other website as financial advice.
Check back for new articles and updates at the SRSrocco Report.  You can also follow us on Twitter and Youtube below: