Gold and Silver continue to surge during Asian trading.  Tom Cloud provides a precious metals update (recorded on Tuesday, 04/19/16), about what is taking place in the overall market.  He discusses the new Chinese Gold Yuan fix and how it will impact the U.S. Dollar going forward.
He also explains how the price of gold has risen in relation to the falling U.S. Dollar index in the past and what it means in the future.
To Contact Tom Cloud:
Call (800) 247-2812 or (912) 638-3511
To learn more about Tom Clouds background and experience, you can click HERE.  Furthermore, please check out our new PRECIOUS METALS INVESTING PAGE where you can see Tom Cloud's precious metals specials.
EXCHANGE WAREHOUSE UPDATE

:  Silver Continues to Move Out of the Comex & Into the Shanghai Futures Exchange
As I wrote about in my last article,SRSrocco Report Why Are The Chinese Stockpiling Silver? Big Price Move Coming?, silver continues to move into the Shanghai Futures Exchange while silver stocks at the Comex continue to decline.  Well, this trend continued today.
The Comex experienced a 1.3 million oz (Moz) net withdrawal of silver from its Eligible category along with a transfer of 500,207 oz of silver from its Registered to the Eligible category.   Total Comex silver inventories now stand at 151.8 Moz: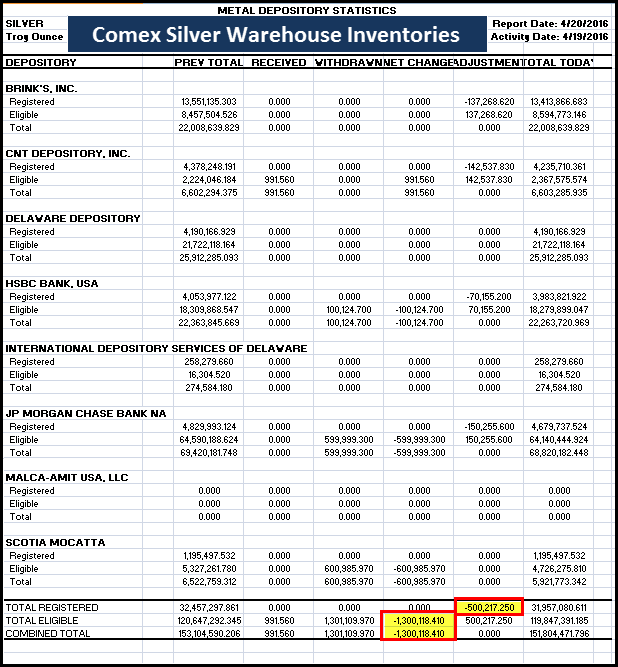 However, the opposite took place on the Shanghai Futures Exchange.  Today, another 25.4 metric tons was added to the Shanghai Futures Exchange warehouse stocks for a total of 1,728 metric tons.  So, as the Comex warehouse stocks fell 1.3 Moz today, the Shanghai Futures Exchange added nearly 817,000 oz:

NOTE:  The chart shows the amount in kilograms.  Thus, 1,728, 419 kilograms equals 1,728.4 metric tons.
Again, I find it very interesting that the U.S. Comex silver inventories continue to decline while the Chinese Shanghai Futures Exchange warehouse silver stocks continue to increase.
Please check back for new articles and updates at the SRSrocco Report.  You can also follow us at Twitter and Youtube below: