In Tom's most recent precious metals update, he explains why precious metals are the best forms of insurance during a massive banking and financial crisis.  The Big Positive about having gold insurance, is that if you don't use it, you still get most (or more at times) the value of your premium back.
While Tom discusses why gold is the best insurance against a banking or monetary crisis, I believe silver will outperform gold in the future.  But, this will still take some time.  Tom also shares some stories about clients and why it is important to own precious metals.
Below Tom's update, you will see that CLOUD HARD ASSETS still provides some of the lowest precious metals prices in the market.  I compared Cloud Hard Assets' current Silver Maple Leaf price vs. the leading online dealers.
CLOUD HARD ASSETS Silver Maples are $3 less than the leading Online Dealers: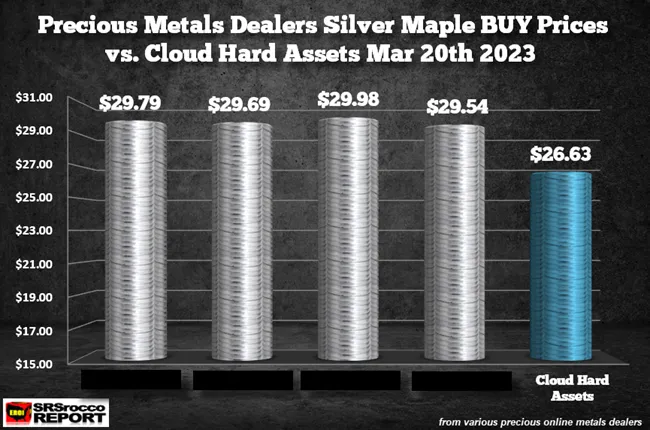 You can contact Tom, Dan, or Katherine… Click here: CLOUD HARD ASSETS.  You can also call (800) 247-2812.
DISCLAIMER: SRSrocco Report provides intelligent, well-researched information to those with interest in the economy and investing. Neither SRSrocco Report nor any of its owners, officers, directors, employees, subsidiaries, affiliates, licensors, service and content providers, producers or agents provide financial advisement services. Neither do we work miracles. We provide our content and opinions to readers only so that they may make informed investment decisions. Under no circumstances should you interpret opinions which SRSrocco Report or Steve St. Angelo offers on this or any other website as financial advice.
Check back for new articles and updates at the SRSrocco Report.  You can also follow us on Twitter and Youtube below: