Few in the precious metals community realize that the coming BIG MOVES in the silver price will happen when Institutions and large investors experience the same problem that small investors have when trying to purchase retail bullion in a tight market.  But, it will be much worse because there isn't that much silver available for Institutions or large investors.
While most precious metals analysts and investors blame the COMEX, Silver ETFs, and LBMA for manipulating the silver price, they fail to realize this is the place where the Future Silver Fireworks will occur.  I discuss this in my newest Youtube Video.;
Also, I wanted to share that CLOUD HARD ASSETS is selling 2021 Silver Krugerrands and Philharmonics at only $3.45 over spot.  In checking the top online dealers' prices for 2021 Silver Krugerrands, this is most certainly the BEST PRICE.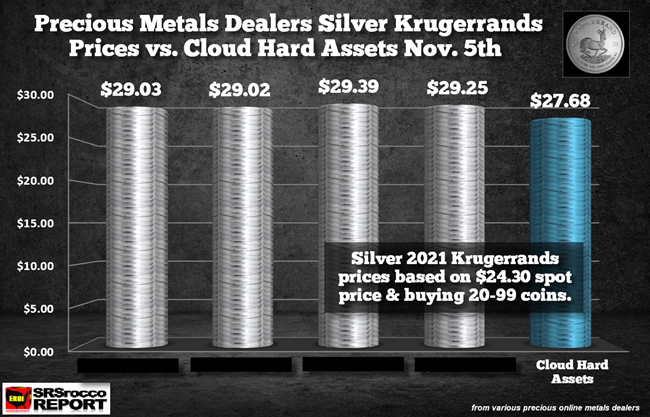 You can contact Tom, Dan, or Jade… Click here: CLOUD HARD ASSETS.  You can also call (800) 247-2812.
DISCLAIMER: SRSrocco Report provides intelligent, well-researched information to those with interest in the economy and investing. Neither SRSrocco Report nor any of its owners, officers, directors, employees, subsidiaries, affiliates, licensors, service and content providers, producers or agents provide financial advisement services. Neither do we work miracles. We provide our content and opinions to readers only so that they may make informed investment decisions. Under no circumstances should you interpret opinions which SRSrocco Report or Steve St. Angelo offers on this or any other website as financial advice.
Check back for new articles and updates at the SRSrocco Report.  You can also follow us on Twitter and Youtube below: