As the global highly-leveraged debt-based financial system comes under serious stress, investors are going to finally realize that the silver market is very tiny and extremely undervalued.  This is when we will likely see the exponential silver price movement.  And, it's not a matter of "IF," but rather a case of "WHEN."
While most precious metals analysts focus on the systemic risks in the financial system to own Silver, I believe the real problem has to do with the HUGE ISSUES we are now facing with ENERGY.  In my newest video, The Coming Exponential Silver Price Movement, I discuss the two reasons why I believe we are going to BIG MOVE in the silver price.
In the video, I show why the huge U.S. Total Debt to GDP of 346% is unsustainable due to the coming collapse of the U.S. Shale Oil Industry.  Without oil production growth, there is no GDP growth.  And, when there is no GDP growth, then the entire highly-leveraged debt-based financial system starts to disintegrate.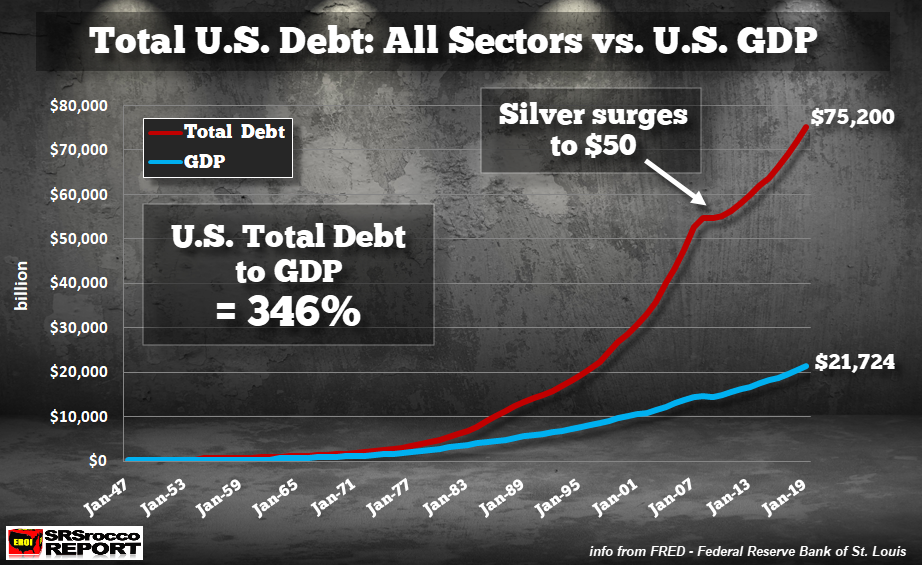 When Americans are faced with the task of "Protecting Wealth," they will find out that "PAPER" or "DIGITS" will not make the CUT.  Why?  Paper money and Digits are based on future energy production.  Thus, they are ENERGY IOU's.  However, Silver is money or wealth because it is a store of Energy Equivalent Value.
Also, in the video, I discuss some updated charts on U.S. Physical Silver Investment from 2010-2018 (Source: Metals Focus Silver Investment Report for the Silver Institute– OCT 2019):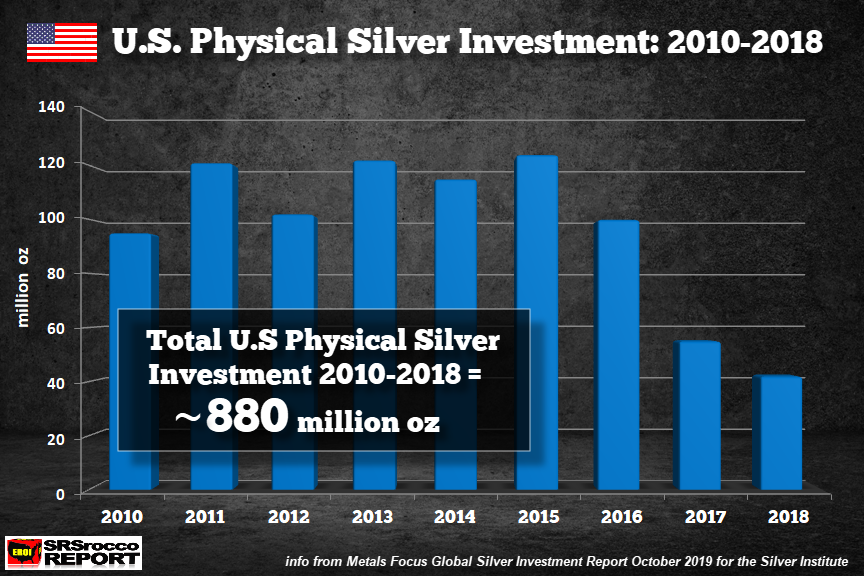 Lastly, those Americans who have purchased approximately 880 million oz of physical silver bars and coins (2010-2018), have no idea that they are holding onto an asset that is likely the most undervalued in history.
If you are new to the SRSrocco Report, please consider subscribing to my:  SRSrocco Report Youtube Channel.
DISCLAIMER: SRSrocco Report provides intelligent, well-researched information to those with interest in the economy and investing. Neither SRSrocco Report nor any of its owners, officers, directors, employees, subsidiaries, affiliates, licensors, service and content providers, producers or agents provide financial advisement services. Neither do we work miracles. We provide our content and opinions to readers only so that they may make informed investment decisions. Under no circumstances should you interpret opinions which SRSrocco Report or Steve St. Angelo offers on this or any other website as financial advice.
Check back for new articles and updates at the SRSrocco Report.  You can also follow us on Twitter and Youtube below: