There is growing evidence that the rapid rise in the silver price is due to physical buying, not paper speculating.  We can see this in the falling Commercial net short position trend as the silver price continues to rise.  Typically in the past, when the silver price enjoyed a price increase, it occurred as the Commercials increase their net short posting.  However, it seems… that this time is indeed different.
UPDATE:  New changes coming to the SRSrocco Report, click here:  MEMBERSHIP.
In my newest video update, SILVER PRICE SURGE: Physical Buying, Not Paper Speculating, I explain why this present silver bull market is much different than the past.
In the video, I discuss the chart below as to why I believe these two days were used by the Commercials and other large traders to liquidate short positions.  There is no coincidence that the huge $4 price correct on Tuesday evening, July 28th, was mostly responsible for the decrease of 14,500 Commercial Net short positions two weeks ago.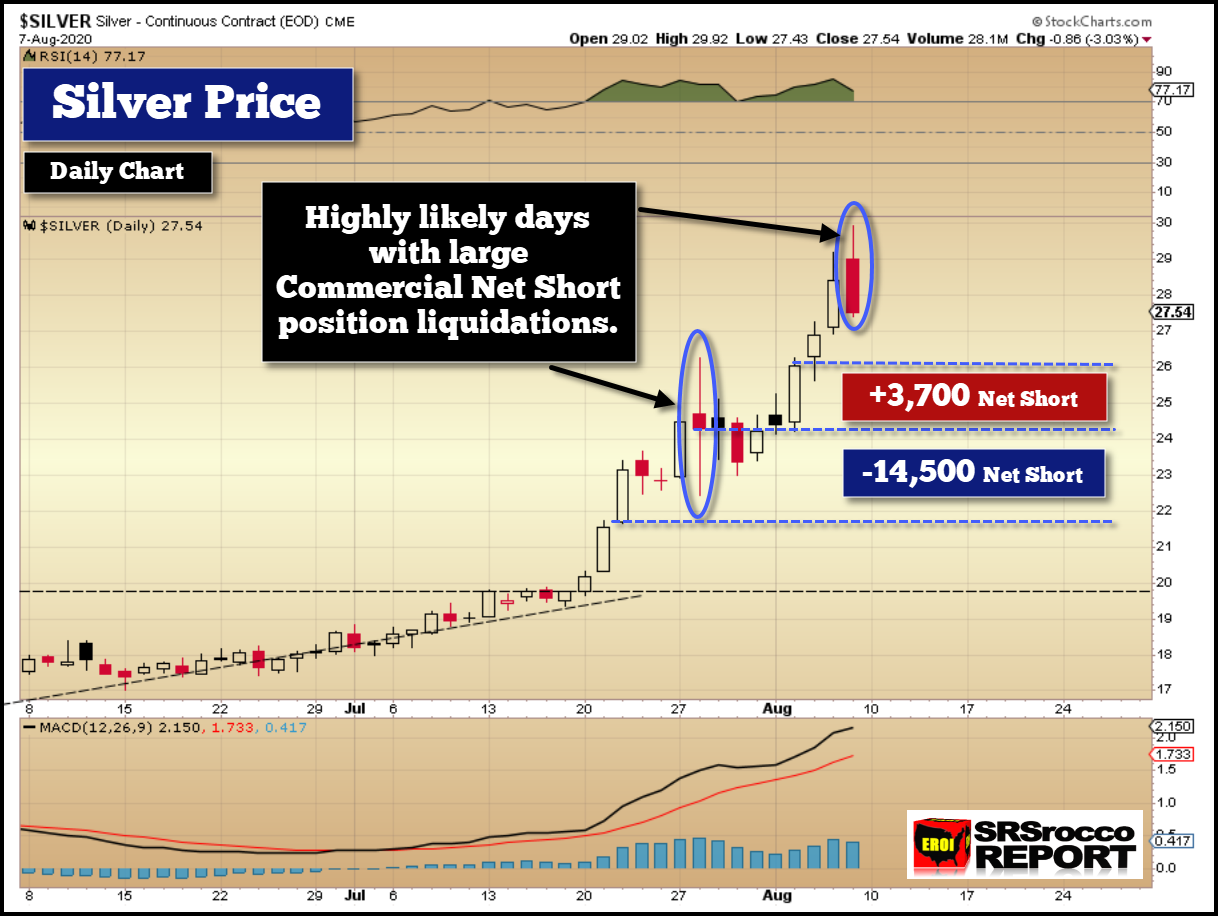 It is going to be interesting to see how silver performs during early Asian trading today and in the U.S. markets tomorrow.  While the silver price will need to experience a "Healthy" correction at some point, it seems that it may go higher before reversing.
IMPORTANT UPDATE:
I will be publishing an article on Wednesday, August 12th, explaining the transition of the SRSrocco Report to a subscription service within the next few weeks.  While we will be providing approximately 20% public articles during the week, 80% will be for subscribers.  And, there will be an Exclusive Gold Member Area on the website including analysis and information on the Mining Industry, Precious Metals, Gold-Silver-Resource Stocks, Advanced Charting, and extra detailed data on the Falling EROI (Energy Returned On Investment) and how it will impact the global economy in the future.
Brief information on the new membership levels, click here:  MEMBERSHIPS
DISCLAIMER: SRSrocco Report provides intelligent, well-researched information to those with interest in the economy and investing. Neither SRSrocco Report nor any of its owners, officers, directors, employees, subsidiaries, affiliates, licensors, service and content providers, producers or agents provide financial advisement services. Neither do we work miracles. We provide our content and opinions to readers only so that they may make informed investment decisions. Under no circumstances should you interpret opinions which SRSrocco Report or Steve St. Angelo offers on this or any other website as financial advice.
Check back for new articles and updates at the SRSrocco Report.  You can also follow us on Twitter and Youtube below: