The Silver Market is just one step away from another MASSIVE BUYING WAVE and is just waiting for the next leg to drop in the global economy and financial system to do so.  With silver investment demand to account for nearly 75% of the global mine supply this year, if we experience the same type of demand next year, we will enter a silver market like never before.
While that may sound like hype, the CLUES are all around.  I check many of the large online dealers' inventory, and many are sold out of the fractional silver rounds, or have a minimal inventory.  The fractional silver round inventories are normally the first to sell out when there is a large buying wave.
I have mentioned several times; the Silver Market is one of the only sectors in the economy that sees INCREASED BUYING when the price goes LOW or HIGH.  Normally, investors tend to sell when the price of a stock or asset is declining.  Not the silver market.  Due to the ongoing disintegration of the U.S. financial system and economy, precious metals investors realize THERE IS NO PAPER SOLUTION to what's coming.  Thus, LOW and HIGH silver prices motivate more buying.
I wrote about this in my article below:

For example, Silver Eagles sales continue to be very strong in November as another 750,000+ coins were sold in the last week.  The total Silver Eagle sales so far in November are now 3,456,000 versus a total of 463,000 for the entire month last year.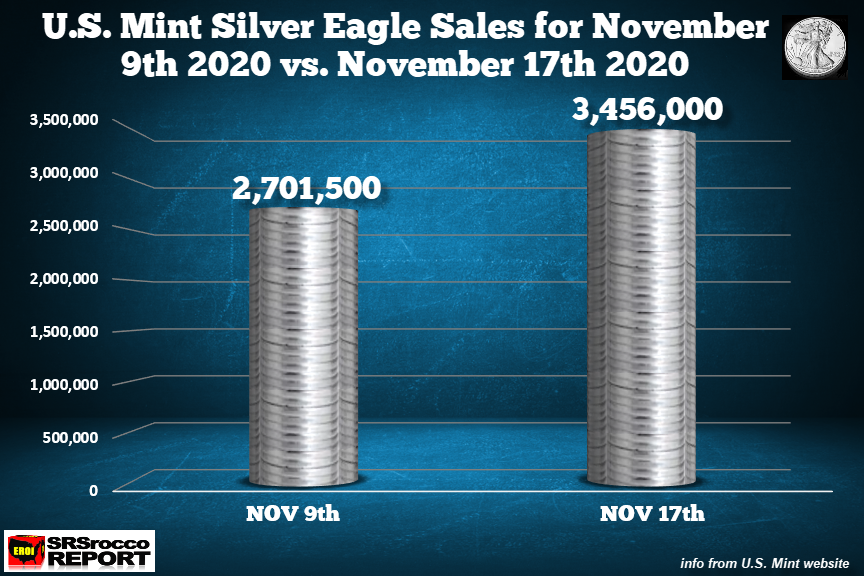 Furthermore, the U.S. Mint sold another 25,000 oz of Gold Eagles over the past week to reach a total of 769,000 oz for the year, compared to 152,000 oz for full-year 2019.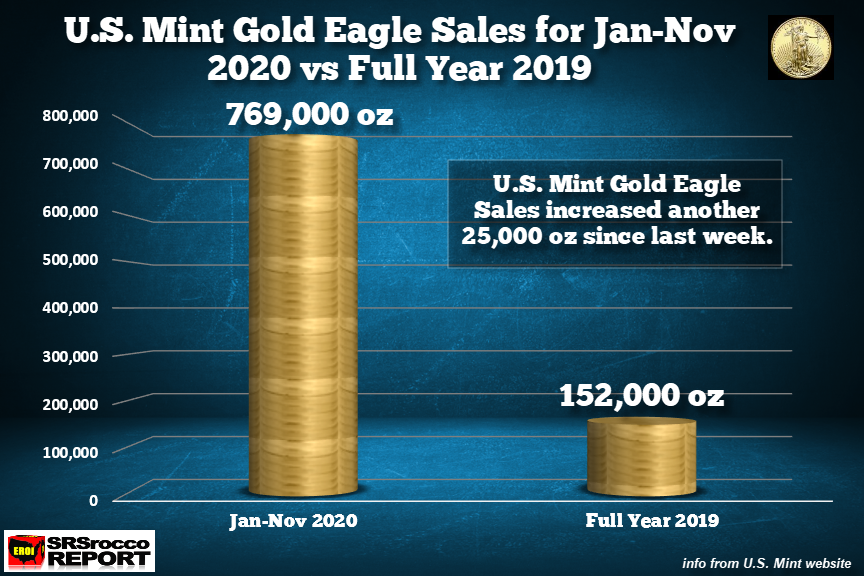 Because the price of silver is approximately 75 times less than gold, investors can buy a great deal more silver bullion.  Thus, when the next BUYING WAVE comes next year, it may be one for the RECORD BOOKS.
DISCLAIMER: SRSrocco Report provides intelligent, well-researched information to those with interest in the economy and investing. Neither SRSrocco Report nor any of its owners, officers, directors, employees, subsidiaries, affiliates, licensors, service and content providers, producers or agents provide financial advisement services. Neither do we work miracles. We provide our content and opinions to readers only so that they may make informed investment decisions. Under no circumstances should you interpret opinions which SRSrocco Report or Steve St. Angelo offers on this or any other website as financial advice.
Check back for new articles and updates at the SRSrocco Report.  You can also follow us on Twitter and Youtube below: