Silver Eagle and Silver Maple sales surged in the first half of the year as investors continued to exchange fiat currency for real money.  Both official silver coins experienced significant increases in sales as investor demand remained strong along with sufficient supply.  However, with the shutdown of the U.S. Mint for the new design, Silver Eagle sales still increased nearly 50% in the first half of 2021, with no sales for May.
According to the recently released Royal Canadian Mint Q2 2021 Report, a total of 18,946,000 oz of Silver Maples and bars were sold for the first half of the year.  Unfortunately, the Royal Canadian Mint stopped reported Silver Maple, and its Silver Bar sales separate several years ago.  So, now it lumps them both together in one figure.  I have no idea why they stopped reporting Silver Maple Leaf sales separately, but it can't be all that difficult.
Anyhow, here are the figures for the 1H 2021 versus 1H 2020 from both official mints.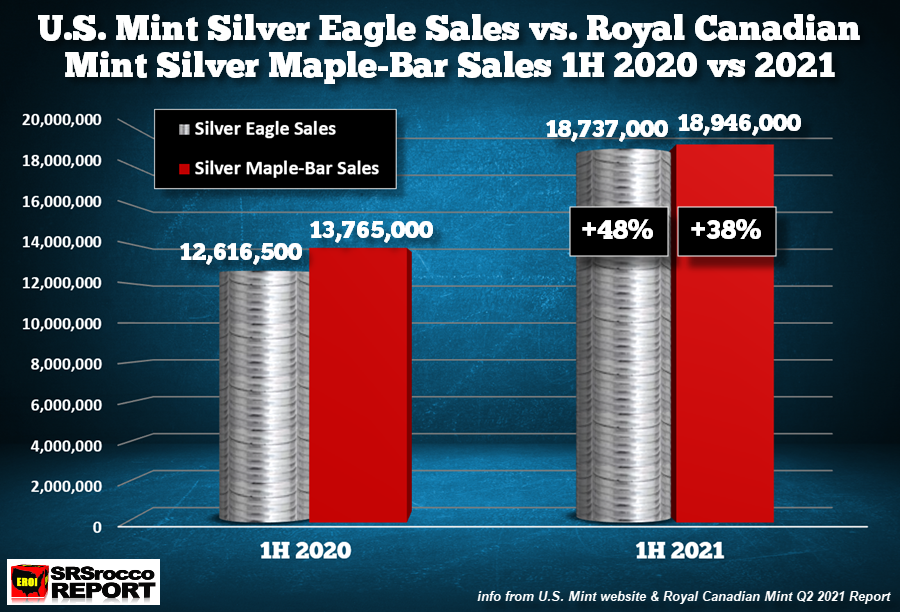 Silver Eagle sales increased from 12.6 million during the 1H 2020 to 18.7 million during the same period this year.  That's a healthy 48% increase year over year.  The Royal Canadian Mint's Silver Maples-Bar sales increased 38% from 13.7 million to 18.9 million over the same period.  As we can see, the Royal Canadian Mint has sold more Silver Maples-Bars than U.S. Silver Eagles.  But, the 2021 Silver Eagle figure does not include ALL SILVER BULLION products from the U.S. Mint.  The U.S. Mint also sells 5 0z Silver Coins and many numismatic silver coins, which would likely surpass the total for the Royal Canadian Mint.
Although just considering the 1H 2021 total for these two official mints, 37.7 million oz of silver bullion is already sold.  Furthermore, if sales continue to be similar for the 2H 2021, these two official mints could see total sales of 75+ million.
With the U.S. Mint website update yesterday, Silver Eagle sales for August are 3,145,000.  So, if we compare Jan-Aug 2020 to Jan-Aug 23rd 2021, Silver Eagle sales are up by nearly 4 million.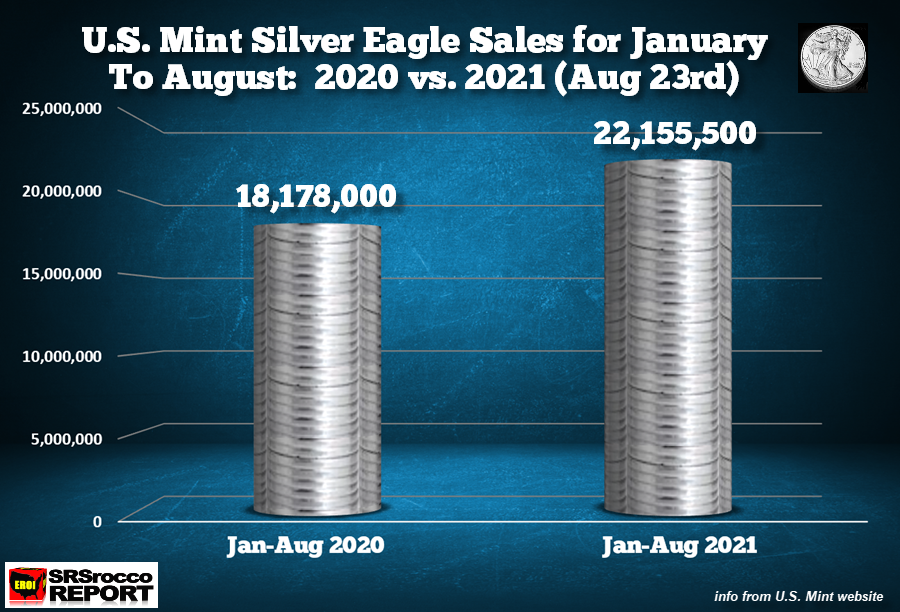 Even more impressive, Gold Eagle sales just may surpass the 2020 Full-Year total by the end of this month.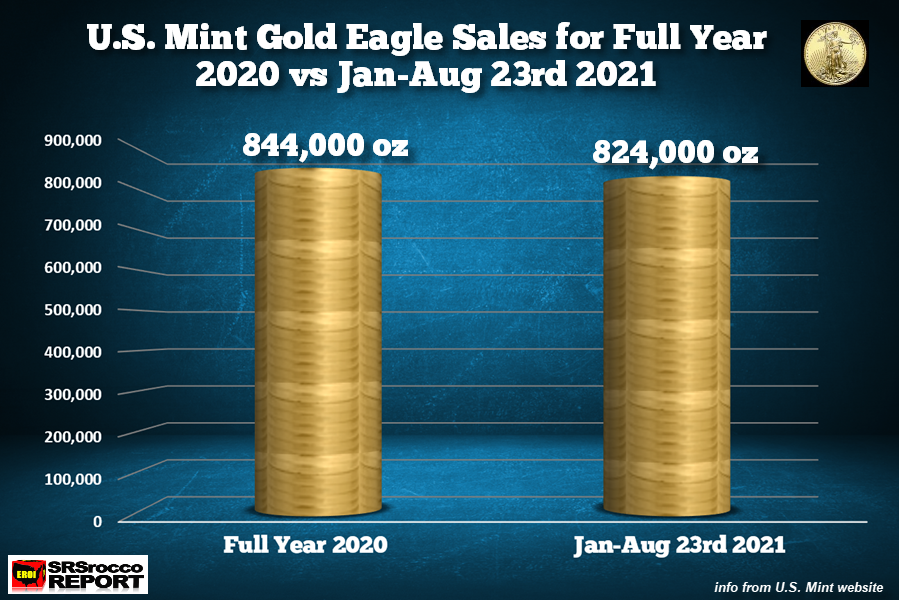 Gold Eagle sales so far this year at 824,000 oz are only 20,000 oz away from breaking last year's total.  I believe we are going to see over 1 million Gold Eagles sold in 2021.  It has been over a decade since the U.S. Mint sold over 1 million oz of Gold Eagles.
Lastly, I shared this with the Silver Members at the SRSrocco Report yesterday, while Gold Bullion Premiums are falling, Silver Bullion Premiums remain at high levels: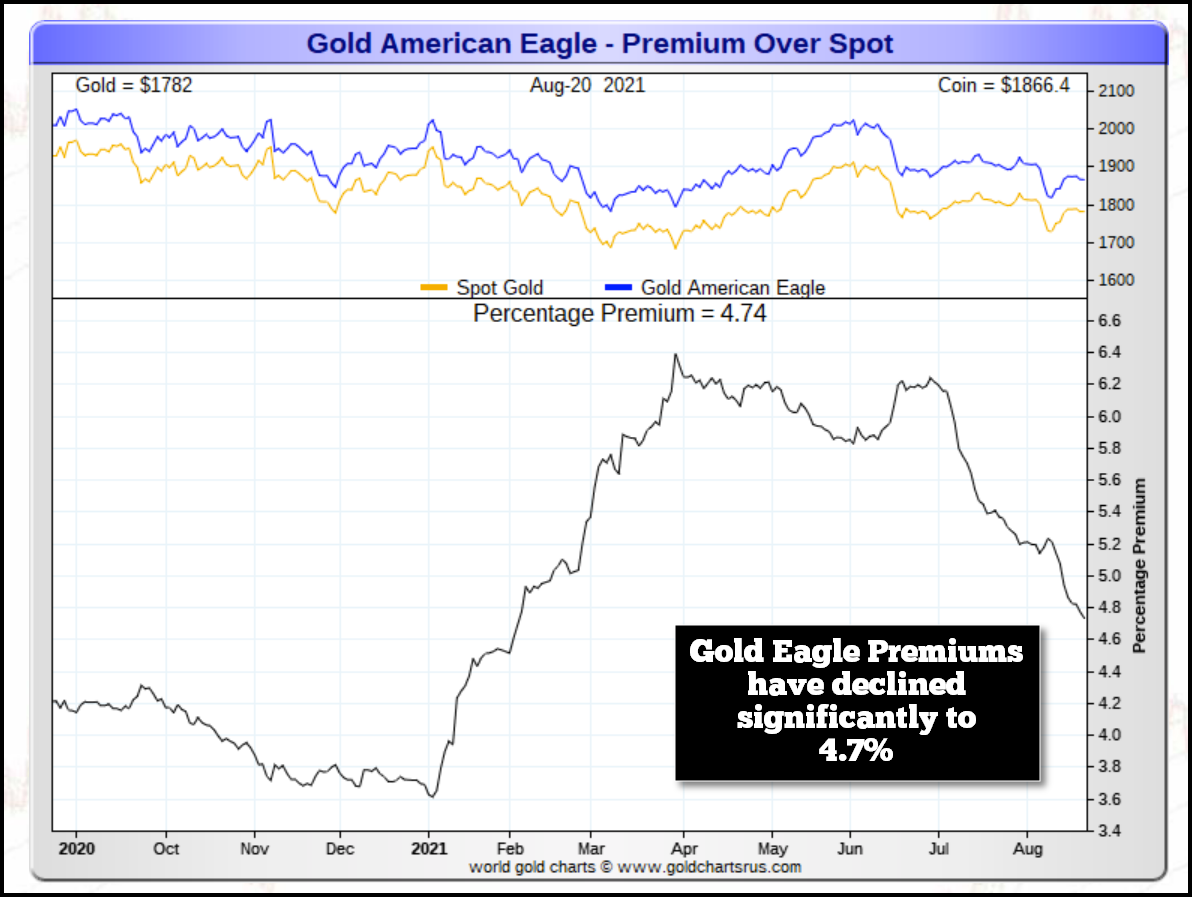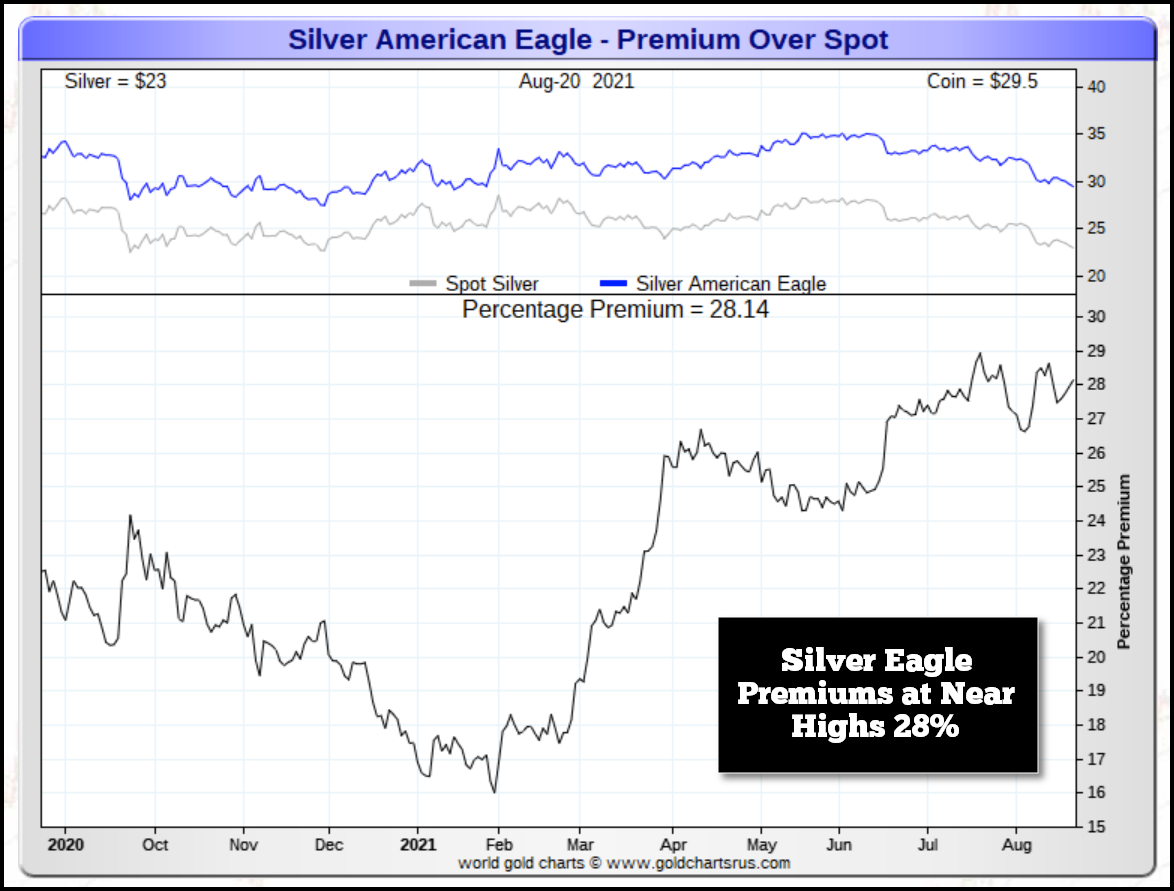 Paying Higher Premiums For Your Gold & Silver Bullion Products?
As I mentioned in the last update, Cloud Hard Assets is still selling the New 2021 Silver Eagles at $7.85 over spot.  I checked the top online dealers' prices for the New 2021 Silver Eagles based on buying 20-99 coins at the average spot price of $23.93.
New 2021 Silver Eagles
SD Bullion = $33.33 (+$9.39)
JM Bullion = $34.08 (+$10.14)
Money Metals = $33.21 (+$9.28)
APMEX Inc.= $35.48 (+$11.49)
Cloud Hard Assets  = $31.78 (+$7.85)
If you want to contact Cloud Hard Assets, you can click here: CLOUD HARD ASSETS.  Call at (800) 247-2812.
DISCLAIMER: SRSrocco Report provides intelligent, well-researched information to those with interest in the economy and investing. Neither SRSrocco Report nor any of its owners, officers, directors, employees, subsidiaries, affiliates, licensors, service and content providers, producers or agents provide financial advisement services. Neither do we work miracles. We provide our content and opinions to readers only so that they may make informed investment decisions. Under no circumstances should you interpret opinions which SRSrocco Report or Steve St. Angelo offers on this or any other website as financial advice.
Check back for new articles and updates at the SRSrocco Report.  You can also follow us on Twitter and Youtube below: