In this week's precious metals update, I explain what's in store for the gold and silver prices over the next few weeks.  Also, we heard a lot of news last week that the U.S. Mint increased the price of its 2020 Silver Eagle to $67.  I discuss why the U.S. Mint is increasing the price of the 2020 Silver Eagle and if that is going to impact precious metals investors.
After the silver price shot up above $25 on Friday, what're the technicals show for this week?  Well, what happens to silver will also happen to gold.  I see the metal prices continuing higher, but I still see a correction lower before moving up to new highs next year.
Also, it's VERY IMPORTANT that you all understand what the Federal Reserve is planning for its new DIGITAL DOLLAR Policy, which I discuss in the Silver Member article below: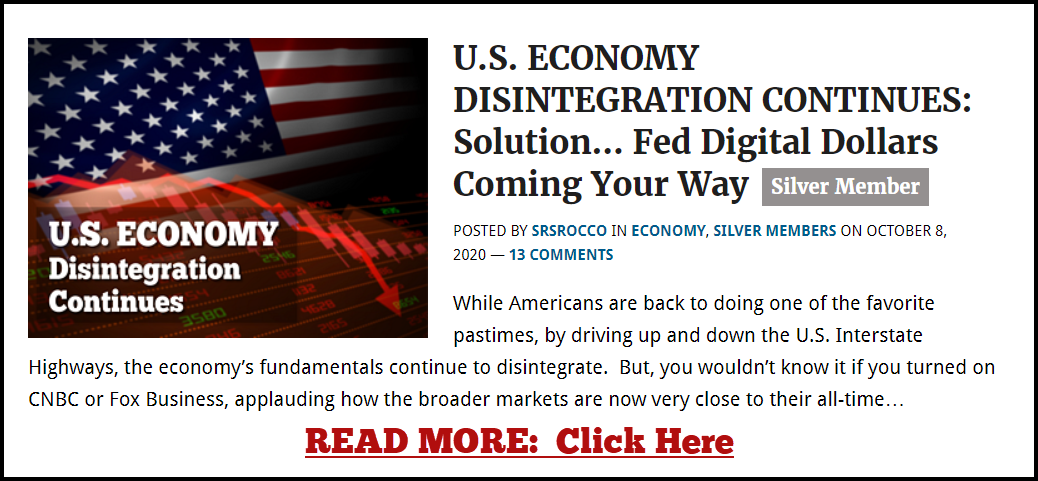 If the Fed DIGITAL DOLLAR Policy gets passed, then we are talking about MASSIVE CONSUMER PRICE INFLATION coming our way.
If you are new to the SRSrocco Report, please consider subscribing to my:  SRSrocco Report Youtube Channel.
DISCLAIMER: SRSrocco Report provides intelligent, well-researched information to those with interest in the economy and investing. Neither SRSrocco Report nor any of its owners, officers, directors, employees, subsidiaries, affiliates, licensors, service and content providers, producers or agents provide financial advisement services. Neither do we work miracles. We provide our content and opinions to readers only so that they may make informed investment decisions. Under no circumstances should you interpret opinions which SRSrocco Report or Steve St. Angelo offers on this or any other website as financial advice.
Check back for new articles and updates at the SRSrocco Report.  You can also follow us on Twitter and Youtube below: